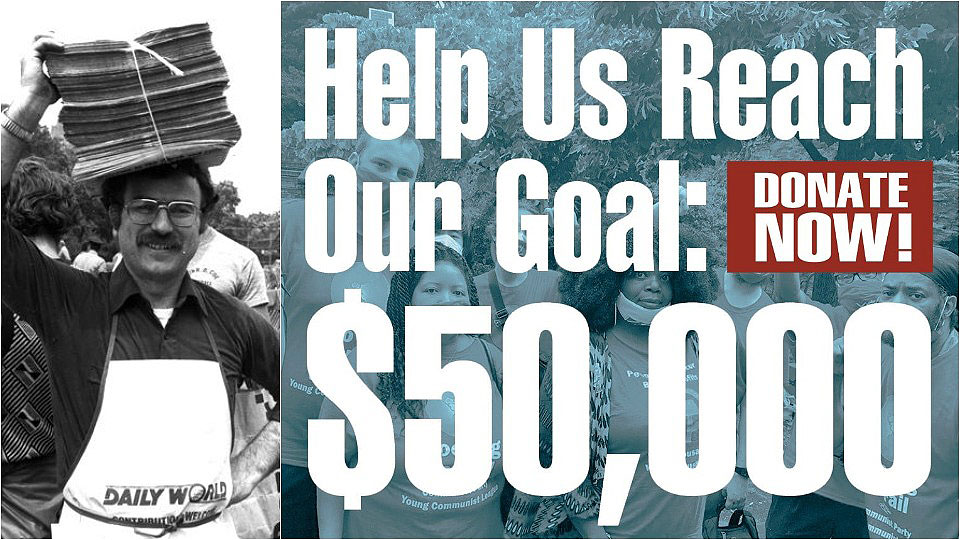 Dear readers,
I recently posted on social media Marilyn Bechtel's story in People's World headlined, "U.S. and Russia Extend New START Nuclear Treaty for Five Years."
Bechtel's article was the first I read about this hugely significant step by President Joe Biden reversing former President Trump's attempt to wreck the New START treaty. The people's victory Nov. 3 is a step toward saving humanity from nuclear catastrophe.
People's World is our voice, our trumpet, broadcasting the message that a better world, Bill of Rights socialism, is necessary and possible.
I am delighted to join this effort to raise $50,000 for People's World by May 1 to meet the financial challenge of publishing during the pandemic crisis. The response from readers has been incredible! Donations have poured in from every corner of the country and even abroad, at this point totaling over $45,000.
We can finish the drive and go over the top if as many readers as possible become one of 500 to donate $100 each, or whatever we can in these difficult times. But I'm issuing a special challenge: Help raise $2,000 right away, and I'll match it with another $1,000!
A few weeks ago, I wrote a story about Karl Yoneda and Elaine Black. People's World staff found a touching photo of Karl and Elaine with their little boy, Tommy, sitting between them with a Manzanar barracks in the background during the despicable internment of Japanese Americans during WWII. I was so moved that I donated $1,000 to People's World in memory of Karl and Elaine.
A few weeks later, the Communist Party USA had a Zoom meeting. A total of $10,000 was donated to People's World by the participants right there on the spot. I gave another $1,000 then—all of it provided by my late wife, Joyce, the main breadwinner in my family.
Then a few days ago, CNN and other media were filled with stories about the QAnon cultist serving as mayor of Sequim, Wash., my hometown. The driving force behind the QAnon mayor and his minions is white supremacy against the Jamestown S'Klallam tribe. The tribe is building an opioid clinic in Sequim to treat hundreds of Clallam County residents addicted to oxycontin. The Republican right has whipped up racist hysteria against the clinic.
I did not think the stories in the national media reflected the strong multiracial coalition defending the clinic and fighting back against the Republican instigated racism. So, I wrote one myself, published in People's World.
So after that, I pledged another $1,000 to People's World.
But this time, I want it to be used as matching funds. I will donate one dollar for every two dollars contributed by others. It means that my $1,000 will actually bring in $3,000 toward the quick completion of the $50,000 drive. Will you join me?
My life has been devoted to The Worker and its successors. In my childhood, my family drove from our farm in Sequim to the annual People's World picnic in Seattle. I joined the staff of The Worker in 1966, served 25 years as Daily World Washington Bureau Chief, and 11 years as Editor of the People's Weekly World. I made a fundraising tour for the People's Daily World in 1991 that took me to 25 cities and towns. As I recall, we raised more than $40,000.
So, I am reaching out to you now: Please match my donation! Keep our voice, People's World, loud and clear, from San Diego up to Maine in every mine, mill, hospital, warehouse, campus, and community!
From Sequim with solidarity,
Tim Wheeler
Former Editor, People's World