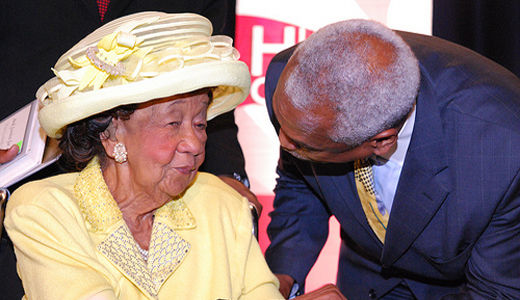 Dorothy Irene Height, a tireless crusader for civil rights, justice and equality for African Americans, women and all working people, died at 98 of natural causes Tuesday.
She is remembered as a pioneering voice of the civil rights movement whose life's work and activism stretched from the New Deal through the 2008 election of President Obama.
In a statement Obama called her "the godmother of the Civil Rights movement" and a hero for all Americans.
"Dr. Height devoted her life to those struggling for equality … and served as the only woman at the highest level of the civil rights movement – witnessing every march and milestone along the way," said Obama.
It was as a young girl that Height decided to stand up against prejudice and discrimination and fight for access to jobs and education and for voting rights for women and African Americans. As a teenager, she marched in New York's Time Square shouting, "Stop the lynching."
Height was born March 24, 1912, in Richmond, Va., before women could vote and when Blacks had few rights. The daughter of a nurse and building contractor, she excelled in school and at public speaking.
At an early age Height encountered racial discrimination, when at 16, she was accepted into Barnard College in New York. She was invited to the school for an interview but was not admitted because the elite women's college had already reached its quota of two black women. She went on to earn bachelor's and master's degrees from New York University.
In 1980, Barnard College awarded Height its highest honor, the Barnard Medal of Distinction.
After earning her degrees, she became a leader of the Harlem Young Women's Christian Association and the United Christian Youth Movement of North America. During these years Height fought to stop lynching, desegregate the armed forces and reform the criminal justice system.
At age 25 Height met First Lady Eleanor Roosevelt and Mary McLeod Bethune, founder of the National Council of Negro Women. In 1957 Height became that group's fourth president. In that position, she initiated programs to meet the needs of teenage mothers and to address hunger in rural areas. She also organized "Wednesdays in Mississippi," in which black and white women from the North traveled to Mississippi to meet with their Southern counterparts in an effort to ease racial tensions and bridge differences.
She became a natural leader of the civil rights movement in the 1950s and '60s and sought to empower and uplift women, advocating for equal wages for women, child care programs, decent housing and educational opportunities. Height worked with Dr. Martin Luther King Jr. and other activists to coordinate the growing movement. She was on the platform near King when he gave his famous "I have a dream" speech at the 1963 March on Washington.
Height was among the civil rights movement's most influential leaders, said Jarvis Tyner, executive vice chair of the Communist Party USA.
"She was the matriarch of the movement," said Tyner. "She was a remarkable leader and her politics were quite progressive and although she is respected as a 'proper lady,' she was a militant fighter."
Tyner noted that Height and others of her generation displayed tremendous courage in speaking out against lynching and battling racial injustice.
"People like Ms. Height planted the seeds which eventually awakened Black voters to unite with others and spread the notion of anti-racist unity among all people," he said.
Fighting racism was the soul of the movement and breaking down Jim Crow laws paved the way for advancing democracy, said Tyner. "And it really made the difference."
Height liked to quote 19th century abolitionist Frederick Douglass, who said the three effective ways to fight for justice are to "agitate, agitate, agitate."
She used to say, "If the time is not ripe, we have to ripen the time."
In a 1997 Associated Press interview, Ms. said, "We have come a long way, but too many people are not better off."
After Obama won the presidential election in 2008, Height told Washington TV station WTTG that she was overwhelmed with emotion.
"People ask me, did I ever dream it would happen, and I said, 'If you didn't have the dream, you couldn't have worked on it," she said.
Height's life work and her commitment to African American liberation was deeply rooted in the fight for human liberation. She envisioned justice for blacks as part of justice for people everywhere in the world.
In recent years Height is known for creating the National Black Family Reunion, an annual celebration in Washington and other cities. She was also one of the few women asked to speak at the Million Man March in 1995.
She received two of the nation's highest honors: the Presidential Medal of Freedom in 1994 and the Congressional Gold Medal in 2004.
In a joint statement Secretary of State Hillary Rodham Clinton and former President Bill Clinton said, "Our nation is poorer for her loss but infinitely richer for the life she led, the progress she achieved and the people she touched."
Photo: Dorothy Height at the Hubert H. Humphrey Civil Rights Award Dinner in May of 2009. flickr.com/photos/civilrights/3513854640//CC