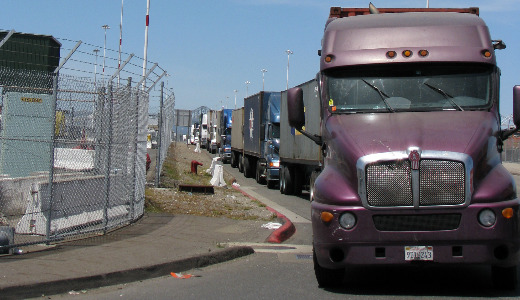 The docks near you might be getting a breath of fresh air soon. A crucial piece of environmental legislation introduced into Congress last week can speed efforts to cut air pollution near the nation's ports and open the way to greater workers' rights and economic justice for port truck drivers.
The Clean Ports Act of 2010, HR 5967, introduced by Rep. Jerrold Nadler, D-N.Y., with 65 co-sponsors, would amend the Federal Motor Carrier Act to let ports enact and enforce clean truck programs and implement environmental programs going beyond current federal requirements. Nadler is a member of the House Infrastructure and Transportation Committee, to which the bill has been referred.
With trucking vital to goods distribution nationwide, "we must ensure that the government is doing everything in its power to decrease vehicle emissions and minimize pollution in and around our ports," Nadler said. He said the act will allow ports to implement clean truck programs to improve air quality, empower truck drivers, and cut pollution-related illness.
The bill's introduction was welcomed by the nationwide Coalition for Clean & Safe Ports, over 120 environmental, public health, community, labor, faith, business, civil rights and environmental justice organizations working for sustainable economic and environmental development and quality jobs at ports.
For several years, local community-labor coalitions have been working with ports around the country to develop clean trucks programs to sharply reduce air pollution from port trucking operations. They have been spurred on by growing evidence of the emissions' health consequences, especially in neighborhoods near the ports.
Port truck drivers have also been caught in a vicious economic circle. When the trucking industry was deregulated three decades ago, most became "independent contractors," forced to buy and maintain their own trucks and barred from organizing to protect their rights. As a result many ended up netting as little as $10 to $11 an hour during long workweeks.
Nearly two years ago the Ports of Los Angeles and Long Beach started implementing a Clean Trucks Program to replace thousands of old, polluting trucks with clean-burning and alternative fuel vehicles. The result was a significant drop in pollution, and despite the recession, gains for the regional economy.
The Port of Los Angeles also sought to require trucking companies to sign comprehensive concession agreements, including hiring drivers as employees and taking responsibility to maintain truck fleets. But this is now on hold pending a decision in the American Trucking Associations' lawsuit to overturn the employee-driver mandate.
The current federal motor carrier statute gives states and local bodies authority to regulate trucking companies only for "safety" related programs. HR 5967 would let ports establish clean truck programs such as that sought by Los Angeles.
The plight of the owner-operator drivers was underscored in hearings last May before a subcommittee of the House Committee on Transportation and Infrastructure. Jose Covarrubias, an "owner operator" at LA-Long Beach for 20 years, told the hearing, "All we are is employees with expenses." In written testimony, he said, "No matter what port truck driver I talk to, the story is the same. The companies just call us 'independent contractors' so we can pay for everything and so that they can avoid paying their taxes. But this can't continue, especially now that we have to take care of the new clean trucks."
Mayors of major port cities including Los Angeles, New York, Newark, Oakland and Seattle support updating the legislation, as do a broad range of national organizations. Among H.R. 5967's co-sponsors are legislators representing the country's major port areas.
For more information, and to sign a petition to Transportation and Infrastructure Committee chair James Oberstar, D-Minn. and subcommittee chair Pete DeFazio, D-Ore., in support of the bill, see www.cleanandsafeports.org.
Photo: PW/Marilyn Bechtel