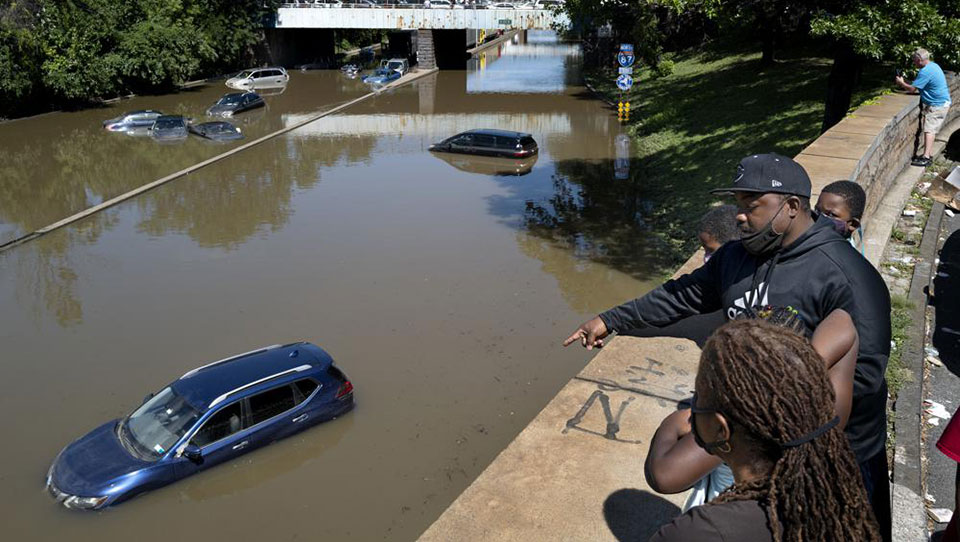 WASHINGTON—Hurricane Ida's killer rampage from New Orleans through New York as the West continued to burn made ever clearer this week the connection between the need to combat climate change and the necessity of rebuilding the nation's infrastructure.
Ida's torrential downpours came in amounts meteorological models say should occur only once every 200-500 years. The five hundred year floods came only a week after the last round of 500 year rains dumped only a week ago by Tropical Storm Henri.
On top of other disasters
They came on top of other ecological disasters traceable to global warming: Forest fires that devoured parts of Oregon, much of northeastern California, and now threaten Nevada, the years-long drought in the Pacific states, and the extreme cold weather that left Texas without electricity in February.
And all of that's just for starters.
Just a partial listing of the damage Ida dumped on the eastern half of the nation is bad enough:
The New York City area and New Jersey experienced record flooding. it drowned residents in basement apartments in the Big Apple, shorted out much of the city's subway system, and turned the Major Deegan Expressway in the Bronx into a flooded parking lot of abandoned cars.
"We haven't experienced this before, but we should expect it the next time," new Gov. Kathy Hochul, D-N.Y., said. Climate change, she said, is responsible.
At least 40 people died in the two states, and at least 59 people died overall from Ida. That includes four of the 843 residents evacuated from seven nursing homes to get them out of harm's way in New Orleans, according to nola.com. The residents were taken to a fetid warehouse in Independence, La. Twelve others were hospitalized. Warehouse operators threw health department inspectors out. Residents are without electricity because of antiquated electrical grids and face disease and death in the continuing sweltering heart where the temperature index soars daily above the 100-degree mark.
Tornadoes hit east and northeast of Washington, D.C., destroying 13 buildings in Annapolis, Md., and others in the Baltimore suburbs. One reached 125 mph, meteorologists said. Annapolis residents saw trash cans flying through the air, roofs torn off and car windshields shattered according to the Baltimore Sun. Large downed trees littered yards.
Ida's torrents trapped another teenager, trying to rescue his mother, from their basement apartment in Rockville, Md. She survived; he didn't.
An enormous electric tower, whose cables should have been underground, collapsed in New Orleans. So did most of the city's grid. The area's dominant utility, Entergy, said many residents won't get their power back for weeks. A million people lost power in Mississippi, Louisiana, and Alabama. And gasoline stations, deprived of electricity, couldn't pump fuel.
Couldn't afford to flee
Stranded people wanted to flee, but couldn't, for lack of cash, gas up their cars.
"Annual costs of weather-related power outages total billions of dollars, and may increase with climate change," the non-partisan Government Accountability Office warned in a Sept. 3 blog. "For example, in February, extreme cold weather that spread from the Canadian border as far south as Texas caused record winter demand for electricity and left about 4.5 million customers in Texas without power, along with about 376,000 customers in Louisiana and Oklahoma…The chronically ill often did not have access to electricity to power their medical devices, such as ventilators."
The grid must be made more resilient against climate change, GAO said. And federal agencies should "identify and assess climate-related risks" to it and require utilities to develop response plans.
nola.com reported that in Ironton, La., an eight-foot wall of water swept over six-foot levees on the town's marsh side, roaring through houses, sweeping some off their foundations, just like in Hurricane Katrina in 2005. And since much of southern Louisiana is below sea level, tombs are elevated. The water floated their lids, and coffins, too.
Then there's the Caldor fire in California. It's burned 207,321 acres, forced evacuations of cities—including South Lake Tahoe—and is heading towards the Nevada line. It's been burning since August 14 and is only 25% contained, the state's Office of Emergency Services reports. The 2,238 exhausted firefighters—a record—and 560 fire engines are battling not just the flames but the hot and dry conditions that only worsen the threat. That western drought has lasted for years.
Climate change causes the hot and dry weather fueling the Golden State's flames, and those elsewhere in the Western U.S., and around the world. Greece, Russia, and Syria are among other nations whose firefighters are battling uncontrolled blazes. The Yakutsk fire in Siberia is so large that its smoke has drifted over Alaska.
"Extreme weather is now five times more common than it was 50 years ago and causes seven times as much damage," Paul Rauber wrote in the Sierra Club's Sept. 3 roundup.
All this, including the warehouse evacuation in Independence, La., points up the need not just for rebuilding the nation's infrastructure, but also for improving social services, especially to communities of color. After all, the roll of victims—and survivors—in New York, New Jersey, and New Orleans, among others, features a plethora of non-Anglo-Saxon names.
That's where Congress comes into the picture.
Lawmakers are due back in D.C. after Labor Day and Rosh Hashanah. On their desks: Major pieces of Democratic President Joe Biden's Build Back Better agenda, dealing with the issues. One is the $978 billion five-year infrastructure plan, dealing with the physical problems such as the grid's collapse and the drowned expressways.
The other is legislation, to be spawned by the $3.5 trillion budget reconciliation resolution approved in August. That deals with the human "infrastructure"—such as better staffing and better pay for those nursing homes in New Orleans. Congressional committees are going to hammer it out. But even if it passes and Biden signs it, implementation will take years.
And while it's not there by name, the Green New Deal is a big part of reconciliation.
Losing lives to lack of infrastructure
"Hurricane Ida broke rain records—stopping transit & flooding homes. We are losing lives due to the lack of climate infrastructure. We need to pass an infrastructure package and a reconciliation package that prepares us for future climate catastrophes," Rep. Alexandria Ocasio-Cortez, D-N.Y., tweeted.
Her constituents, the majority people of color, were in some of the hardest hit neighborhoods.
"Climate change is a matter of social and racial justice. As massive storms knock out subway lines and public transit, working people will bear the brunt of the damage and devastation," warned Rep. Pramila Jayapal, D-Wash., chair of the Congressional Progressive Caucus.
But 350.org, the pro-science group which organized mass marches for climate change, and against the prior GOP Trump regime's dismissal (or worse) of science, said the infrastructure bill "missed a major opportunity" to deal with climate change. It pins its hopes on legislation the reconciliation bill produces.
"Instead of facing the climate crisis, the Senate has chosen to invest billions into propping up the fossil fuel industry," Associate Director of U.S. Policy for nonprofit organization 350.org Natalie Mebane said. "While they (senators) could have led the way to a clean energy future, they chose to pour billions into the false promise of carbon capture and storage, further locking us into decades of new fossil fuel infrastructure which will ensure planetary and community devastation.
"The Senate should invest billions more to improve our mass transit, increase spending to electrify school and public buses, and invest more in electric vehicle infrastructure," all parts of the Green New Deal, and all in either the infrastructure bill or bills the reconciliation bill will spawn. "We need to build and improve infrastructure that will ensure a livable future and climate resilient communities."
Biden disagrees with that conclusion. His Office of Management and Budget, endorsing the infrastructure bill, says it includes "a focus on climate change mitigation, resilience, equity, and safety for all users." The infrastructure bill, with climate change provisions, comes up this month in the House.
Public Citizen approves the $3.5 trillion reconciliation blueprint but points out the Biden administration could act even without it. For example, it cites a Rainforest Action Network report saying U.S. and other multinational banks have financed $3.8 trillion in coal-fired power plants worldwide over the last five years. Those plants' emissions contribute to global warming. Biden's Treasury Department hasn't taken any action to stop such loans.
And there are right-wing lawmakers, and their corporate puppeteers, who haven't got the message at all.
Take, for example, Sen. Ted Cruz, R-Texas. He voted against the infrastructure bill when the Senate passed it on a bipartisan 69-30 vote. Before that, Cruz absconded to Mexico for a "family vacation" when his state got hit with the winter storms and blackout.
Yet he sneered on Sept. 2 that "Biden pivoted to tired, partisan rhetoric about climate change and green energy," after the president brought up those issues in a talk with Ukraine's president. "This is the stuff of university faculty lounges, not the real world. Solar panels aren't going to deter Russian aggression."
Cruz isn't alone. The Center for American Progress, a moderate-to-liberal think tank, reports there are "139 elected officials in the 117th Congress, including 109 representatives and 30 senators, who refuse to acknowledge the scientific evidence of human-caused climate change." That's 52% of House Republicans and 60% of Senate Republicans. "These same 139 climate-denying members have received more than $61 million in lifetime contributions from the coal, oil, and gas industries," CAP said.