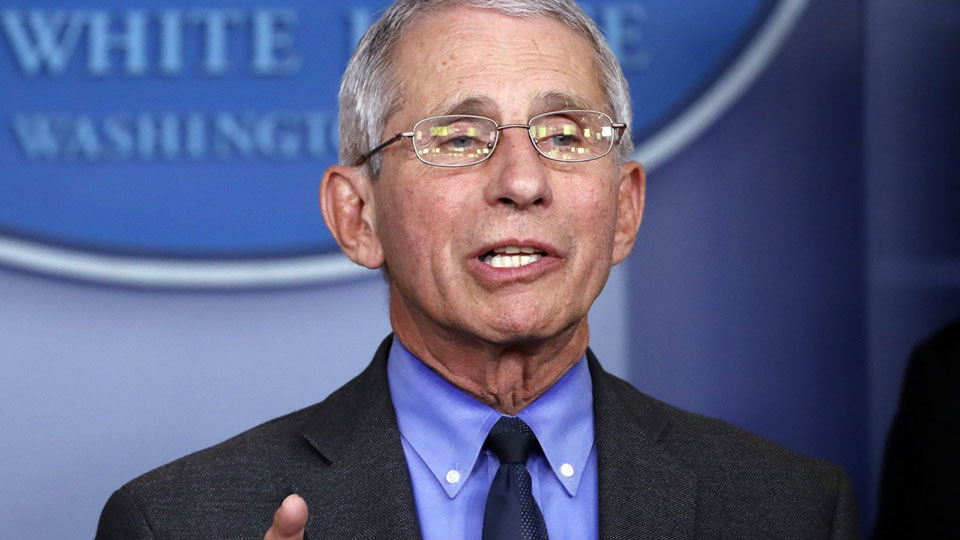 WASHINGTON—The U.S. "shut down about 50% of the country" and is now paying the price in a rebound of daily coronavirus cases, the nation's top expert on such diseases, Dr. Anthony Fauci, says.
And in that respect, he adds, we lag far behind a bloc of nations in Europe, which have a comparable combined population, but far lower infection rates from the disease.
"As a group, they went way up" just as the U.S. did, but with total shutdowns continent-wide "they came back down to a baseline of tens or hundreds of cases per day" and have stayed there, Fauci said of the Europeans in a 35-minute televised interview.
That let the Europeans reopen their nations and their economies six months into the world coronavirus pandemic. Meanwhile, the U.S. has "50,000 or 60,000 or 70,000" new cases per day and the virus is virtually out of control in the Southern states, he added.
Fauci, director since November 1984 of the National Institute for Allergies and Infectious Diseases, presented those comparisons and others to Washington Post reporter Bob Costa, who has been extensively covering the virus per months. It's one of a series of televised interviews the paper has conducted with decision-makers, think-tank specialists, and other leaders on a wide range of issues since the pandemic began.
The contrast between the U.S. and Europe shows up in the coronavirus numbers. The U.S. leads the world in how many people, cumulatively, have tested positive for the virus: 4,084,551, or 26.1% of the world total of 15,628,936, as of 4 p.m., Eastern Time, July 24, reports the most-authoritative source, Johns Hopkins University.
The U.S. also leads in deaths: 144,954, 22.8% of the world total of 636,262. The worst of Europe's nations—not counting Russia, which straddles Europe and Asia—is the United Kingdom, with 299,500 cases and 45,762 deaths. The UK death toll exceeds that of any U.S. state, but its case count trails California, New York, and Florida.
The reported numbers may be low, Fauci warned. He said scientists, including himself, discovered after the pandemic began that "20% to 40%" of coronavirus victims were asymptomatic, meaning they carried the virus but didn't run fevers, lose taste or smell or show other symptoms. "We didn't realize the extent of asymptomatic spread," he said.
That discovery came only after the pandemic started to spread widely here, he said. And that lack of knowledge accounted for scientists, including himself, saying in the virus's early days in the U.S. that protective measures, notably masks, were not needed. But when the data changed, they had to change their minds, he explained.
They also had to change their minds, Fauci said when scientists realized there were enough available masks so that they didn't have to be hoarded and reserved solely for front-line medical personnel. That statement clashes directly with findings reported by National Nurses United, whose 200,000 RNs report continued shortages of masks and other personal protective equipment.
But to get a handle on curbing the pandemic, the U.S. should do what Europe did, in so many words, Fauci said. Meantime, closure of even half the country has shut so many businesses and led to so many jobless people that it's thrown the U.S. into a steep economic depression.
And the virus is still a huge threat for reruns, he warned.
"We need to have a low baseline" of daily cases "so that if we have blips" or sudden one-time spikes "we can contain them without having it (the virus) get out of control like it has in Texas, Florida, and Georgia."
To curb the virus, those states and others where the virus is once again raging because officials reopened for business too soon "should go back to prior checkpoints" for stages of reopening. The Centers for Disease Control recommends checkpoints and stages, including shutdowns. It does not mandate them.
And Fauci said the states with spikes should retreat to and stay at less-open levels until the numbers show, through weeks of virus case declines, that they can function again. "They essentially skipped over some of the checkpoints," Fauci said of Texas, Florida, Georgia, and similar states.
Though Fauci did not say so, politics is the reason. Republican Govs. Ron DeSantis (Fla.), Greg Abbott (Texas), and Brian Kemp (Ga.), all slavishly followed their leader, GOP President Donald Trump, in denying the virus's threat and reopening the economy instead. So did other "red state" governors.
The results were huge spikes in daily coronavirus cases, Hopkins's charts show.
Florida is now third among the states in cumulative coronavirus cases, with 389,868, and gaining on #1 California and #2 New York, as New York's case rates are dropping sharply. Texas is fourth (373,037).
And until a press conference this week, when he resumed daily coronavirus briefings, Trump refused to take the pandemic seriously. Trump and his right-wing White House staff often trash Fauci and other experts. Trump would also tout medically unproven or disproven "cures," or predict the virus would vanish within months, leaving Fauci to shoot those statements down with factual presentations.
"A lot of people think I'm too candid," Fauci joked.
But this week, Trump finally reluctantly urged people to wear masks and keep social distancing—basic protections Fauci has been touting for a long time. He still is.
"I would recommend universal wearing of masks indoors, and that it's better to be outdoors than indoors" to prevent the virus's community spread, he told Costa. "I would also avoid crowds and have continual hygiene and hand-washing."
As for Trump, Fauci shrugged off the past criticisms, adding "I'm glad the president is saying things that are important: Wearing masks, keeping distance. And it's important" that Trump's briefings on the pandemic "should be short, brief, and focused." Until this past week, they weren't "as people started asking questions that have nothing to do with the topic."
Answering one question e-mailed in advance by listener Kathleen Gill of New York, Fauci said schools should re-open on a district-by-district basis, depending on coronavirus conditions in those areas. "If you're in an area where there is viral activity, you want to look at what the schools are doing, and the CDC has come out with" new "good guidance" for school restarts, he recommended.
Whether to send the kids back to brick-and-mortar schools and when has been another conflict between Trump and the rest of the country. The president and his anti-union, anti-teacher, anti-student of color Education Secretary, Betsy DeVos, still push for reopening schools now regardless of conditions, rather than distance or computerized learning.
Both big teachers unions are resisting and laying down strict conditions for restarting. So are the School Administrators, the union of principals, counselors, and other personnel.
And big-city districts, including Los Angeles, San Diego, Chicago, and Miami-Dade, are actively resisting quick reopening. The Florida Education Association, a joint NEA-AFT affiliate which represents 145,000 teachers and staffers statewide, sued DeSantis, his GOP school superintendent, and his state Board of Education to stop their reopening plan. FEA bluntly says it's both dangerous and violates the state constitution's written requirement that public schools be safe for kids.
Fauci also cautioned "there's still much we don't know" about whether and how the virus can spread from schools to families. One study, he said, shows kids under 10 are less likely to be coronavirus carriers to adults, but kids aged 10-19 are just as likely to spread the virus as adults are.
And the presence of antibodies within people who have recovered from the virus doesn't necessarily mean they'll stay immune to reinfection, Fauci warned. "One study showed a great deal of variability. In some people, it (immunity) lasted several weeks. In others, it lasted months."
"We need to know what that means," he admitted, "and whether other aspects of immunity" within humans can step up to "protect them."
He also said a widespread vaccine is months away. Three Phase 3 clinical trials will start next week of potential vaccines, Fauci reported. "So we should know by the end of the year" if there will be an effective vaccine.
If so, "It's likely that by the beginning of next year, we'll have tens of millions of doses" available. "And in several months, there'll be hundreds of millions of doses and then it'll be safe and effective."
There is one more hurdle to achieving that and, with it, "herd immunity" to the coronavirus, Fauci warned: The anti-vaccine movement. His answer to that is education, education, education.
"We have to have good outreach and keep articulating and have engagement to get people to understand why it's important—for the (regular) flu or for COVID-19, to get vaccinated."
Like free stuff? So do we. Here at People's World, we believe strongly in the mission of keeping the labor and democratic movements informed so they are prepared for the struggle. But we need your help. While our content is free for readers (something we are proud of) it takes money—a lot of it—to produce and cover the stories you see in our pages. Only you, our readers and supporters, can keep us going. Only you can make sure we keep the news that matters free of paywalls and advertisements. If you enjoy reading People's World and the stories we bring you, support our work by becoming a $5 monthly sustainer today.