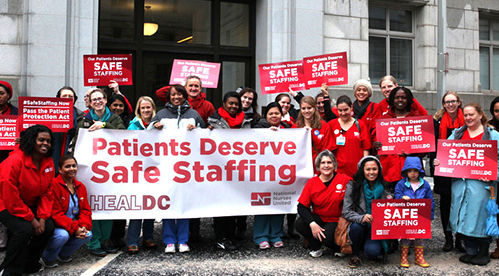 WASHINGTON (PAI) – Drawing on legislation the National Nurses United first pushed through in California several years ago, three Democratic lawmakers reintroduced legislation to mandate better nurse-to-patient ratios in the nation's hospitals, and to increase potential spending on nurse training. The measure would use federal funds, from Medicare and Medicaid, as leverage for the better ratios.
But the fate of the measure, by Sens. Barbara Boxer, D-Calif., and Sherrod Brown, D-Ohio, and Rep. Jan Schakowsky, D-Ill., is uncertain.
Though several states followed the Golden State's lead in mandating better nurse-to-patient ratios, Congress' ruling Republicans have shown no inclination to consider the issue.
That didn't stop the three, or NNU, either. They also drew AFSCME's support: The 1.4-million-member union alerted its members about the measure in its weekly legislative report.
The bill will "help save the lives of countless patients by improving the quality of care in our nation's hospitals," she said. "We must support the hard-working nurses who strive to provide the best possible care to their patients every single day."
"With an aging population across the nation, nurses are more important than ever – which is why it's so important to invest in our nurses and give them the support they deserve," Brown added. "This legislation would protect nurses who speak up to report violations and will improve patient care by investing in training and establishing minimum nurse-to-patient ratios."
Schakowsky praised nurses as "a source of medical care and emotional support for patients" who "deserve these protections so they can keep up that important work." The bill would:
Establish minimum registered nurse-to-patient ratios that will save lives, improve the quality of care and help to address the nursing shortage by creating a work environment that encourages nurses to remain in the hospital workforce;
Implement unit level licensed practical nurse staffing requirements to promote quality care and patient safety;
Provide whistleblower protections to protect the right of nurses to advocate for the safety of patients and report violations of minimum standards of care; and
Invest in nursing mentorship demonstration programs to better prepare nurses for work in a hospital setting.
"The National Nursing Shortage Reform and Patient Advocacy Act (S864, HR1602)… would improve the safety and quality of health care by demanding that hospitals meet minimum nurse-to-patient staffing levels as a condition of receiving reimbursement from Medicare and Medicaid," AFSCME, which also represents thousands of nurses, said. "Safe nurse staffing standards also help address the nursing shortage by turning around the working conditions that drive nurses away from the bedside.
Photo: National Nurses United