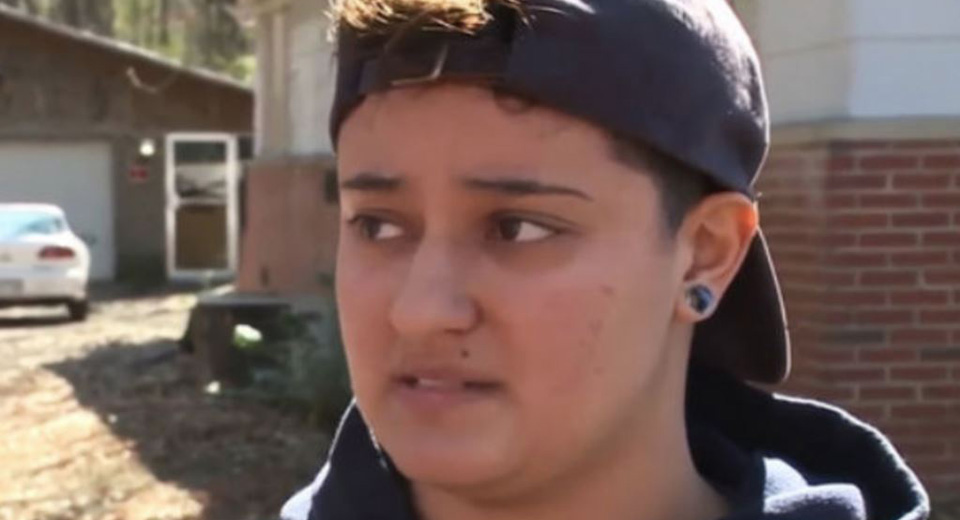 A Mississippi resident who was arrested by Immigration and Customs Enforcement (ICE) after she held a press conference, was released March 10 from detention after being held for almost two weeks.
Daniela Vargas, 22, walked out of LaSalle Detention Facility in Jena, La., around noon, her lawyers told the media in a March 10 phone news conference. Vargas has lived in the US since the age of seven, when she was brought here from Argentina.
"This is a moment for celebration," Karen Tumlin, legal director of the National Immigration Law Center, said, "in what has been a terrifying set of months for the immigrant community and their families."
Tumlin credited the community for the momentary victory.
Vargas garnered national attention after ICE agents arrested her immediately after she spoke to the media about a raid in which her father and brother were arrested.
The reaction in the media, including social media, was immediate, and according to her legal team, it made a difference.
"The protests meant a great deal," Tumlin said. "Dany's story touched the hearts of Americans."
The lawyers said the Jackson community rallied around Vargas. Rep. Bennie Thompson, D-Miss., sent a letter to Secretary of the U.S. Dept. of Homeland Security John Kelly asking him to ensure that his department "exercises available discretion and looks upon her case favorably."
The congressman said, "Daniela is the kind of young person who, as President Trump put it, should be treated with 'great heart.'
"Young people like Daniela are an important part of communities all over this country, and deserve a chance to pursue their American dream."
Vargas witnessed ICE agents arresting her father and brother outside her Mississippi home on Feb. 15. She hid in the closet, but ICE went into the home, found her, put her in handcuffs but then released her. Vargas said she went into hiding.
But on March 1, Vargas decided to tell her story to the media. Shortly after she spoke at a press conference in Jackson, Miss., ICE arrested her. Vargas was in the United States under the Deferred Action for Childhood Arrivals immigration policy, an executive order signed by President Obama.
Despite having made seemingly sympathetic statements, President Trump has not clearly directed the Department of Homeland Security, under which ICE operates, to not target DACA recipients, sometimes called Dreamers, under his new immigration policies. Trump signed executive orders that emphasize raids and deportations for anyone in the country without legal authorization. There are strict requirements to qualify for DACA, which gives the person a temporary work visa and allows them to attend college. Vargas' DACA expired in November.
"We are overjoyed by the news of Daniela's release," said Abigail Peterson, Vargas' immigration attorney. "It is motivating that the power of so many voices in support of Daniela was finally heard. But it is important to underscore that this detention should have never transpired in the first place. Not every person will be fortunate enough to have the kind of backing that Daniela was afforded and we need to make sure that the enforcement priorities do not allow other individuals like Daniela to be unjustly detained for deportation."
Vargas received an administrative order of removal on the day of her arrest, which her lawyers are fighting in court. Upon her release from detention today, Vargas was also given an order of supervision, which means early next month she has to check in at her local ICE office.
Her attorney described a benign check-in process that Vargas will have to go through. She will have to show her identification and sign some documents, she said. A high profile ICE check-in of an Arizona mom that resulted in her immediate deportation was an order to report to the office, a different kind of check-in. But ICE can pull anyone into a back room to talk for any reason, and the issue of legal representation for a check in is a "gray area," Peterson said.
There was "collective relief" that Vargas was released, but the fight for her rights and the rights of other DACA young people will still continue, Tumlin said.
"Look at the stunning contrast between Daniela's case and Daniel's case," she said regarding the arrest and detention of another DACA recipient, Daniel Ramirez Medina, in Washington State. "He is spending his 24th birthday in detention. Why is it? What is it the difference?"