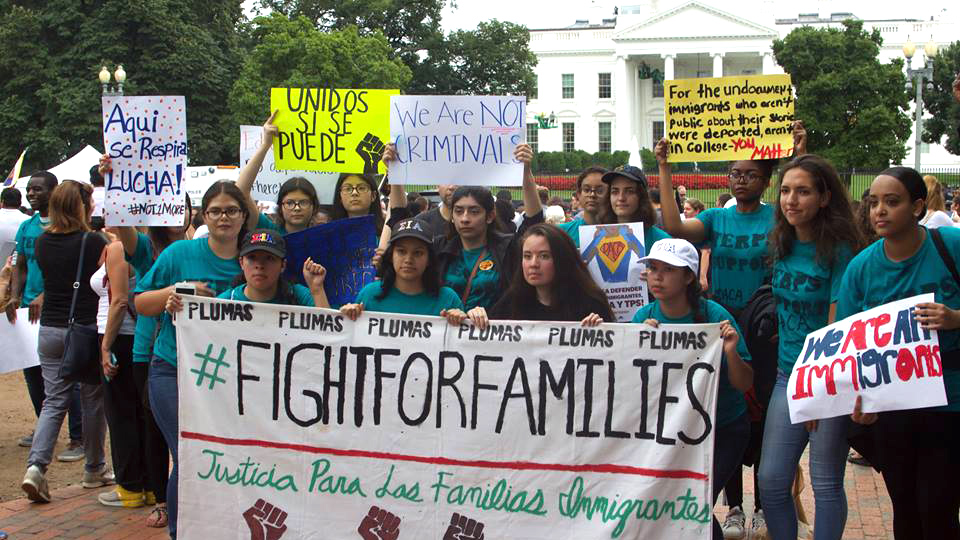 WASHINGTON — Josue de Luna was brought to the U.S. at age nine from Torreoncoachila, Mexico. He's majoring in chemical and biological engineering at the University of New Mexico and wants to enter medical school. Donald Trump won't give him a chance.
Eric Prez now lives near the University of Arkansas at Fayetteville. He came to the U.S. at age 7 and now he's among 27 people fasting to show how much they dream of staying here, which is their real home. The third-year student in business administration dreams of finishing his education, and fears Trump's Homeland Security Department will use his information under DACA to deport him.
Brandon Diaz came to the U.S. at age five from Guerrero, Mexico. Now he's 20, lives in Baltimore, and is an activist for Casa de Maryland , the union-backed – and unionized – group in the D.C. and Baltimore areas who help new immigrants, some of them undocumented, to adjust to life in the U.S. "I'm fasting, too, because I don't want people to go and leave their dreams," he says.
And Cynthia Toyco of Rogers, Ark., 33, is married to a U.S. citizen, but she came here at age seven, from Peru, walking thousands of miles with other refugees. "We were three to three and a half months on foot. We were stalked and robbed and nearly lost our lives," she says, fleeing repression and war in Peru, where a right-wing government and opposing guerrillas both preyed on the population.
"We have been here paying taxes, and paying back taxes," Toyco says of herself and other Dreamers – undocumented people brought to the U.S. as children. "And nothing's been returned to us, because we're not citizens." Now Trump wants to return her to Peru.
Prez, de Luna, Toyco and Diaz were among the dozens of Dreamers and almost a thousand people who gathered at the White House on the morning of September 5 in the first of two protests there that day urging Republican President Donald Trump to extend former President Barack Obama's Deferred Action for Childhood Arrivals (DACA) program. He didn't listen.
Instead, Trump rejected the 800,000 Dreamers, congressional Democrats, union leaders, the leading presidential contender for next year's Mexican election, and even some business executives and Republicans. His Attorney General, Jeff Sessions, known for his hatred of Latinos and immigrants, declared "I am here today to announce the program known as DACA that was effectuated under the Obama administration is being rescinded."
This is the same Jeff Sessions who has always hated all immigrants, documented and undocumented. Sessi0ns, who failed to get Senate approval of his bid for a judgeship because of his racist activities, has praised immigration laws enacted in the U.S. in the 1920's. Those were laws designed by eugenecists whose racist theories were later used by Hitler and the Nazis. Those immigration laws were based on the goal of preserving "healthy Anglo-Saxon racial stock" in America.
Trump and Sessions said the program will die in six months, and while expiring work permits – which DACA lets the undocumented people seek and get – may be extended, no new applicants will be OKd. And Immigration and Customs Enforcement officers will arrest and deport Dreamers when they find them, a Trump Homeland Security Department official told news services.
The five-year-old program lets the Dreamers – people brought to the U.S. as children but forced to stay "underground" until 2012 – work, enroll in school, graduate, join the military and generally become a recognized part of society, rather than living in the shadows.
Trump challenged Congress to act on the Dreamers issue before he starts the mass deportations. Given past history, where right wingers killed the Dream Act through a 2010 Senate filibuster and trashed comprehensive immigration reform before that, such legislative relief is unlikely at best.
His claims that he will "revisit" the issue if Congress doesn't act are not being taken seriously either. If he were serious he would be calling on Congress to pass the Dream Act. Instead, he has unleashed his racist attorney general on the Dreamers.
Like the four Dreamers interviewed at the D.C. rally – one of many nationwide, including a walkout by schoolchildren in Denver – the 800,000 have made lives for themselves in the U.S., virtually the only nation they've known.
That assertion was among union leaders' points in denouncing Trump's decision, which plays to his anti-Latino, anti-immigrant base. Two of the unionists, speaking for Asian-Pacific Americans and for the Service Employees, went beyond denunciations, pledging active resistance to Dreamer deportations:
"This shameful move is cruel and only seeks to fuel Trump's anti-immigrant and racist agenda," said SEIU Executive Vice President Rocio Saenz.
"But let it be clear: SEIU members and our communities won't let President Trump's actions stop us from standing up for immigrant families. We vow to stand together, mobilize on an unprecedented scale to resist these racist attacks against all communities of color. United, we'll use this fight to build our movement so we can drive a turnaround in 2018 to change the direction of the country and win an America where immigrant families and all working people have a say at work and in our political system through unions, and where every family and community have the opportunity to thrive."
"Know we will protect, defend, and fight with you – our immigrant brothers, sisters, and siblings – from raids, detention, and deportation. We are committed as ever to do everything in our power to stop this mass deportation agenda, and to make sure white supremacists and their agenda have no place in the White House or at any level of government now and in the future," said Monica Thammarath, president of the Asian-Pacific American Labor Alliance (APALA). A group representing undocumented Asians organized the second White House demonstration on September 5.
Deporting Dreamers "is a disgrace," said Geoconda Arguello-Kline, Executive Secretary-Treasurer of Culinary Workers Local 226 in Las Vegas – Unite Here's largest local and one that is majority-minority.
"This is not what the United States of America represents, nor is it who we are. This policy is another clear example of white supremacy strategies and tactics and we denounce it. This administration is attacking 800,000 young immigrant workers who pay taxes and are essential to the economy. This policy change was completely at President Trump's discretion and we will hold him accountable for it," she vowed.
Communications Workers President Chris Shelton called Trump's deportation of Dreamers "cruel and mean-spirited. These young people were brought here by their parents at a very young age. They know no other home than the United States, and have made productive, successful lives here." He urged retaining DACA until Congress resolves the issue.
Trump is "upending the lives — and the dreams — of more than 850,000 young people. And for what? To stoke resentment and fear?" Teachers President Randi Weingarten asked.
Weingarten cited an AFT member, and Dreamer, who now teaches high school Spanish in Austin, Texas. She's an example of how DACA lets "young immigrants who were brought here as children to remain in the United States by giving them temporary protection from deportation and permission to legally work. The young people covered by DACA are woven into the fabric of American society. They contribute to our economic growth and our diversity.
"America is stronger when we value people and create opportunity to achieve the American dream, regardless of demography or geography," Weingarten said, calling on Congress to protect the Dreamers, quickly. "We are fighting for the soul of America."
"It is now incumbent on the Republican-led Congress to pass the bipartisan Dream Act," Auto Workers President Dennis Williams added. "If Congress fails, over 800,000 of our friends, neighbors and many fellow union members who came to America as children, pay taxes, raise families and contribute vital services to our economy, risk deportation to a strange land that many do not know and cannot recollect. Enough is enough. We cannot let the American Dream become hostage to a politically extreme agenda that seeks to divide us."