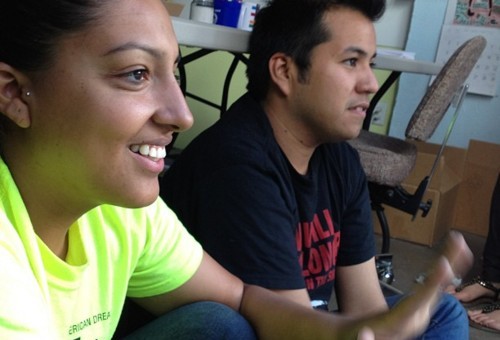 DENVER – Undocumented youths from CAD, the Campaign for the American Dream, arrived here just a few days ago, and are already changing things.
Almost three months previously these DREAM Walkers began their 3,000 mile journey across the United States, from the Golden Gate Bridge in California on their way to the White House, to demand the Obama administration stop massive deportations and issue an executive order to bar deportations of DREAM Act-eligible youth.
The Development, Relief and Education for Alien Minors or DREAM Act, sponsored by Democratic Senator Dick Durbin of Illinois, would provide a path to legalization and citizenship for young people, brought here as children without any legal documents, if they have "demonstrated good moral character" and are either working toward completing a college degree or are serving in the armed forces.
Immediately after setting foot in Colorado in the last few days of May, these six courageous young people kept on walking-in the 3,000-person march on Wells Fargo bank's Colorado headquarters, led by the Service Employees International Union during its quadrennial international convention here.
They joined the many other undocumented marchers in the union's action to bring public attention to Wells Fargo's involvement in payday lending, fraudulent foreclosure, and ridiculously low tax payments, as well as the bank's private-prison profits from the incarceration of undocumented people.
On June 4, the DREAM team joined over 100 Coloradans in the spirited monthly march and rally against Immigration and Customs Enforcement's immigrant detention center in Aurora, just east of Denver.
Though technically under the control of ICE, a part of Homeland Security, the notorious facility is actually run by the GEO Group, an international private-prison corporation. Friends and family members of undocumented people trapped inside recount the reports of humiliation, extortion, physical and sexual abuse within the prison walls at the protest each month.
The next day, the DREAM Walkers visited the Obama for America Denver campaign office-and stayed. Two of the group entered the office and soon began a sit-in and hunger strike. They repeated their call to President Barack Obama to put portions of the American DREAM Act into force by executive order.
Noting that the current administration has deported over one million people, more than any previous administration, they called on Obama to end massive deportations at once and to take action on the DREAM Act without further delay.
The two carrying out the current hunger strike are Veronica Gómez, 24, of California, and Javier Hernández, 23, of Denver. Gómez was brought to the U.S. when she was a little girl of three, Hernández when he was a six-month-old baby. Neither has ever visited Mexico since.
"With deportations on the rise and "Secure Communities" recently imposed throughout the state of Colorado, we cannot just sit back and wait!" said Gómez.
In the final week of May, "Secure Communities" was suddenly imposed on all 64 Colorado counties, and local law enforcement officials are now obligated to assist ICE in rounding up and detaining undocumented people.
Some of the six walkers are fighting their own deportation. At the next day's rally and press conference in front of the now-closed OFA office where Gómez and Hernández were still sitting in, others in the CAD team officially "came out" as undocumented.
Spontaneously, many Coloradans in the crowd immediately followed suit. A number of young participants took advantage of the liberating spirit of the event: Many who had not previously acknowledged their status as undocumented-even to close friends and fellow students-announced their status, putting them at risk. Yet, chants like, "undocumented, unafraid, unashamed," arose as the rally gathered steam.
The two young people inside the building, at that time just 24 hours into their sit-in and hunger strike, smiled broadly and waved as they watched the enthusiasm of their colleagues and supporters just a few feet away outside the office's large windows.
Local progressive, labor, and faith-based groups in Colorado are voicing support for the hunger strikers and the other DREAM Walkers, and offering donations of supplies for the continuing march to Washington, D.C. Yet the campaign is being led by the Walkers and in Colorado assisted by local organizations of undocumented people.
Nico González, one of the Walkers, told peoplesworld.org that "we want this to be undocumented-led."
By June 7, with the hunger strikers nearing 48 hours inside the building, authorities finally allowed a nurse to enter to assess their physical condition.
Photo: Veronica Gómez and Javier Hernández watch the rally and press conference outside of Denver's Obama For America office.