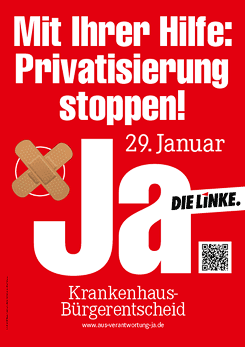 In Dresden, Germany, citizens voted overwhelmingly on Sunday to halt the privatization of the city's two municipal hospitals. In what is seen as a major blow to corporate interests, over 84 percent of voters rejected privatization by voting "Ja" to retain public democratic control over the hospitals. The referendum prevents privatization of the hospitals for the next three years.
According to Left Party council member Annekatrin Klepsch, "The results of the referendum are without a doubt a great victory for all residents of the city. The referendum shows that it is indeed possible to successfully fight back against the current privatization mania. This victory does not mean that we can back down – the vote only ensures that the hospital will remain in public hands for the next three years. The pressure on political decision makers to make another attempt at privatization will not stop. No one should labor under the delusion that corporate interests will give up the idea of turning hospitals into an industry driven by profit."
Since 2009, Dresden's city council has been evenly divided between the right wing faction (Christian Democrats and Libertarians) and the left wing or working class faction (Social Democrats, Greens, and the Left).
With the support of the increasingly conservative Green Party, however, the right wing faction was able to pave the way for privatization of the municipal hospitals.
The Left Party, Social Democrats, and grassroots citizens' organizations were able to prevent legislative railroading of the issue, however, by gathering the 37,000 signatures necessary to send the question to the voters.
The city of around half a million people is the capital of the state of Saxony in eastern Germany and a historically relevant leader in the nation's arts and culture.
Saxony's Left Party leader Rico Gebhardt followed up: "Health is not a commodity. This is a clear signal that the will of the people is on the side of public democratic control."
The municipal hospitals receive no tax money from the state or city. Rather, they bring in marginal income for the city of Dresden. The hospitals treat over 68,000 patients yearly. They employ around 3,000 people, all of whom are covered by a collective bargaining agreements that would likely be nullified under private control. The vote is seen as a repudiation of the neo-liberal tactic of privatizing state assets and services in order to cover short-term budgetary shortfalls – a tactic that is now running rampant in the United States.