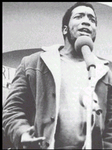 CHICAGO — Moon's Sandwich Shop is a low-key diner where residents of this Westside neighborhood can go to eat breakfast, any time of day. Most of the workers and customers are African American.
The diner shares a unique history with the community. Black Panther Party leader Fred Hampton, killed in a hail of police bullets in 1969, lived just a couple of blocks away.
"What do you want know about Fred Hampton?" shouts George Adams, 54, from the back of the restaurant. Adams is a retired city truck driver, frequent patron of Moon's, and longtime neighborhood resident who remembers attending Black Panther meetings as a youth.
"Fred Hampton was a dynamic young man," Adams said. "He started the breakfast program for the kids," referring to the free breakfast program that the Panthers established as part of their "serve the people" approach here and around the country.
Like Marvin Gaye, Adams said, Hampton asked the community, "What's going on?" He said Hampton is still remembered for "keeping the neighborhood calm, especially back in those days when the police were the biggest gangsters of the neighborhood."
Today, 35 years after the police and FBI raid that resulted in the shooting deaths of Hampton and co-worker Mark Clark as they were sleeping in their beds, Hampton's legacy still lives on. It also provokes controversy.
Alderwoman Madeline Haithcock (2nd Ward) proposed last month to rename a segment of a Chicago street, the 2300 block of West Monroe, "Chairman Fred Hampton Way." Hampton resided on that block, just a short distance from Moon's. Haithcock said she is pushing the measure at the request of the people in her district and members of Hampton's family. The proposal cleared a City Council committee and could come before the full body later this month.
However, the proposal has sparked opposition from some police officers, including Chicago Fraternal Order of Police President Mark Donahue, who only remember Hampton as someone who wanted to "off the pigs."
Haithcock replied, "I don't think [the Black Panther Party's] purpose was to go out and destroy police officers. Their purpose was housing, education, clothing and justice. They fought racism and discrimination."
Rep. Bobby L. Rush (D-Ill.), a former Black Panther himself, said that he supports the renaming of the street after his old friend. Such a move is fitting, Rush said, given Hampton's courage and sacrifice for the community.
The election of Harold Washington in 1983 as the city's first Black mayor, Rush said, can be directly linked to the huge public outcry over Hampton's murder. Any opposition to honoring Hampton, he said, is rooted in racism.
Hampton is remembered for promoting a multiracial, non-aggression pact between the city's gangs, and for taking a class approach to the fight against racism.
Speaking in 1968, he said, "We say primarily that the priority of this struggle is class. That Marx and Lenin and Che Guevara and anybody else that has ever said or knew or practiced anything about revolution always said that a revolution is a class struggle. It was one class — the oppressed, and the other class — the oppressor."
Hampton continued: "Those that don't admit to that are those that don't want to get involved in a revolution, because they know as long as they're dealing with a race thing, they'll never be involved in a revolution."