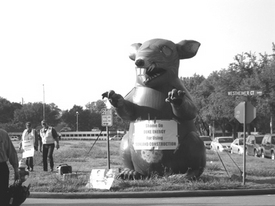 HOUSTON — A giant inflatable rat was the featured participant in a protest at Duke Energy headquarters here by members of Pipeline Workers Local 798. The workers came from Tulsa, Okla., to protest the unfair practices of Duke Energy contractor Sunland Construction. One pipeliner told the World that nonunion "rat" Sunland provides lower quality work than a union workforce, with worse worker safety.
Sunland, based in Eunice, La., has an abysmal record on working conditions and standards, the Pipeline Workers union says, including: "worker deaths on the job, alcohol and drug abuse, severe worker injuries, non-enforcement of safety policies, OSHA non-compliance, environmental infractions, community disregard, automotive accidents, unfair labor practice violations, high weld reject rates and shoddy workmanship." The union asks, "Does Duke Energy care more about the //$Bottom Dollar$// than they do about safety?" and "Should Duke Energy hire contractors who have a poor record like this to build or repair high pressure natural gas pipelines?"
Protesters carried posters with pictures of injured workers. One showed a man in a coma after a pipe fell on him. Another was of a worker whose back was broken by a pipe. Other signs displayed copies of a May 17 newspaper article about the most recent worker death on the job.
The article, from the Smyth County, Va., News and Messenger, told the story of the May 15 death of Sunland worker David Lee Burrow, 45, of Pharr, Texas, who died after becoming trapped between a side crane dozer and his pickup truck.
The pipeline workers were joined by area union members and others who traveled from Texarkana, Texas, and as far as Washington, D.C., to express their solidarity. Workers passing by in a pickup truck waved their support. Some company officials passed by but were not nearly so friendly.
The peaceful event was monitored by a unit of the Houston Police Department mounted patrol. HPD brought a huge trailer with horses to the scene but they were kept a distance from the protest. The commercial media ignored this event, as usual.
TOWN HALL May 2 – Confronting the COVID Economy: Women Fight Back