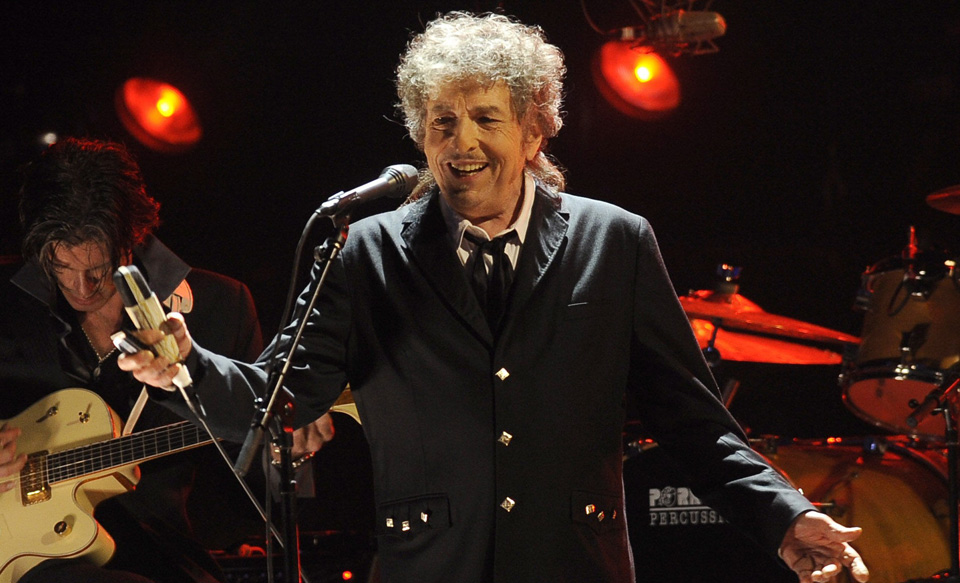 The recent Nobel Prize in literature awarded to Bob Dylan took many by surprise, including me, one of Dylan's many fanatics. It's not that I don't think he's worthy of the recognition for having written so many brilliant, creative, and original and poetic lyrics that cut to the core of the social and political inhumanities of our "world gone wrong" (the title of one of his later albums).
I often tell people that if not for Dylan, I would not have survived my high school years in suburbia. His words did for me what I'm sure they did for so many others—validated my sense, when few others wanted to say so, that the world was far less than it could be, less than it promised, and not what it should be. He said this despite assertions to the contrary from those living in the malaise of capitalist culture and listening to the likes of those "city fathers" who are "trying to endorse/The reincarnation of Paul Revere's horse," an image that opens Tombstone Blues, the song brilliantly lampoons a culture committed more to death than life.
How relevant and prescient this last lyric is as we live through the political drama of Donald Trump, whose sense of making America great again is its own version of reincarnating Paul Revere's horse. It is looking back to stale, dead thought for impossible resurrections instead of looking forward with creative problem-solving.
Dylan gave us permission—and courage–to resist creatively within an imprisoning world, to "walk upside-down inside handcuffs." When he sang, "If my thought-dreams could be seen/They'd probably stick my head in a guillotine," he let all of us experiencing discomfort and loneliness in a stifling world know that we were not alone in our dissent and unorthodoxy.
Even more, he taught us to respond playfully and with a sense of joy in our own creative powers, for how else can we characterize Dylan if not as one who handles language inventively and playfully, luxuriating in its possibilities? When our "ancient empty street's too dead for dreaming," he has in fact been our Mr. Tambourine Man who shows us that "but for the sky there are no fences facing," inspiring us to think utopia, imagine the next world — or more simply, just to play.
Invention and re-invention
Dylan's prolific career is one of invention and constant re-invention, and experimentation. He has routinely defied expectations to the dismay of his fans, and I'm not just talking about his now legendary unleashing of his electric sound at the Newport Folk Festival in 1965, which provoked the ire of his folk devotees. That moment has now become immortalized in rock history.
Few fans, however, have ever embraced his turn to gospel in the late 1970s, which resulted in albums such as Slow Train Coming, Shot of Love, and Saved. This moment, I would contend, is as key as any other to understanding Dylan's brilliance.
In the liner notes to the multi-record compilation Biograph, which includes the song Solid Rock from the rock gospel album Saved, Dylan recalls going on tour in the late 1970s, excited to share all new material, songs that would come to constitute these religiously informed albums. He recounts being excited "to expose people to that sort of thing because I loved it and it's the real roots of all modern music but nobody cared. College kids showed the most disrespect."
Playing college campuses, he was roundly booed and, he recounts, shocked at the "just really filthy mouth stuff" he heard. Conversely, he recalls playing in theaters in the mission and Times Square districts and inner cities where people were out of work, of playing to audiences of "pimps and hookers" who, he thinks, had never heard of him and being greeted with enthusiasm: "They understood what I was doing though and let me know that."
I touch on this moment because what is key to understanding Dylan is his multiplicity. He has experimented with and mastered so many different musical and lyrical forms, from folk, to rock, to country, to gospel, to traditional blues. Back in the early '90s at a concert in East Lansing, Mich., I remember he opened, to my astonishment, performing the Beach Boys' The Sloop John B. He really does try anything—because, I think, he genuinely loves music and because, I believe, he is searching always for new ways to think, to be, to feel, to create, to experience and make the world enjoyable.
And the turn to gospel wasn't really so much a turn as an accentuation of a religious and Biblical tendency and influence always present in his music, from Gospel Plow on his debut album to Disease of Conceit on Oh Mercy to the Biblical allusions that redound throughout his entire oeuvre, such as the iconic protest song Masters of War, not to mention most of the songs on the trailblazing classic rock album Highway 61 Revisited. That so many of his followers rejected his gospel music underscores the strength of his insistence on his artistic vision and on his refusal to forgo mining any and all cultural resources to find meaning.
Creative perseverance
So often Dylan not only surprised, but he disappointed, as we see in his excursion into gospel. I guess that's why his receiving the Nobel Prize surprises me.
As the example of his turn to gospel indicates, Dylan was often out of step. He would forge a new path (notice I didn't say "lead") and then leave, inspiring the voices of political protest in the 1960s, for example, and then going AWOL from Woodstock. Having started a revolution, he would then revolutionize the revolution, though often he would not be followed but met with distaste, accused of sacrilege, or indicted for retreating and abandoning the mantle of leadership.
The lines from "Bob Dylan's 115th Dream" off of Bringing It All Back Home come to mind: "Well, I rapped upon a house/With the US flag upon display/I said, "Could you help me out/I got some friends down the way/"The man says, "Get out of here/I'll tear you limb from limb"/I said, "You know they refused Jesus, too"/He said, "You're not Him."
His resistance to orthodoxy and his willingness to inhabit and master many musical forms (giving him access to–and the ability to express himself through–a spectrum of American cultural mindsets and experiences) are the sources of what I see as his real revolutionary politics. While the major artists convened at Woodstock to loudly perform the countercultural resistance—think of Hendrix's blaring "Star Spangled Banner" and Janis Joplin's wailing—Dylan produced three albums on the quiet and seemingly apolitical side, John Wesley Harding, New Morning, and Nashville Skyline.
Revolutionary politics ignites joy
But here we have to question what is political. Politics is not just protest. That is, the most powerful revolutionary politics don't give expression to just what we're against, but what we are for and what we need as human beings to fully realize ourselves. In short, the most politically profound aesthetic also inspires the utopian imagination, ignites joy, and seeks to touch, awaken, and give expression to our full array of creative sensibilities. The revolutionary artist shapes and helps give birth to the expressive and emotional sensibility necessary for the most humane world.
Dylan's experimentations with genre and form are his search for meaning, for answers, and for this new sensibility. Take his fabulous country album Nashville Skyline. I am personally enthralled with the song Country Pie, which features such lyrics as, "Well I don't need much and it ain't no lie/Ain't runnin' any race/Give to my country pie/I won't throw it up in anybody's face."  On the surface, these lyrics aren't going to change the world; they don't necessarily articulate some profound political truth or philosophical insight.  But they do make me sing the refrain, "Oh me oh my, love that country pie!"
It is both surprising and delightful to me that the Nobel committee awarded the author of these lyrics this major prize. On the surface, though, these lyrics might not seem to stand up to the substantial prose of a Toni Morrison or Jose Saramago or the political weightiness of Orhan Pamuk or Doris Lessing, all other recipients of the prize. But they express a playfulness and joy that we need to make us alive. His ranging through musical genres activates our full range of creative energies.
Working the graveyard shift and singing
When I worked the graveyard shift at the Ann Arbor post office one summer in the early 1990s, I remember my co-worker who would stand in the perch at the top of the mail carousel and throw down the packages and large envelopes he was sorting. We would shout Dylan lyrics up and down at each other, and one of his favorites was from I Shall Be Free No. 10 from Another Side of Bob Dylan: "Well , I set my monkey on the log/And ordered him to do the Dog/He wagged his tail and shook his head/And he went and did the Cat instead." These words kept us going in a way the prose of a William Faulkner or the dramatic dialogue of a Harold Pinter could not. We turned our routinized labor into a ritual of play, refusing to be the dog and being more of what we wanted.
Where, then, is the political genius of Dylan? It is precisely in the insistence on joy and play and in the unprejudiced and daring search for answers through form.
Despite the fact that his prolific career as a poet and musician has spanned over half a century (I have a t-shirt from one his concerts that is over 30), often Dylan is associated most prominently with the 1960s and the politics of protest. To be fair, he did in fact loom large in the musical realm by carrying on the radical tradition of one of his heroes and biggest early influences: Woody Guthrie, to whose deathbed he made a pilgrimage. And, certainly, classic songs such as Blowin' in the Wind and Hard Rain's Gonna Fall from The Freewheeling Bob Dylan or just about any song from The Times They Are A-Changing and many from Highway 61 Revisited affirm his genius for political critique.
As he sings in the aforementioned Country Pie, "Saddle me up my big white goose/ Tie me on 'er and turn it loose/Oh me, oh my/Love that Country Pie." It is play which can take us beyond the orthodox (a lesson from which the U.S. left can always benefit), moves us to take flight to find or to create the world of tomorrow as opposed to the exploitation and oppression at which we currently excel.  To borrow the phrasing of Mr. Tambourine Man, Dylan's music gives us the strength and joy to "forget about today until tomorrow," to imagine and, indeed, be ready to inhabit the next world.