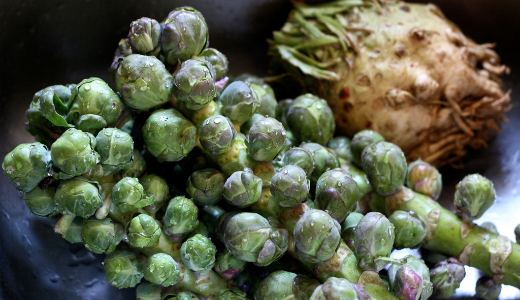 There are now 1,733 people in Germany affected by a dangerous e. coli outbreak, reported MSNBC. Its source has been attributed to tainted bean sprouts grown near Hamburg, Germany.
This disaster is affecting both the economy and workers throughout Europe.
By June 1, Italian, Austrian and French cucumber sales had begun to decline sharply, said Wikipedia. Easy Destination noted that the outbreak was also hurting the local tourism industry in Germany.
Nursan Usta, who runs a fruit-and-vegetable stand in Berlin, Germany's Neukölln district, said that, though sprouts were, at the time, eyed as the most likely e. coli culprit, his customers "aren't even buying cherries." A lot of people are afraid or worried."
Meanwhile, on June 1, Motril, a town in Spain's agricultural center, saw its greenhouses emptied of workers as the demand for vegetables waned, due to the crisis. At that point, said the New York Times, the German authorities had mistakenly highlighted Spain as the source of the outbreak.
The likely origin of the poisoning was at a farm in Niedersachsen, Germany, which has been shut down, according to Wikipedia. Other than Germany, the report said, countries largely affected include Sweden and Denmark.
As a result, said the Times, the rate of acute kidney failure cases is now on an unprecedented rise, according to Dr. Robert Tauxe. Tauxe, who is deputy director of food-borne disease at the Centers for Disease Control and Prevention in Atlanta, added, "That makes this an extraordinarily large and severe event."
This strain of e. coli produces the deadly Shiga toxin, which can cause bloody diarrhea, dehydration, and kidney failure; it has already killed at least 22 people in Europe, as reported by the Guardian.
Though bean sprouts are considered a healthy food, they have led to salmonella and other e. coli outbreaks in the past. Food experts in the U.S. have warned that young children, the elderly, and those with weak or sensitive immune systems should refrain from consuming the sprouts.
This health scare has strained ties between Germany and Spain, the latter of which did not appreciate its food being targeted as the source of the poisoning. GGS News said that Spanish fruit and vegetable farmers were demanding compensation from the European Union for losses, which are believed to have reached nearly $300 million in one week. The Guardian said that the disaster threatens to put 70,000 people out of work in Spain.
Furthermore, German hospitals were struggling to deal with the sudden influx of affected patients. Health minister Daniel Bahr said that it was difficult to provide enough beds and treatment.
Patients claimed that some of the hospitals had terrible conditions. Nicoletta Pabst told the Associated Press, "We all had diarrhea, and there was only one bathroom each for men and women; it was a complete mess. If I hadn't been sick with e. coli by then, I probably would have picked it up over there."
"We're facing a tense situation with patient care," said Bahr. "But we will manage it."
Photo: Susy Morris // CC 2.0