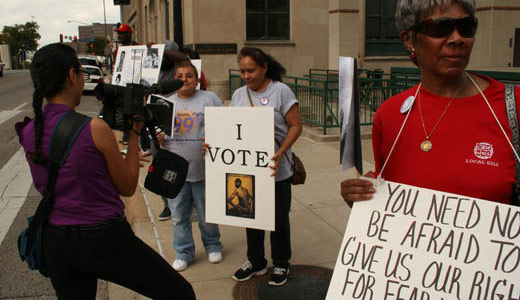 DALLAS – Early voting runs from Oct. 22 to Nov. 2 in Texas. Almost all of the efforts at voter suppression passed by the last legislature were stopped by federal courts; consequently a large percentage of Texas's 13 million voters are expected at the polls. If past trends continue, a significant part of the vote will take place before Nov. 6. Seniors, disabled people, and people who will not be in their home area during the voting period are allowed to vote by mail. Many of them already have.
To emphasize the importance of early voting, Communications Workers of America Local 6215 sent around 40 people to the most central polling place, the Dallas Records Building downtown, to carry out a highly visible rally. They were joined by the handfuls of activists from Jobs with Justice, MoveOn, Texas Alliance for Retired Americans and Texas Organizing Project. Media coverage of the enthusiastic noontime rally was extensive. A short video is available.
Hardly any political scientists expect President Obama to carry Texas this year. There are nevertheless many important decisions to be made on Nov. 6. Polls indicate that tea party favorite Ted Cruz will defeat Democrat Paul Sadler for the open Senate seat. There are two, and possibly four, U.S. Representative seats that Democrats might add to their minority delegation. There is one extremely critical race for State Senate where Fort Worth native Wendy Davis is trying desperately to remain in the Senate despite Republican-engineered redistricting. The local newspaper estimates that as many as 15 state representative seats might be won by Democrats. In none of these cases would the Democrats have a majority anywhere in Texas.
At the same time, Democrats have been doing very well in metropolitan areas. Dallas counts itself as the only "fully blue" county, but the other big urban counties have increasingly Democratic representation.
In Texas, the political scientists agree that all outcomes depend on turnout.
Photo: Jim Lane/PW