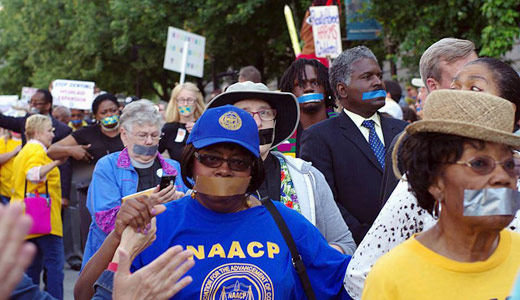 Many thousands of North Carolina voters are joining in the Moral Monday "March to the Polls," taking advantage of the state's early voting that began October 23. It is a movement that bodes well for the state's incumbent Democratic U.S. Senator Kay Hagan who is locked in a fierce battle against tea party Republican challenger, Thom Tillis.
Moral Monday's founder, the Rev. William Barber, president of the North Carolina NAACP, initiated a "Denial of Medicaid Funeral Procession" through the state capital, Raleigh, on October 20. The purpose, Barber wrote, is "to dramatize the loss of life, health care, jobs, and hospitals" inflicted on the state by North Carolina's Republican politicians who rejected expanded federal funding for Medicaid to cover low-income people eligible for President Obama's Affordable Health Care Act.
Tillis, currently the House Speaker of North Carolina's state legislature, played a central role in turning down those federal dollars, thus denying health care to an estimated 500,000 low-income people in the Tarheel State, a majority children. Sen. Hagan has hammered Tillis also for rejecting Federal funds to extend unemployment compensation for thousands of jobless workers in North Carolina.
A report on early voting, nationwide, by AP reporter, Michael P. McDonald, declares, "North Carolina's in-person early vote got off to a strong start on Thursday (Oct. 23). As of Saturday, 313,729 had voted…. Democrats now hold a commanding 48 percent to 32 percent lead in all early votes, a lead that is unlikely to fade between now and Election Day." McDonald's report offers similar encouraging news of impressive gains against the Republican right in early voting across the nation.
Moral Monday has drawn together a strong multiracial movement to fight the Republican power grab in North Carolina. It includes tens of thousands of African Americans, Latinos, and other people of color, the North Carolina AFL-CIO, local unions, the environmental movement, and the movement for women's equality and gay and lesbian marriage equality. Last July 22, hundreds of Moral Monday protesters were arrested on "trespassing" charges during a sit-in in the Capitol rotunda. The courts upheld the rights of the protesters. The prosecutor dropped the charges Sept. 19 against 941 protesters but left standing the charges against 51 protesters who had been arrested earlier.
Rev. Barber told reporters the protesters had entered the Capitol to meet with Gov. Pat McCrory, Speaker Tillis, and other officials "to challenge …morally indefensible, economically insane extremist policies. The repressive agenda of Speaker Thom Tillis, Senator Phil Berger and Governor Pat McCrory is hurting the poor, the sick, working people…Rather than meet with us for a fair debate on the issues, they arrested us."
Since then, Moral Monday has staged "March to the Polls" and "Souls to the Polls" to early voting polling places across the state.
Sen. Hagan, herself, inspired early voting at one rally. She was speaking to hundreds of students at the University of North Carolina, vowing to lead the fight in the U.S. Senate for higher funding of Pell Grants and other measures that provide financial assistance to hard-pressed college students—all blocked by the Republicans in the U.S. Senate and House. When she ended the speech, the students stood and marched en masse to the voting place in Chapel Hill to cast their ballots. Hagan is credited by observers with running a "near flawless" reelection campaign in a campaign unusual for its intensity in an off-year elections when voter turnout is typically low. Her campaign has enlisted an estimated 10,000 volunteers to doorbell and phonebank to get out the vote.
Photo: Moore County NAACP, ‎Moore Moral March to the Polls, Facebook