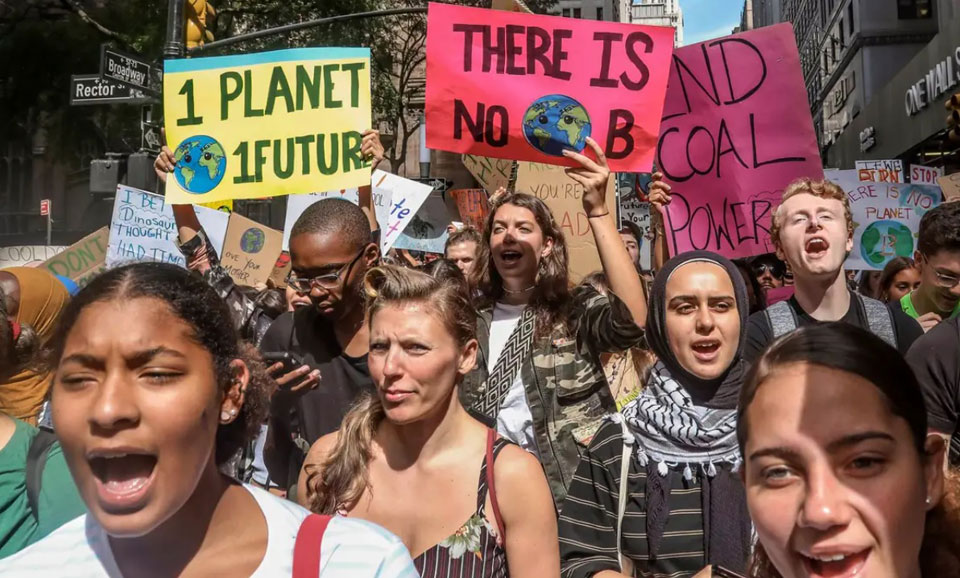 WASHINGTON—As far as green groups are concerned, the decision by Democratic President Joe Biden's Interior Department to resume selling leases for oil drilling on federal lands was NOT the way to celebrate Earth Day.
On the other hand, the California Air Resources Board's plan to ban all new gasoline-powered car sales in the Golden State by 2035 could be cause for cheer—even as more than a dozen cities and counties, including Los Angeles, are agitating to set that deadline as 2030 instead.
And, with California's size as the most-populous state and leader in number of vehicles on its roads—29.772 million as of December, one of every nine nationwide—implementing the board's detailed year-by-year reductions in gas-powered car and truck sales may be even more important than the lease sales.
But given that Earth Day occurs every April 22, the oil lease sales resumption got more attention, especially in the oil-dependent "red" states as well as those where federal land management agencies, including the National Park Service, own a high percentage of total state acreage.
The new leases will cover 144,000 acres of federal land in Alabama, Colorado, Montana, Nevada, New Mexico, North Dakota, Oklahoma, Utah and especially Wyoming, with 135,000 acres of leases alone.
Interior's decision also got more attention because, on the campaign trail in 2020, Biden flatly declared he would ban such leases. So did his campaign platform.
Biden's Interior Department tried to explain the oil and gas lease sales resumption with the explanation that it had to do so, following an injunction by the U.S. District Court for Western Louisiana, representing another oil-dependent red state.
Interior Secretary Deb Haaland also said the Bureau of Land Management cut the available land for new leases by 80%. And she said BLM will charge the fossil fuel firms 18.75% in royalties from their proceeds from selling any oil or gas they get from drilling on the lands.
That's a 50% hike over the current level—and the first increase since the feds started opening up such lands more than a century ago. The most-notorious opening of oil-laden federal lands, of course, was the Teapot Dome oil lease scandal during the Republican Harding administration, involving trading leases for Sinclair Oil Company payoffs to then-Interior Secretary Albert Fall.
"For too long, the federal oil and gas leasing programs have prioritized the wants of extractive industries above local communities, the natural environment, the impact on our air and water, the needs of Tribal Nations, and, moreover, other uses of our shared public lands," Haaland said. BLM will issue environmental assessments for the leases.
Haaland claimed the new rules will change that. The green groups disagreed.
The green groups were upset with Biden's Interior Department, while the Natural Resources Defense Council (NRDC) and the state's Zero Emissions Vehicles (ZEV) Coalition cheered California's action—though ZEV and its members are pushing for a 2030 ban on gasoline-powered vehicle sales.
'We need to rethink our economy so all of our children have an opportunity to earn a decent living. This starts by valuing our planet above fossil fuel industries," tweeted former AFL-CIO Executive Vice President Tefere Gebre, now a top Greenpeace official, including oversight of its organizing.
Other green groups were even more caustic about the drilling, though none said what they would specifically do to stop it. One coalition, which included the Sierra Club and Friends of the Earth, plus 11 western and indigenous people's green groups, noted the drilling never really stopped.
"Despite its pause on new oil and gas leasing and drilling on publicly owned lands and waters, the Biden administration approved more drilling permits in 2021 than President Trump did in the first year of his presidency, according to federal data analyzed by the Center for Biological Diversity," the leader in that joint statement said.
"The administration's claim that it must hold these lease sales is pure fiction and a reckless failure of climate leadership," said the center's public lands director, Randi Spivak. "It's as if they're ignoring the horror of firestorms, floods and megadroughts, and accepting climate catastrophes as business as usual."
The groups' joint statement noted "the oil and gas industry continues raking in record profits while communities pay the price…Shell, Chevron, BP and Exxon made more than $75.7 billion in 2021, some of their highest profits in the past decade.
"The communities most at risk from new fossil fuel extraction are primarily Black, Brown and Indigenous peoples, people of the global majority, and those on the frontlines of fossil fuel industry expansion. These are the same communities that turned out in record numbers to get Biden elected in 2020" and who demand Biden issue executive orders to ban the oil and gas leases," as he promised.
"Pollution from the world's already-producing fossil fuel developments, if fully developed, would push warming past 1.5 degrees Celsius, and that avoiding such warming requires ending new investment in fossil fuel projects," they declared.
Meanwhile, the California Air Resources Board moved to end the gasoline-powered cars by 2035, carrying out another executive campaign pledge, this one from Democratic Gov. Gavin Newsom. CARB's plan would mandate 35% of new passenger car sales to be battery or hydrogen-powered by 2026, and all of them to be net-zero emissions by 2035.
The Natural Resources Defense Council led the cheers. The ZEV Coalition agreed, but said it, plus the Los Angeles, Oakland and Berkeley City Councils and the state Democratic Party, among others, want an end to those sales by 2030.
"California has the unique opportunity to solidify its place in the United States—and around the world—as a leader in slashing pollution from the transportation sector," said NRDC climate specialist Kathy Harris. "By setting standards that will put more electric cars and trucks on the road, the state will also protect drivers from volatile gasoline prices, while driving innovation and creating thousands of good jobs.
"Building on this, the state needs to ensure that programs are delivering emission reductions to those communities where the public health needs are the greatest.
"Strong standards will place even more electric cars and trucks in the showroom and increase access to technologies that will get us on the freeway to a cleaner, healthier future. The IPCC (Intergovernmental Panel on Climate Change) says we stand at a 'make or break' moment for climate action. The transportation sector is the largest source of carbon pollution, making policies like this essential if we are to have any chance of preventing the worst impacts of climate change."
In its resolution, adopted last September, the Los Angeles City Council said banning new gasoline-powered vehicle sales by 2030, five years earlier than Newsom and CARB propose, would especially help the city's most-vulnerable residents.
"Angelenos–particularly those who face socioeconomic and health inequities–are daily affected by the health and safety risks of air pollution resulting from the widespread use of gasoline-powered vehicles within Los Angeles," it read. "Widespread adoption of zero-emission vehicles will reduce air and climate pollution, resulting in healthier air for all Angelenos and saving lives." The ZEV Coalition lobbied for the resolution. Los Angeles is annually ranked as the most traffic-clogged city in the U.S.
"The number of climate-exacerbated floods and wildfires in the last two months alone is absolutely staggering," Councilmen Paul Koretz, one of the two lead sponsors of the unanimously passed measure. "If you have lung cancer, you stop smoking, if your planet is on fire, you stop pouring gasoline on it. Stopping building new gas cars tomorrow wouldn't be too soon. And very soon electric vehicles will cost less than gas guzzlers."
Top labor groups on both sides of the clean energy issue– the BlueGreen Alliance and the Labor Network for Sustainability on one hand and North America's Building Trades Unions on the other, did not issue statements on either Biden's leasing announcement or the proposed California ban. But NABTU President Sean McGarvey, in his keynote address to its legislative conference in early March, declared: "NABTU supports an all-of-the-above energy strategy that not only prioritizes combating climate change but that sustains and values workers."