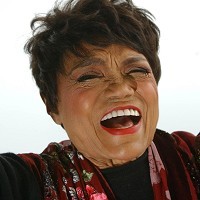 NEW YORK (AP) — Eartha Kitt, a sultry singer, dancer and actress who rose from South Carolina cotton fields to become an international symbol of elegance and sensuality, has died. She was 81.
Family spokesman Andrew Freedman said Kitt, who was recently treated at Columbia Presbyterian Hospital, died Dec 25 in Connecticut of colon cancer.
Kitt, a self-proclaimed "sex kitten" famous for her catlike purr, was one of America's most versatile performers, winning two Emmys and nabbing a third nomination. She also was nominated for several Tonys and two Grammys.
Her career spanned six decades, from her start as a dancer with the famed Katherine Dunham troupe to cabarets and acting and singing on stage, in movies and on television. She persevered through an unhappy childhood as a mixed-race daughter of the South and made headlines in the 1960s for denouncing the Vietnam War during a visit to the White House.
Her first album, "RCA Victor Presents Eartha Kitt," came out in 1954, featuring such songs as "I Want to Be Evil," "C'est Si Bon" and the saucy gold digger's theme song "Santa Baby," which is revived on radio each Christmas.
In Chicago, The Rev. Jesse Jackson hailed Eartha Kitt as "a pioneer," and said her talents were so immense and strong that the walls of segregation began to come down when people watched her perform.
Jackson, like Kitt, is a native of South Carolina. He said he remembered visiting his aunt in Chicago in 1955 and being taken to see Kitt at the Chicago Theatre, where she was one of the first black headliners.
Recalling the White House luncheon at which Kitt spoke out against the Viet Nam war to first lady Lady Bird Johnson and other guests, Jackson said, "We are a better people and a better world because of her her audacity, and her protest at the White house brought a message of dignity and peace to high places. It created temporary discomfort to some, but peace-loving people around the world rejoiced."
———————————————————————————–
For more information visit the website: