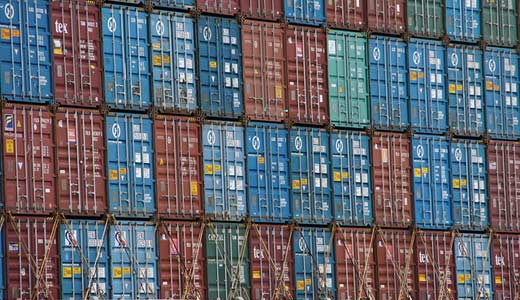 An agreement by the union and shipping companies postpones for 30 days a strike by dock workers that could have frozen business at every port from Boston to Houston Sunday with more than 14,000 workers going on strike.
The contract between the International Longshoremen's Association and the U.S. Maritime Alliance, a conglomerate representing the shipping companies and terminal operators, expired in September.
A person close to the union's leadership said, "We wanted to say Happy New Year with a contract extension to February but the bosses answered with a 'Bah Humbug.' We even hinted that we would become more flexible in talks involving other sticky issues but they said 'no.'"
Federal mediators have been at work, however, and the extension was announced today.
ILA locals had already begun strike preparations."
A local union leader on the Gulf Coast said earlier this morning that strike committees had already been set up and assignments made for picket duty and that workers had already been told that all company orders to handle containerized cargo were not to be honored.
The work stoppage would not have been total with longshore workers under orders from the ILA to continue handling military cargo, mail, passenger ships and non-containerized items like automobiles and perishable food.
Nevertheless, the 15 ports still facing a possible strike in 30 days move more than 100 million tons of goods each year, or 40 percent of the nation's containerized cargo. Even in a few days a strike could cost the economy billions of dollars.
Retail stores could feel a dramatic effect as everything from flat screen TV's and winter clothing and shoes to vacuum cleaners and snow removal equipment piles up on the docks. The parts and raw materials that keep domestic manufacturing operations going would also not be available.
Due to the potential impact on the economy, the Obama administration said today it is monitoring the situation closely.
Thousands of other jobs around the country would be affected with truck drivers not having cargo to ship, tug boat captains having no ships to guide and freight train operators left with nothing to transport.
Meanwhile, longshore workers at Pacific Northwest grain terminals worked yesterday under contract terms they rejected last week. The owners implemented the terms, which involve stricter workplace rules and benefit cuts, after declaring talks at an impasse.
As of Friday morning the International Longshore and Warehouse Union, which represents West Coast workers, had not yet announced its next move. A strike on the West Coast would make the strike nationwide.
The dispute with Pacific Northwest is at terminals in Portland, Ore., Vancouver, Wash., and Seattle, where workers have been working without a contract since the last one expired Sept. 30
Photo: Containers in Boston. James Saunders // CC 2.0