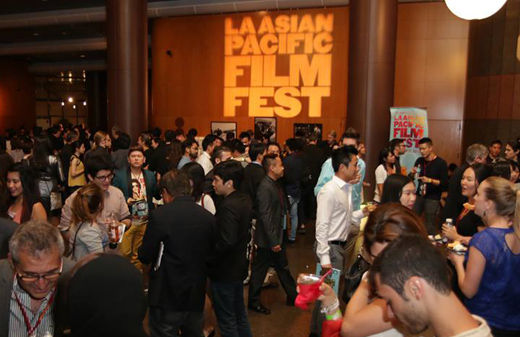 LOS ANGELES – The 31st annual Los Angeles Asian Pacific Film Festival continues to serve as a gateway for features, shorts, animation, and documentaries right here in the belly of the motion picture beast. LAAPFF also provided seminars, panels, and galas – and a gathering place where East met Island. Here are reviews of a few of this year's film offerings.
Waterworld meets Alphaville at Vietnam
The best film I saw at LAAPFF was Vietnamese director/co-writer Nguyễn-Võ Nghiêm-Minh's 2030 (the Vietnamese title is "Nước," which, appropriately, means "water"). This is a futuristic look at global warming which, in the eponymous year, has caused flooding in much of southern Vietnam and Ho Chi Minh City. 2030 is very stylish, sensuous and cinematic, combining elements of different film genres: Sci Fi and Film Noir. It's sort of like Jean-Luc Godard's 1965 Alphaville meets 1995's Waterworld.
In 2030, the Lemmy Caution hardboiled detective-like character (played by Eddie Constantine in Alphaville and Kevin Costner's Waterworld Mariner) is actually depicted by a Vietnamese woman, Quynh Hoa, playing Sao, who tries to unravel the mystery behind the death of her fisherman husband Thi (Kim Long Thach). Amidst the floating farms of flooded Vietnam, Sao's investigation leads to the corporate honcho and scientist Giang (Quy Binh) and his overwater laboratories.
It turns out that Sao and Giang have a past, which is revealed via a complex flashback structure that may be hard to follow for some viewers of this subtitled feature. But this 98-minute movie is well worth the effort and concentration it requires to be understood. Quynh, who starred in 2011's award winning Saigon Electric, is quite good. The cast includes professionals and in a Neo-Realist way, non-actors, in this movie that includes some sexual content.
2030 is the second feature directed by Nguyễn-Võ Nghiêm-Minh, who previously helmed and co-wrote 2004's award winning The Buffalo Boy, which was also shot in Vietnam with a watery subtext. Minh, who now lives in the L.A. area, was a physicist at UCLA, so he brings an unusual skill set to filmmaking. It's fascinating to see how someone with a scientific background portrays onscreen climate change – especially a scientist who also has a highly aesthetic visual sense. Visually, 2030 has the elegance of physics and it deserves distribution, so viewers far and wide can experience this vision of life underwater. Perhaps by doing so we might be able to avoid such a liquidy fate.
Fa'a Samoa cinema: Ofa Ma Alofa
Along with writer/director Ty Sanga's documentary Visions in the Dark: The Life of Pinky Thompson, Ofa Ma Alofa helped put the "Pacific" into the Los Angeles Asian Pacific Film Festival. A number of Samoans and Tongans attended the crowded screening, which was part of LAAPFF's "At What Cost, Love" program of shorts. Of course, the Pacific works are what this film historian/critic, who lived in Oceania for 20-plus years and has co-authored three books on South Seas Cinema, is most interested in.
Ofa Ma Alofa is a 20-minute scripted short with actors by writer/ director Gabrielle Fa'ai'uaso, an undergraduate of Samoan ancestry who has been a film student at the Academy for Creative Media at the University of Hawai'i at Mānoa. The dialogue is in Samoan and Tongan, with English subtitles.
This well made, well acted film was inspired by ancient legends and historical events, and depicts a war between invading Tongans and Samoans. Following a battle, Ofa (Tongan for "love") is left to die, but Alofa (Samoan for "love"), a young Samoan maiden, secretly rescues him and heals the wounded invader in the jungle. They fall in love and all hell breaks loose in this Romeo and Juliet saga set in the Polynesia of 1160 CE.
The most noteworthy thing about Ofa Ma Alofa is its attempt to depict pre-contact Polynesia: The action takes place 500-plus years before the Dutch explorer Jacob Roggeveen "discovered" Samoa in 1722. Usually, indigenous people aren't represented onscreen unless they are in interaction with palagis (Caucasians), as if Natives did not have a "pre-history" until whitey showed up and graced aboriginal people with the magnificence of their presence. (Consider this: With all the countless movies set in Manhattan, there's only one I know of that depicts the pre-contact tribes living in that island before Henry Hudson, the British, the Dutch showed up – about one minute in the 1955 Marilyn Monroe movie The Seven Year Itch.) Then, of course, once the outsiders arrive, onscreen Pacific Islanders often become background characters in stories set in their own homelands, mere props existing only vis-à-vis the white interlopers, who are usually the protagonists.
But in Ofa Ma Alofa all of the characters are Polynesians, and we get a sense of their aboriginal apparel, tongue, tattoos and traditional way of life, lived close to nature, so this is refreshing. The short was obviously made on location somewhere in Polynesia, but it's not clear on which South Pacific island – Oahu? Tutuila? But it definitely does have an Oceanic ambiance.
Unfortunately, having said all that, what does Fa'ai'uaso represent as the pre-contact way of life? It could be argued that Ofa Ma Alofa perpetuates the South Seas stereotypes of Pacific Islanders being extremely violent, brutal "savages." This is supposed to be a love story but there's more making war than making love onscreen. There may have been wars and conflicts in 12th-century Polynesia, but there were also a lot of other things happening that you can make a movie about without perpetuating belligerent, warlike caricatures.
Another problem is that the leaf-skirted actress portraying Alofa (Suluama Fa'ai'uaso) is clearly wearing pasties beneath the leafy leis covering her chest. Are we supposed to think that the ancient Polynesian women wore pasties (or swimmers in contemporary French Polynesia, for that matter)? Listen, if you're going to attempt to depict the past as it really was, don't impose the missionary madness introduced by the Europeans and Americans on your characters and plot. And if you can't be authentic because you've been brainwashed by missionaries and the like, then make movies about something else. Your ancestors deserve nothing less. Be accurate as to how they really were – not the way so-called Christians want "pagans" to be portrayed. I'm just saying – be true to thine own South Seas self!
Now that I got that out of my system, Fa'ai'uaso is a gifted filmmaker and I hope he will continue to make movies, including features. I look forward to reviewing them in future. Once upon a time, it was the palagi, like Robert Louis Stevenson, who was the "tusitala" – the "teller of tales." The most exciting development in South Seas cinema is the surging tidal wave of indigenous filmmaking that talents such as Fa'ai'uaso and Sanga are a part of. Fa'ai'uaso has a good eye and has made other shorts. He shows promise – by keeping it real he'll go much farther as a genuine artist. (See his demo reel here.)
Chucky Meets Kurosawa: Ghost Dolls
Squeamish as I am, I don't like the horror genre because spooky movies give me the heebie-jeebies. Nevertheless, I have to admit that writer/director Yuki Nishikata's Ghost Dolls is an exceptionally well crafted short set in 19th-century Japan. It brings you back in time with an eerie tale that had my skin crawling and hair standing on end for 15 minutes. Call it Chucky meets Kurosawa – a pretty scary, cinematically rendered ghost story with special effects in the land of the rising sun. Highly recommended for filmgoers who love to have nightmares.
For more LAAPFF info see here.
The new book co-authored by L.A.-based reviewer Ed Rampell is "The Hawaii Movie and Television Book" (see: http://hawaiimtvbook.weebly.com/).
Photo: Japanese American National Museum Blog