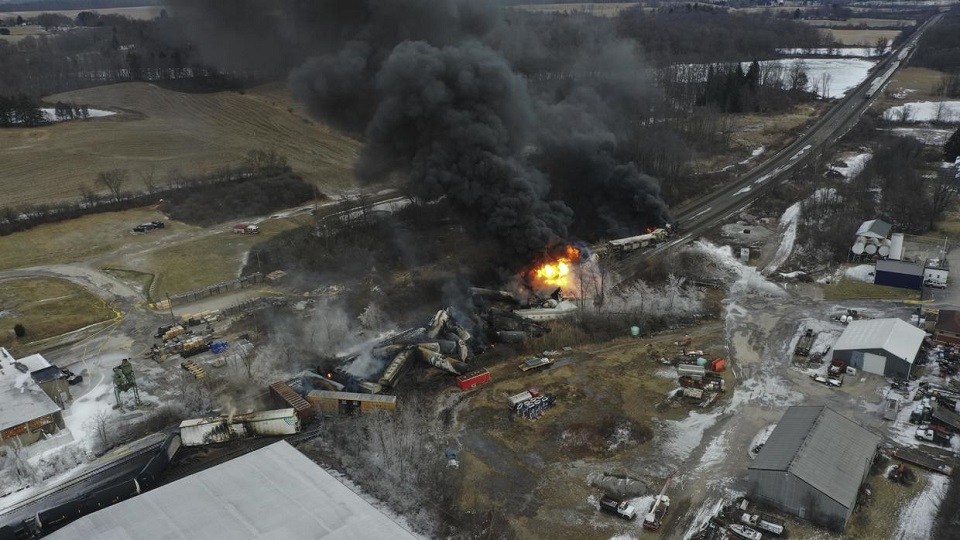 WASHINGTON—Sometimes it takes a disaster to get a bipartisan congressional majority to get off its ass and do something for the country.
In this case, the disaster was the Feb. 3 East Palestine, Ohio, freight train wreck and its noxious aftereffects. On May 10, the Senate Commerce Committee will thrash out legislation to start re-regulating the nation's railroads, concentrating on safety.
And if the railroads still break the new safety law, assuming their lobbying clout doesn't sidetrack it, derail it or water it down on the way to the Republican-run House and then Joe Biden's White House, they'd face maximum civil fines per violation not of $10,000—the present limit—but $10 million.
Norfolk Southern's wreck sent chemicals into the groundwater and loosed harmful gases into the air, along with a mushroom cloud, over the eastern Ohio town and parts of western Pennsylvania just blocks away. It prompted bipartisan legislation marshalled by Sen. Sherrod Brown, D-Ohio, to try to prevent such disasters in the future.
Brown, an outspoken progressive and union supporter, was initially joined by both progressive Sens. Bob Casey and John Fetterman, both D-Pa., and Ohio right-wing Republican J.D. Vance. Since then, senators from both sides of the aisle have signed on. They range from Commerce Committee Chair Maria Cantwell, D-Wash., to right-winger Marco Rubio, R-Fla.
"We're hard at work building a broad, bipartisan coalition to get our rail safety bill over the finish line," Brown says. "It's time big rail corporations like Norfolk Southern start reinvesting in their workers and safety to keep our communities safe." In other words, forcing the firms to put protecting people ahead of corporate profits.
Transportation unions are on board, too.
AFL-CIO Transportation Trades Department President Greg Regan is confident the Commerce panel and the full Senate will pass the Rail Safety Act of 2023. But he wants to ensure "it has some real teeth to it" with "meaningful strides and safety in the railroads," he told The Hill.
One of the few hazards the law won't outlaw, though, is the one which rail workers and unions have been battling for almost a decade: Precision Scheduled Railroading (PSR), a system that ensures higher rail profits—satisfying its corporate and capitalist bankers—by cutting workers, scrimping on safety and running ever-longer and more-hazardous trains.
On one key safety issue—mandating two-person crews on all freight railroads–key rail states, led by Illinois, California, Arizona, Ohio and Nevada, now have that mandate written into law. It's in Brown's bill, too.
Those states are particularly important. Chicago, the nation's freight rail hub, hosts 1,300 trains a day. And except for a route south from Seattle, any freight in and out of California, which receives the most U.S. intermodal (ship-train-truck) commerce, must now go through a two-person crew state.
Republican-run Ohio put a host of rail safety mandates, including the two-person crews, into its budget, the Brotherhood of Locomotive Engineers & Trainmen/Teamsters, reported. Minnesota is not far behind: Two-person crew legislation, backed by Gov. Tim Walz, DFL-Minn., is pending in St. Paul.
The problems the wreck exposed go beyond the derailment of the almost two-mile-long Norfolk Southern freight train on the track running through East Palestine. The crash sent dozens of its 130-plus cars careening off the rails. Some carried vinyl chloride and others were laden with other toxic chemical combos.
Venting the chemicals, to prevent an even larger disaster, produced the groundwater contamination, a massive fire and the mushroom cloud. So many chemicals leaked into the river running through East Palestine that 3,500 fish died.
The impact on people was immediate: When Norfolk Southern sent 39 workers, all members of the Brotherhood of Maintenance of the Way/Teamsters, to clean up the mess and straighten the bent tracks, they contracted nausea and migraine headaches within weeks. NS turned a deaf ear, so the workers took their cause to the Teamsters, who raised hell with Ohio officials.
In addition, Regan and rail unions point out, Norfolk Southern and the other railroads, in their bosses' eagerness to line their own pockets and satisfy their Wall Street capitalist backers, have cut staffing by 30% since 2014, while shoveling more money into stock buybacks than into anything else.
And PSR forces the remaining workers into jobs—including safety inspections—they aren't trained for. The railroads also ordered 1-minute once-over-lightly checks of freight cars. PSR maximizes long trains, with danger to cities, towns and rural areas, without even bothering to tell state and local officials what those freight trains are carrying.
Besides the two-person crew mandates, key re-regulation of the railroads in the bipartisan measure includes, but is not limited to:
Mandating longer inspections for each freight rail car, and by a qualified mechanic, before each car's let out of a yard to run on the rails.
"It is physically impossible to do these (rail car) inspections in less than a minute," David Arouca, Transportation Communications Union/Machinists Legislative Director, told an investigative reporter for a Cincinnati TV station in a video posted online. "You have a lot of stuff going down the track without any idea of whether it's safe or not.
"They're shortening inspections," he said of the railroads. "They're not having the most-qualified people do them. So of course safety is compromised and people like the people in East Palestine are going to get hurt."
Besides the visual inspections, mandating more, and more frequent, electronic detectors along train tracks, especially in urban areas.
NS had detectors spaced more than 10 miles away from each other on the way from southern Illinois to East Palestine and onwards. By the time the freight hit the third in that local stretch, at the Ohio town, the defective brake axle on one car had reached a temperature of 253 degrees Fahrenheit. Only then did an alarm sound in the engine cab. It was too late. The axle broke, the car derailed and caused the wreck.
Notifying cities, towns and communities along a railroad's way beforehand that a freight train with hazardous materials is coming through, including what the hazards are and which tank or freight cars are involved, so they can prepare. If fire departments must buy personal protective equipment (PPE) to help protect members who respond to wrecks, there would be federal reimbursement for the costs, from the fines collected from law-breaking railroads.
Forcing railroads to submit defect detector and safety plans to the Federal Railroad Administration for its approval. The defect detectors will be a maximum of 15 miles apart. The railroads now use an average of 25 miles. Railroads that break the law will face the high fines.
But the legislation is silent on another problem: High temperatures on rail brakes and axles. The temperature on the Norfolk Southern car's axle was 53 degrees above the point that would trigger the alarms—and testimony showed that Norfolk Southern trigger was one of the cooler "voluntary" temperature standards among railroads.
Forcing railroads to conduct "a route risk analysis" to ensure hazardous materials trains move by the safest routes, not the shortest or most convenient, as PSR demands.
Empowering the Transportation Department to literally make railroads stop freight trains when the technologies show, beforehand, the freight car(s) flunk inspections.
"This law would have ensured Norfolk Southern stopped the train earlier, preventing the derailment," a Commerce Committee factsheet laconically says.
But what the workers and their allies must watch out for is strenuous and expensive lobbying by the nation's big freight railroads to derail, sidetrack or grind the legislation to a halt. Norfolk Southern, the railroad responsible for the wreck, has spent $620,000 alone on lobbyists in the first part of 2023, news reports say.
And the Association of American Railroads, the lobby for all rail carriers, large and small, has been making the case that rail freight transportation is safe, wrecks—the one in East Palestine, another west of the Twin Cities, a third west of Columbus, Ohio, and a fourth near Houston, among them–notwithstanding.
The rail lobby spent $1.17 million on cajoling lawmakers in the first three months of 2023, reports OpenSecrets.org, a non-profit which tracks campaign and lobbying spending. That's slightly below AAR's average lobbying spending for the same stretches, starting in 2013.
We hope you appreciated this article. At 

People's World

, we believe news and information should be free and accessible to all, but we need your help. Our journalism is free of corporate influence and paywalls because we are totally reader-supported. Only you, our readers and supporters, make this possible. If you enjoy reading 

People's World

 and the stories we bring you, please 

support our work by donating or becoming a monthly sustainer today

. Thank you!