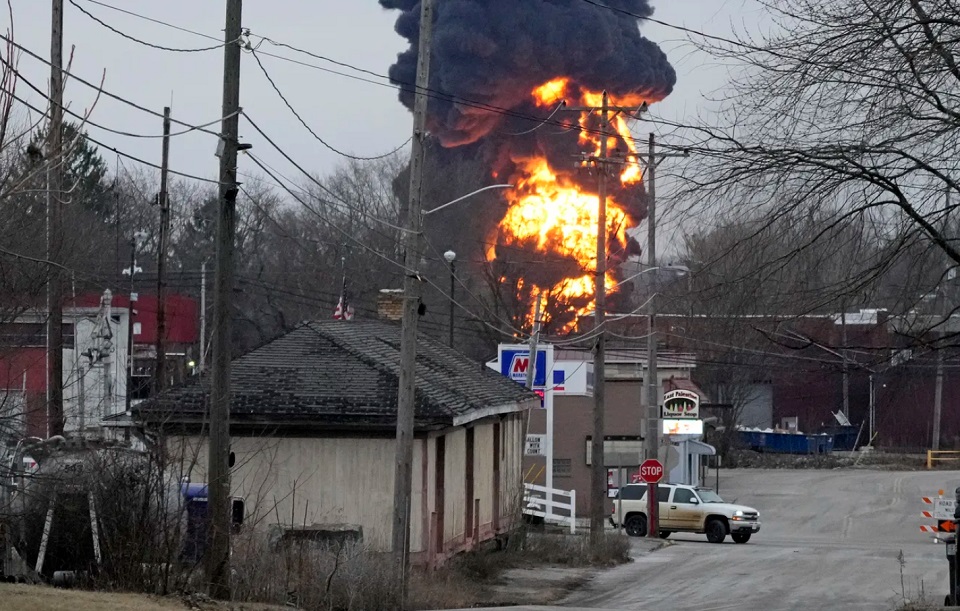 WASHINGTON—What's it like now, six weeks after the massive train wreck in East Palestine, Ohio? Misti Allison brought the story to the U.S. Senate on March 23.
Allison is the first resident of the small Ohio town, a stone's throw from the Pennsylvania border to tell officials and lawmakers what it's really like living in a town of 4,700 endangered by massive releases of hazardous chemicals after 38 of the 150 cars of the Norfolk Southern freight train derailed on Feb. 3.
"Everyone who lives here is aware of the long trains that regularly pass by. But we've never really thought much about them. Until the night of Feb. 3rd. Now, we can't think about anything else," she began her testimony to the Senate Commerce Committee. There have been no House hearings yet.
The Senate panel's considering a bill to tighten regulation of freight railroads to try to prevent future East Palestine, be they in small towns or large cities. Sen. Tammy Duckworth, D-Ill., noted Chicago, the nation's freight hub, hosts 1,300 trains a day on its 3,865 miles of track. But until now, East Palestine residents could only sit in the audience as officials tried to dissect and explain the wreck.
Allison became their voice.
The train "erupted into a fire that released toxic chemicals into our air, water, and land—about a mile from my home," she told the assembled senators and a capacity crowd.
"I could see a huge fireball from my driveway. It didn't seem real. Something was horribly wrong. Little did we know, this was only the beginning.
"My family chose to evacuate when a chemical smell persisted after the crash. But many of our neighbors did not. None of us knew exactly what dangers were on that train.
"But we now know that train carried multiple petrochemicals, including vinyl chloride, which is linked to cancers and especially harmful to infants and children."
Those chemicals poisoned the water and sent a large black cloud—from the fires that erupted after the wreck –into the air. One long-range news photo from the scene, encompassing the town and the air above it, showed the ominously fitting shape of a mushroom cloud.
That cloud occurred when Ohio officials, fearing a potential massive explosion of the vinyl chloride, released "a controlled burn" of that chemical from five of the derailed tank cars.
"It was like a bomb went off. We were all terrified. And we're even more terrified now that we know burning vinyl chloride can result in the release of toxic chemicals that never go away, including hydrogen chloride and dioxins," Allison said.
"The anxiety is real," she said. "My 7-year-old son has asked me if he is going to die from being in his own home."
The damage lingers and will for some time, she elaborated. Stores have closed, people have moved away. Sports teams won't come to play. Fish and pets have died. Some residents want to sell their homes, but Allison told Sen. Ted Cruz, R-Texas, there are no buyers and prices have collapsed.
He suggested any federal response should tackle that long-range problem, as well as the more-immediate ills the wreck caused. Those are many and varied.
"Kids are not allowed to play on the playground because it hasn't been cleaned. So the kids now play a game they invented called "EVACUATION" during recess. This train derailment has robbed our kids of their childhood, and perhaps more. The damage caused by Norfolk Southern's gross negligence is immeasurable," said Allison.
There are other impacts. First responders got no hazmat suits to wear while battling the fires from the wreck and the chemicals they released. Norfolk Southern, following Trump-era federal standards, didn't call NS32 a hazmat train—it had too few cars with toxic chemicals—or tell the town, the state or the first responders what was aboard those freight cars.
And while nobody mentioned it, 39 Maintenance of Way/Teamster members, all Norfolk Southern workers, were sent to clean up the mess, and they're getting sick, too. Farmers in nearby Pennsylvania can't plant seeds in contaminated soil.
All this from "a preventable accident" in the words of both the government's top safety prober—National Transportation Safety Board Chair Jennifer Homendy—and Allison. It's due to one reason, Allison added: Corporate greed. Smart-TD Union Ohio Legislative Director Clyde Whitaker elaborated on that point. His union represents 3,000 Norfolk Southern workers.
"The driving force…is a business model known as Precision Scheduled Railroading (PSR)," Whitaker explained.  "PSR, at its core, prioritizes maximizing the profit a railroad makes above every other goal, including safety. PSR has made the Class I railroads more than $160 billion in profit since 2015 while at the same time causing the greatest degradation of safety in modern day railroading.
"As we have all seen in East Palestine, this cut-your-way-to-profit model is not sustainable and it is very, very dangerous. And while the NTSB may not be able to identify it by name in their report, I assure you, without hesitation, that it is the greatest contributing factor, not only in this derailment but in all of the others that have occurred before it and since."
PSR features cutting crews to one person, the engineer, per freight train, a 30% cut in rail workers since 2015, fewer human safety inspections and communication of hazards—such as the overheating axle on one freight car, that eventually broke, derailing the train—first to a central headquarters far away before it reaches the crew.
All in the name of satisfying corporate greed by the financiers who bankroll the nation's Class I freight railroads.
Norfolk Southern CEO Alan Shaw and a rail industry lobbyist denied that motive, even when Sen. Peter Welch, D-Vt., bluntly  pushed Shaw on the point.
"Let's just get real here," Welch said. "Is it the responsibility of Norfolk Southern to prevent this derailment, which was preventable?"
"Improvements in safety are going to require an industry-wide approach," Shaw replied. "We are responsible for safety on our entire network. and we are working with the entire industry on it."
"This sounds like a lobbyist's response," Welch replied.