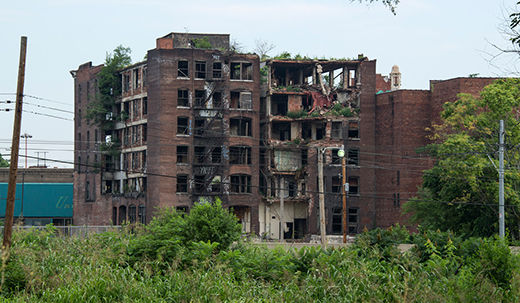 EAST SAINT LOUIS, Ill. – It's a balmy August day. Sweat drips from my forehead as union and community leaders meet at what was formerly the Schnucks' parking lot. The location is important because the grocery store has been closed for quite a while. Yet, by tradition, names of locations are often referenced by what used to be here. And this used to be a Schnucks' parking lot.
At its height in the 1950's, East Saint Louis had a population of 82,366. Only about one-third remain today. Urban blight is everywhere. The detailed craftsmanship of the remaining structures show the glory that this city once was. Now all we see are boarded-up houses, broken down buildings, bars and strip clubs.
Across the river, in St.Louis, Mo., we have an area called Old North that resembles East St. Louis but one is never truly prepared to see desperation and decay at this level.
The Service Employees' International Union (SEIU), who I work for, organized a parade on this balmy Aug. 6 to protest cuts in state funded homecare and childcare, a result of Gov. Bruce Rauner's refusal to fund Medicaid. Staff and members of the Missouri Homecare Union, a combined effort of SEIU and the American Federation of State, County and Municipal Employees (AFSCME), participate and show solidarity with their union brothers and sisters in Illinois.
The parade is mostly cars, as many of the participants are homecare clients who cannot walk. I witness more than one participant missing a limb due to health problems like diabetes. Every street corner and most sidewalks have folks waving and smiling, though many are not accustomed to seeing demonstrations like this.
To many Americans, East Saint Louis seems dangerous. They see it as another Detroit, Baltimore, Pittsburgh, or some other rustbelt, post-industrial city burdened with crime, drugs and corrupt politicians.
Undoubtedly, the Metro East is home to a type of poverty that many Americans do not like to address as a reality. Demonizing poor areas – and the people trapped in cycles of poverty – is easier than facilitating change. But, to facilitate change first and foremost means we have to deal with reality, the reality of poverty and desperation.
The reality: the median household / family income in East St Louis is $28,277 per year. However, the average household annual expenses are $30,848. This means folks have to hussle, scrape and borrow to eke out a living – an economic reality born of racism, conscious disinvestment, police violence and underfunded schools.
Simply put, there is no getting ahead when you have to spend more than you make just to get by.
Recently Gov. Rauner cut one third of the state budget allotted for Medicaid. The health care facilities chosen for closure and the areas most affected by the cuts are located in the poorest, most desperate communities – often African American communities – areas where folks did NOT vote for Rauner.
"This governor, we did not vote for him. If you did not vote for him, then what does he owe you? Nothing. He is making us suffer for not voting for him," an East Saint Louis resident told the PW.
It's not hard to see the political pay-back at work here.
The Metro East is not the America that graces travel commercials or gets nominated for the Summer Olympics. This side of the river is not the America that gets sports teams or benefits from the tech boom.
However, East Saint Louis is America. The real America that some like to forget. The America that is best symbolized by a one-legged man in his best washed-out thrift store clothes, marching in protest while on crutches, smiling and waving, as he fights for what little he has.
Photo: A crumbling, abandoned building in East Saint Louis. | Encyclopedia of Forlorn Places