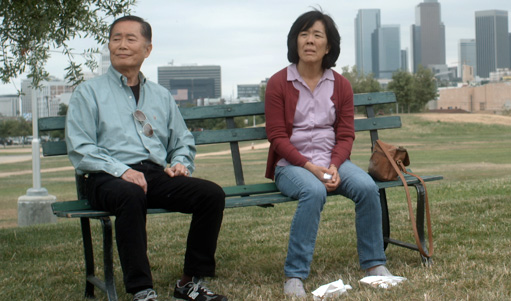 Eat With Me, which world premiered at the LA Film Festival, alternates between being an enjoyable, poignant coming-out comedy drama and a paint-or rather film-by numbers story. The plot of writer/director David Au's feature-length directorial debut movie also has more holes in it than-to use a culinary comparison-Swiss cheese.
Elliot (the diffident Teddy Chen Culver) is a restaurateur of what is presumably a Chinese eatery (like much else in this story, Au never specifies the ancestry of his Asian American characters) that is more or less a run of the mill dive in (presumably) a rather generic downtown L.A. that could be the downtown of almost any urban American center. As the restaurant with its mediocre menu faces shuttering, after a falling out with her husband (over what, we're never really quite sure), Elliot's mother Emma (the wonderful Sharon Omi) suddenly shows up out of nowhere and starts lodging at her son's pad in (presumably) downtown L.A.
Complications ensue, as Elliot's homosexuality becomes an inescapable fact that Emma must contend with and face. She had more or less previously known of her son's sexual orientation but preferred to ignore it. Eat With Me is most insightful when it shows how Elliot's parents' failure to communicate is passed down to him, resulting in his inability to form lasting relationships and his miscommunications with the sensitive musician Ian (Aidan Bristow).
The various cooking sequences have that painting/filming by numbers quality: There is a food network, chefs are celebrities, Anthony Bourdain has replaced the news on CNN, so Au appears to be pandering to that coveted foodie demographic.
The strength of Eat With Me is its cast, led by the estimable Sharon Omi, who is stellar as a loving if traditional, conservative mom struggling with her son's "deviance" off the beaten sexual path and with her deep maternal instincts, which she expresses by cleaning his loft and by (but of course!) cooking for the son she is desperately trying to reach to and connect with. Up to now, Omi has mostly been confined to small big and little screen roles, but here this gifted artist is allowed to shine in a lead role, and we are all the better for it.
MADtv's Nicole Sullivan is a sheer delight as the wacky, quirky next door neighbor Maureen, who accidentally "enlightens" Emma in a droll sequence. Sullivan adds much of the comic relief needed to defuse what could have been a tense drama in other hands.
Playing a version of himself, George Takei (Star Trek's Sulu) — who was once Asian Americans' elder statesman, and is now rather admirably playing that role for LGBTQ America-plays a key role in a scene-stealing cameo about the importance of acceptance: Of one's life, of one's self, and the true self of others. Bravo, Mr. Takei, and thanks for your continuing courage.
Jamila Alina plays the obligatory kooky Asian gal pal Jenny, who works at Elliot's restaurant. She's good fun whenever she's onscreen.
As Elliot must face paying the mortgage for his restaurant, through his mom's dumplings he discovers a possible solution sure to please viewers out there in foodie-land. However, Au pulls the denouement out of thin air-the locale and so on go completely unexplained, like much of this (to use a cooking term) half-baked story. Worst of all is the awful music that seems to have nothing to do with the images appearing onscreen and are just distracting.
Unlike Gustavo Dudamel, music director of Venezuela's Orquesta Sinfónica Simón Bolívar and conductor of the Los Angeles Philharmonic, who worked closely with director Alberto Arvelo to create the score for another LAFF (U.S.) premiere, The Liberator, Eat's totally inorganic soundtrack eats it.
Although you may be hungry an hour after viewing, overall Eat With Me is an enjoyable confection with an important point of view, as LGBTQ people progress towards full equality. Watch for local screenings.
Eat with Me
Director: David Au
Writer: David Au
Stars: Sharon Omi, Teddy Chen Culver, Nicole Sullivan
USA, 2014, 95 min
www.facebook.com/dumplingmovie
Photo: Still from website.