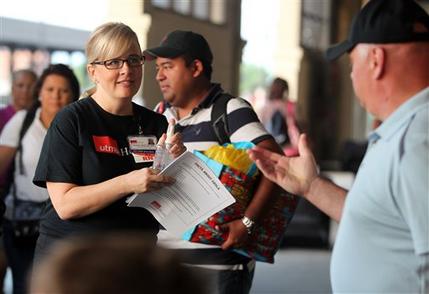 DALLAS (AP) — About 120 people are now being monitored for possible infection with Ebola because they may have had contact with one of the three people in Dallas who had the disease, Texas health officials said Monday.
Officials said 43 of 48 people on an original watch list have passed the 21-day maximum incubation period for the viral disease and are now in the clear.
But others who cared for a Liberian man who died Oct. 8 at a Dallas hospital remain at risk, along with two nurses he infected and their close contacts. That brings the total to 120 people now being monitored, with their wait period ending Nov. 7, said Dallas Mayor Mike Rawlings. He said the number may fluctuate.
Clay Jenkins, the top administrator for Dallas County, said he was unaware that other health officials had allowed one of the nurses, Amber Vinson, onto an airplane the day before she was diagnosed. Vinson had contacted the Centers for Disease Control and Prevention and Dallas County, and she was given permission to fly home to Dallas after visiting family in Ohio.
"It was a mistake" for Vinson to have flown "and we apologize," Jenkins said during a news conference Monday morning.
Still, health officials said they were breathing a little easier Monday as the monitoring period ended for many, and after a cruise ship scare ended with the boat returning to port and a lab worker on board testing negative for the virus.
Among those no longer in isolation are the family and friends who were hosting Thomas Eric Duncan before he was diagnosed with Ebola. The Liberian man – who became the first person diagnosed with Ebola in the U.S. – died from the disease Oct. 8 at Texas Health Presbyterian Hospital.
"I want to breathe, I want to really grieve, I want privacy with my family," Louise Troh, whose family had been hosting Duncan before he became ill, told The Associated Press.
Rawlings, the Dallas mayor, thanked Bishop Kevin Farrell of the Catholic Diocese of Dallas for providing housing for Troh and her family while they were monitored. Rawlings said the family was staying at a Catholic retreat in Dallas owned by the Diocese.
The incubation period also has passed for many health workers who encountered Duncan when he went to the Dallas hospital for the first time, on Sept. 25. Duncan was sent home, but then returned by ambulance and was admitted on Sept. 28. Two nurses who treated him during that second visit – Vinson and Nina Pham – are now hospitalized with Ebola.
Vinson's family issued a statement saying they have hired a lawyer and are troubled by comments and media coverage that "mischaracterize" Vinson, who is being treated at Emory University in Atlanta. Vinson "has not and would not knowingly expose herself or anyone else," and "suggestions that she ignored any of the physician and government-provided protocols recommended to her are patently untrue and hurtful," the statement says.
On Sunday, a Carnival Cruise Lines ship returned to Galveston, Texas, from a seven-day trip marred by worries over a health worker on board who was being monitored for Ebola. The lab supervisor had handled a specimen from Duncan and isolated herself on the ship as a precaution, though she later tested negative for Ebola. About 4,000 passengers on the cruise had to miss a stop in Cozumel, Mexico, where the boat was not allowed to dock because of the scare.
Dr. Anthony Fauci, head of the National Institute of Allergy and Infectious Diseases, said those caring for Duncan were vulnerable because some of their skin was exposed.
The CDC is working on revisions to safety protocols. Earlier ones, Fauci said, were based on a World Health Organization model for care in remote places, often outdoors, and without intensive training for health workers.
"So there were parts about that protocol that left vulnerability, parts of the skin that were open," Fauci said.
Health officials had previously allowed hospitals some flexibility to use available covering when dealing with suspected Ebola patients. The new guidelines are expected to set firmer standards: calling for full-body suits and hoods that protect worker's necks; setting rigorous rules for removal of equipment and disinfection of hands; and requiring a "site manager" to supervise the putting on and taking off of equipment.
The guidelines also are expected to require a "buddy system" in which workers check each other as they come in and go out, according to an official who was familiar with the guidelines but not authorized to discuss them before their release.
Hospital workers also will be expected to exhaustively practice getting in and out of the equipment, the official said.
Nurses have been clamoring for more guidance and better garb, saying they have never cared for Ebola patients before and feel unprepared and underequipped.
"If hospital administrators had to take care of Ebola patients, they would have the gold standard and hazmat suits," said RoseAnn DeMoro, executive director of National Nurses United, a union with 185,000 members.
In some places where they have the suits, nurses have not practiced taking them on and off.
"The hospital is sending them essentially a link to the CDC website. That's not preparation. That's like a do-it-yourself manual," DeMoro said.
The Pentagon announced Sunday that Defense Secretary Chuck Hagel had ordered the formation of a 30-person military support team to assist civilian medical professionals in the U.S. to treat Ebola. The team won't be sent overseas, and will "be called upon domestically only if deemed prudent by our public health professionals," Pentagon press secretary Rear Adm. John Kirby said in a statement.
Stobbe reported from Atlanta.
Associated Press writers Emily Schmall in Fort Worth, Texas; Jill Craig in Galveston, Texas; and Josh Hoffner in Dallas contributed to this report.
Photo: Christine Wade, a registered nurse at the University of Texas Medical Branch, greets Carnival Magic passengers disembarking in Galveston, Texas on Sunday, Oct. 19, 2014. Nurses met passengers with Ebola virus fact sheets and to answer any questions. A Dallas health care worker was in voluntary isolation in her cabin aboard the cruise ship because of her potential contact with the Ebola virus. Jennifer Reynolds, AP/The Galveston County Daily News