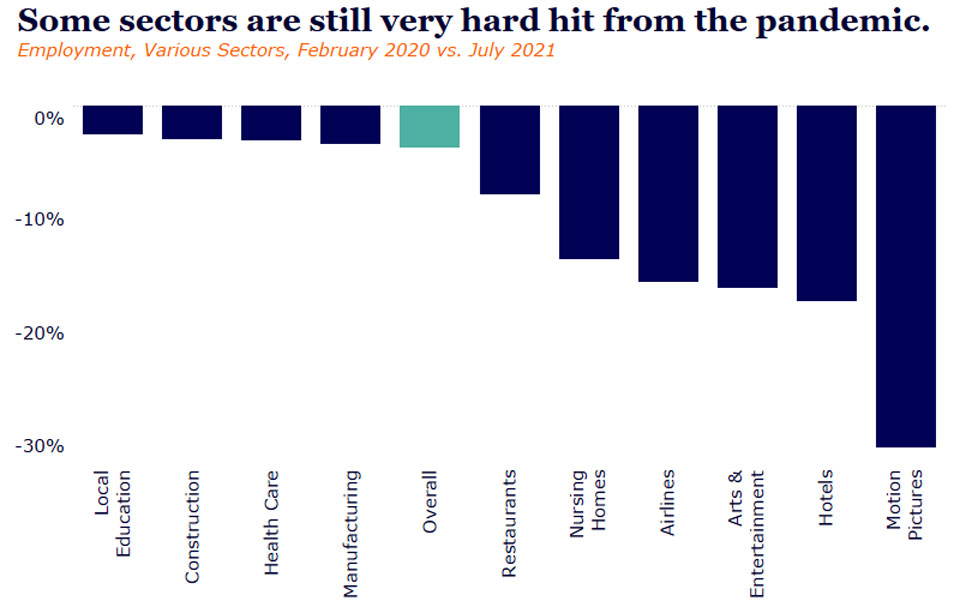 WASHINGTON—The U.S. economy added a net of 943,000 jobs in July, with the unemployment rate falling 0.5% in one month, to 5.4%, the Bureau of Labor Statistics (BLS) reported. But beyond those glowing top-line numbers, there are cautioning red flags, it added.
The number of jobless dropped in July by 782,000, to 8.7 million. But the July jobless rate for Blacks (8.2%) is still in its historic pattern of being far higher than that for whites (4.8%). The Latino rate for July was halfway between (6.6%).
The two biggest red flags are that most of the new jobs are in sectors—schools, bars, and restaurants—that are both majority-female and far more vulnerable to new shutdowns if the coronavirus's delta variant's impact continues to spiral.
BLS said 240,000 of the new jobs, seasonally adjusted, were in government—with all of them in local public schools (+220,000) and the Postal Service (+19,100). Some 253,200 were in bars and restaurants with another 72,700 in hotels and motels.  Combined, that's half of the private-sector job creation in July.
BLS said the school numbers were skewed because of seasonal adjustments. And while teachers, students, and unions all want to resume in-person learning in buildings, the delta variant, and reaction to its virulence among kids, could mess up future data.
And hotels and motels also literally closed down when the virus-caused depression hit just over a year ago. Their workforce is majority-female and lowest-paid. And 9% of those workers are still jobless.
In May, the hotels, bars, and restaurant workers still had the fewest weekly hours on "full-time" jobs (26.6) and the lowest median weekly pay ($493.43). That's more than $180 a week below the next-lowest sector, retail trade ($675.14), which is also majority-female.
A third red flag is in long-term joblessness. Dean Baker of the Center for Economic Policy and Research noted it's still at 39.3%—just below the share it reached during the coronavirus-caused depression.
The long-termers have exhausted their state jobless benefits. As of July 17, a prior BLS report shows, 9.403 million people are getting $300 weekly federal jobless benefits, about evenly split between those who exhausted their state benefits and "gig economy" workers, independent contractors, and others who can't even seek state aid.
But in the two weeks since, 187,536 more people sought that federal aid, and another 608,128 sought regular state aid. In short, the figures show the crash isn't over yet.
And the right to seek those $300 checks runs out just after Labor Day unless Congress extends them—an extension Republicans, including in the 50-50 Senate, oppose.
Joblessness hit women workers harder than it hit men, but they're recovering, says Nicole Mason, president of the Institute for Women's Policy Research: Women took 68.8% of the total of 943,000 new jobs in July.
But compared to the last figures before the roof fell in due to Covid-19, there are still 3.1 million fewer women on payrolls, and 2.6 million fewer men, Mason added. And the delta variant could again make a mess of things.
"Getting the pandemic under control and schools to fully re-open will be critical to getting women back into the workforce," Mason said. "Women seeking to return to the workforce also want more from employers in terms of pay, workplace flexibility, and health care, among other benefits. Employers can deliver," Mason declared.