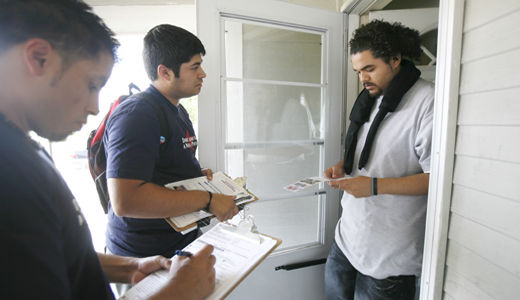 In a new Associated Press-Univision poll among Latinos nationwide, about half of the more than 1,500 interviewed say they worry about losing their jobs, paying bills or saving for college. Nearly half say that they or a relative were recently unemployed
Latinos are the fastest-growing minority in the U.S. The poll shows they have been hit hard compared to the general population.
Many Americans continue to experience financial difficulties as the nation's unemployment rate hovers near 10 percent and the economy struggles to recover from the worst recession since the Great Depression.
Yet the economy has been especially troublesome for Latinos, says the poll, which was sponsored by The Nielsen Company and Stanford University.
Six in 10 Latinos say it's hard for them to get ahead financially and over one-quarter say it's very tough. Forty-five percent say they or a relative have lost a job since September compared with 30 percent of the overall population who experienced the same problem according to an AP-GfK Roper Public Affairs & Corporate Communications Poll in May.
Fifty-seven percent worry about being unable to pay bills – well above the 34 percent of the entire population who were tallied in the AP-GfK Poll. And 48 percent of Latinos said they worry greatly about becoming unemployed – double the overall population's concern.
Further, 39 percent of Latinos said someone in their family had skipped a visit to the doctor recently despite thinking they needed care. Thirty-one percent of the general population said the same.
In addition more than 4 in 10 Latinos expressed extreme worry over medical expenses, being unable to afford college and missing credit card and mortgage payments, each significantly above the general population's estimate.
However a majority said it has been easier for them to find jobs than it was for their parents. The poll also shows that Latinos feel things are better now than they were for previous generations when it comes to buying a home and raising a family. And most believe it will be easier for their children when it's time for them to do the same.
Less than half of those surveyed are citizens. The poll indicates they fare better than those who are non-citizen immigrants. Latino immigrants expressed far more worry about jobs, bills, college savings and other expenses.
More Latinos born in the U.S. and those who mostly speak English said they are at ease with long-term debt like mortgages compared to non-citizens who usually speak Spanish.
Fifty-four percent said they believe it's important to assimilate into American society, while 66 percent feel it's important to maintain their cultural identity.
Eight out of 10 parents said a college education was the most important goal for high school graduates and more than 90 percent said they expect their kids to go to college.
Twenty-nine percent believe a Latino president will be elected in the next 20 years.
Another recent poll by the National Association of Latino Elected and Appointed Officials Educational Fund found that immigration has surpassed jobs as the number one issue concerning Latino voters.
At the outset of the Obama administration, in January 2009, Latino voters in a similar poll by the Hispanic Pew Center said the economy was the leading issue.
The recent poll surveyed 1,600 Latino registered voters in California, Colorado, Florida and Texas, states that contain 60 percent of the Latino population in the U.S.
Experts say immigration has become the most important issue among Latino voters largely due to the Arizona anti-immigrant law, which is scheduled to go into effect next week.
Twenty-seven percent of those surveyed cited immigration as the most important issue in deciding whom to vote for in the November midterm elections. Unemployment followed with 15 percent.
Latino voters give Congress higher marks than the majority of American citizens, with just fewer than 41 percent approving of the job Congress is doing. And 65 percent approve of President Obama.
The poll projects that 61 percent of Latino voters – around 6 million people – will "definitely" turn out to vote in November.
Photo: Latino Vote Project employees go door to door to register voters in Yakima, Wash., in 2008. (AP/Kris Holland, Yakima Herald-Republic)