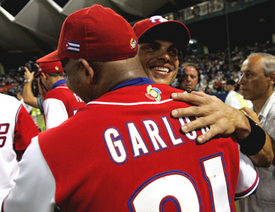 Baseball, the quintessential American sport, is enjoyed by nations worldwide, whose athletes make invaluable contributions to the game. The inaugural World Baseball Classic ended this week which struck a new beginning for a real World Series.
Japan won the classic's title and Cuba came in second, after fighting its way back from an early 12-2 loss to Puerto Rico. The Dominican Republic and South Korea were among the last teams standing. Mexico beat the U.S.
The Cuban team was originally denied entry to compete by the Bush administration. But the WBC committee, Puerto Rico (one of the host countries) and many others stood up to this ridiculous anti-Cuban and anticommunist stance. They demanded the Cubans be allowed to play. The world baseball community hit a grand slam against U.S. imperialism.
During the final game in San Diego, fans cheered and chanted for the socialist island team. Not only did Cuba's presence enhance the series, the team donated all of its proceeds to the victims of Hurricane Katrina.
Cuba's team added a "baseball for baseball's sake" attitude. They played not for the salaries, the business interests or individual fame, but for the team, the sport, the country. "This is a revolutionary team. Baseball is not judged by the price of the athletes but by the heart of the people," Cuba's left fielder Frederich Cepeda said.
Or as one Baltimore sports writer put it, "The disciplined teams without much Major League influence schooled the star-laden countries. … Simply put, Japan and Cuba didn't play ego ball." They played "small ball" in a big way — advancing runners and turning double plays.
Too bad most people couldn't watch the games. ESPN played them only in certain markets and there was nothing on network television. The high level of play and the internationalism of the series are reasons enough to prioritize broadcasting the games, instead of, say, shows like "Beauty and the Geek."
Congratulations to all the teams, players and fans. Such a real World Series and one played for the pure love of the game should continue. Viva beisbol!