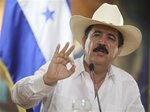 The coup d'etat carried out against the legally elected president of Honduras last Sunday is meeting with worldwide resistance that is as strong as it is broad.
Literally, not a single country around the world is supporting it. The United Nations condemned it unanimously. Countries of the region have withdrawn their ambassadors as have all member-states of the European Union. The Central American Bank for Economic Integration has suspended all monies to Honduras.
In Honduras, labor unions which are mounting resistance to the coup regime are getting support and solidarity from the labor movement worldwide, including from the AFL-CIO. The new U.S., Canadian, UK union, Workers Uniting, called on all three countries 'to take all peaceful, diplomatic measures to ensure the return of President Zelaya to his rightful place as President of Honduras' and for the United States to suspend 'all military assistance unless and until President Zelaya is returned to power.'
In a gratifying change from previous U.S. practices, the Obama administration has denounced the coup and continues to consider President Manuel Zelaya to be the legal president of Honduras. This is in spite of a campaign of lies in the U.S. media which seek to legitimize the illegal coup.
This is a welcome change from the practice of past presidents. Had John McCain been elected in November, you may be sure that reactionary figures such as former US ambassador to Honduras John Negroponte (of Iran-contra fame), and former Bush officials Otto Reich and Roger Noriega would be running the U.S. response, and doing everything within their power to firmly establish the usurper regime in power, including the provision of overt or covert military support.
This would be very bad news in a region that has seen more than a hundred years of U.S. support for despotic regimes, which have oppressed their own people and served the interests only of exploitative U.S. corporations.
Today, Jose Miguel Insulza, the secretary general of the Organization of American States, is headed for Honduras with a mandate to lay down the law to the illegal regime headed by Roberto Micheletti. And on the weekend, President Zelaya is planning to return, while if Micheletti does not obey an OAS ultimatum to stand down, trade sanctions are supposed to go into force.
The United States is a member nation of the Organization of American States, and therefore should continue giving full support to Mr. Insulza's efforts and those of the OAS. This can be an opportunity to demonstrate the Obama administration's stated commitment to drop unilateral approaches and to strengthen international bodies and collective methods of solving problems.
The public can go to the State Department website and voice support for President Zelaya, the Honduran people, the international condemnation and response and the Obama administration's actions.