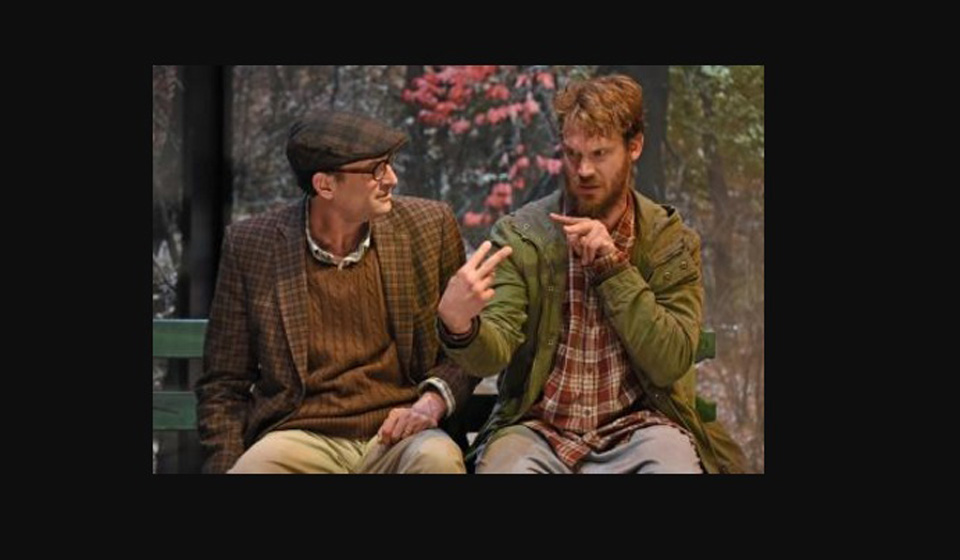 BEVERLY HILLS, Calif.—Two adventuresome arts institutions, the Wallis Annenberg Center for the Performing Arts and Deaf West Theatre (DWT), the performing arts organizations behind the Tony Award-nominated and Ovation Award-winning revival of Spring Awakening, have reunited to bring multiple Pulitzer Prize-winning playwright Edward Albee's At Home at the Zoo to life in a fresh, revelatory new production that runs through March 26.
The evening pairs the playwright's groundbreaking, career-making, just under an hour-long 1959 play The Zoo Story with a 70-minute first act, the prequel Homelife, written 45 years later, toward the end of Albee's working life, in 2004. (He died in 2016.) The often staged Zoo Story depicts a chance meeting in New York's Central Park between Peter (Troy Kotsur), a well-paid publishing executive, and Jerry (Russell Harvard), a manically volatile stranger.
Albee himself said that The Zoo Story had "always had been [a two-act play]; I just hadn't told myself…. I thought it was fine, though it nagged me just a bit that it seemed to be not quite a two-character play—Jerry being so much longer a role—but more a one-and-a-half-character one. But the play 'worked,' so why worry?"
Much later, Albee came up with a first act "which will flesh out Peter fully and make the subsequent balance better…. Almost before I knew it, Homelife fell from my mind to the page…intact. There was the Peter I had always known—a full three-dimensional person and—wow!—here was Ann, his wife, whom I must have imagined."
In this first act, set in a comfortable but not ostentatious apartment on E. 74th Street near Central Park, we meet Peter and Ann (Amber Zion). In this production, both use American Sign Language (ASL) to communicate, and from the side, just offstage behind cage-like bars, in shadow but within full view of the audience, we see and hear Jake Eberle voicing Peter's role, and Paige Lindsey White voicing Ann.
Although it's a two-character play we soon learn that the apartment also houses two young daughters, two caged parakeets and a cat. There's already a "zoo" of trapped animals right there on the Upper East Side before we ever hear about the one in Central Park.
It's a Sunday afternoon in fall, and Peter is found in his easy chair, utterly engrossed in meticulously editing a boring textbook his firm will publish. It's clear that this outwardly milquetoast man uses work to keep himself armored against possibly unsettling emotions.
"We should talk," says Ann when she enters, but she soon loses track of what it was she had on her mind. The conversation drifts into intimate pillow talk about her breasts and his penis, the nitpicking verbal jousting of intellectual types parsing each word for meaning and content. Still, there's a palpable, long-simmered love and familiarity between them. Their banter grows tedious, like listening to the stoned conversation of people you don't know, where the subject wanders from topic to topic with the thinnest of connective tissue. It's a mild, innocent version of the mutual recrimination in Albee's dark Who's Afraid of Virginia Woolf?
"I'm happy," Ann says, yet we don't quite see that—this was the era of The Feminine Mystique. What we see is a steady, dependable partnership with day in-day out predictability but no thrill. We don't even know how Ann spends her time. Does she work? Does she have hobbies? Friends?
Eventually, the truth of their placid relationship comes out, and this is obviously what Ann wanted to talk about: For years each of them has been hiding an important part of themselves from the other. For a brief moment a powerful connection is re-established. Needing time to cool off—and re-enacting his usual avoidance mechanism—Peter heads off with a book to his favorite park bench in a sparsely visited section of the park. That's the prequel to the older one-act, The Zoo Story.
The actors are of course totally fluent in ASL. Their gestures, performed in many positions—walking, sitting, even lying down—are always visible to the deaf members of the audience. Theirs is a "balletic" adaptation of Albee's text, comparable to the recently reviewed Paradise Lost: Destiny Reclaimed, where John Milton's epic poem received a wordless movement interpretation.
ASL occupies the actors' hands as speech, so they are especially conscious of using their whole body to express nuance and feeling. The speaking actors, placed at some spatial remove from the stage, are more than competent, yet the distance between them created a certain stiffness, a "correctness," in the delivery. Back in 2007 this version's director, Coy Middlebrook, helmed a cast of both deaf and hearing actors in a well-received Deaf West Theatre production of The Zoo Story without Homelife.
In act two, Peter is minding his own business on his park bench (and escaping into his inner world from the frightening revelations of act one), when the unstable, shabbily-clad Jerry appears and imposes himself on Peter with an almost non-stop rant about his life and circumstances. In stark contrast to Peter's executive life-style, Jerry occupies a tiny room in a Westside rooming house shared with an assemblage of other social outcasts. Jerry interrogates Peter to clarify the precise distinction between upper-middle class and lower-middle class, a parallel kind of nitpicking to what we saw in act one. Although seriously off-kilter, Jerry is by no means unintelligent.
In this act Middlebrook has made a different choice as to the placement of his vocal actors. They appear similarly dressed (Jake Eberle again as Peter and Jeff Alan-Lee as Jerry) as other park habitués, Eberle unobtrusively on a nearby park bench and Alan-Lee standing or prowling about like a feral cat.
Like Ann and Peter an hour before, Jerry also wanders into sexual talk; a breath of homoeroticism lingers over the park bench. Owing to his mental problems, Jerry has had a hard time making meaningful connection to other human beings. Failing that, perhaps God will answer his cry for help. What he does realize is how society seems to devote more attention to the upkeep of animals than to our fellow human beings. (Albee's attention to animals recurs—for example in his play from 2000, The Goat Or, Who Is Sylvia?, in which a man chooses a goat as a romantic partner.)
I saw the incredibly gifted Russell Harvard as Jerry in his last performance; in the second half of the run, Tyrone Giordano will play the role. When Jerry says to Peter, that he seeks "to understand and be understood," my heart stood still as I realized this must also be the feeling of deaf people. No doubt this sense of isolation and apartness that Jerry experienced must have been very personal to Mr. Harvard.
It is a tremendous gift to all of us, hearing and not, that Deaf West Theatre provides. The night I attended, a fair number of deaf audience members signed eagerly among themselves and signaled their appreciation at the end with enthusiastic twinkles. The hearing impaired need not be offered only safe and chaste art: It recognizes everyone's full humanity to be exposed to difficult work of such an erotic and even violent nature. "We are not only adapting one of the classic works of the American stage," said Deaf West Theatre's Artistic Director DJ Kurs, "but also performing it before an audience that, more than ever, is unified in an understanding and appreciation of what deaf actors bring to the material."
The Zoo Story ends in quickly rising contention over possession of the park bench, like wild animals defending their turf. Peter's sense of entitlement is brought under question, as though his whole world of existential privilege is being challenged. It may have been Albee's original intention to make this statement about society in 1959—our territorialism, our possessions, our bourgeois comforts, our neat little families providing convenient outlets for sexual expression, our rewarding work—and how these benefits of the smug, self-satisfied life are patently not available to all. It now seems so inevitable that Homelife precedes the drama in Central Park, as if it had always been there. The two-act play may become the standard format.
An informative and beautifully produced 2-minute video showing the process of creating a theatre piece for hearing and deaf actors can be viewed here. Because of its explicit content, this play is not for youngsters.
Edward Albee's At Home at the Zoo plays at the Wallis Annenberg Center for the Performing Arts Lovelace Studio Theater, 9390 N. Santa Monica Blvd., Beverly Hills 90210, through March 26, with performances Tues.–Fri. at 8 pm; Sat. at 2 and 8 pm; and Sun. at 2 and 7 pm. For tickets and information go to TheWallis.org or call (310) 746.4000.