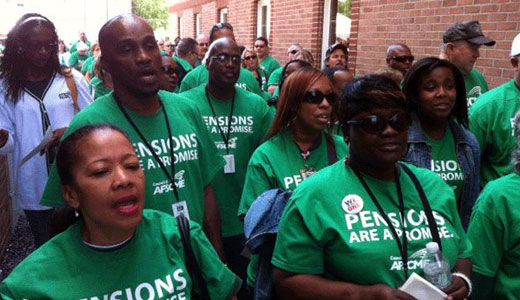 SPRINGFIELD, Ill. – With thousands of angry public workers protesting and phone calls deluging the state Capitol, efforts by the state's Legislature to slash public worker pensions and force workers to bear a greater burden for their health care costs collapsed.
The legislative session, which ended May 31 midnight, was unable to reach an agreement. Gov. Quinn has promised to call a special summer session to pass pension reform legislation.
We Are One Illinois, a coalition of unions fighting to defend public worker pensions has fought vigorously against several bills, which they declared unconstitutional and vowed to fight them in court if passed.
"For months [we] have made every effort to work with lawmakers to reach a fair solution to the pension funding problem," said Michael Carrigan, president of the Illinois AFL-CIO. "We remain committed to doing our part to restore solvency to the pension funds on which so many employees depend for their retirement security."
The state pension systems have been underfunded by an estimated $83 billion, the largest deficit of any pension system in the nation.
Public workers are already paid less than their private sector counterparts and don't receive Social Security. Over the years they have agreed to pension increases in lieu of wage hikes.
Under past contractual agreements, public workers have paid 9.4 percent of their wages into the state pension systems. But contributions the state was contractually obligated to pay have been routinely skipped or diverted because of lack of revenues.
Instead of fighting for progressive tax legislation, Gov. Quinn, legislative leaders, both Democratic and Republican, are seeking to solve the crisis on the backs of state workers.
Just last week, unions, clergy and community groups protested at the Chicago Mercantile Exchange (CME) demanded repayment of a $1 billion tax cut given to CME to instead fund pensions, education, health care and affordable housing.
Gov. Quinn maintains between $66-88 billion can be saved by passing SB 1673, one of the pension reform bills.
The We Are One Illinois coalition fiercely opposed the legislation, calling it unfair and unconstitutional. The coalition argued the legislature cannot impose changes to contracts already agreed to by the state and public workers.
Under the bills retirees would have a choice: Stay with a cost of living (COLA) adjustments that are compounded annually, but then forgo state retiree health care. Or keep their health care, but go along with a lower COLA.
"There's no free choice here, but a coercive dilemma where a public servant must choose between harm on the one hand or more harm on the other," Illinois Federation of Teachers President Dan Montgomery told a House panel earlier this week.
According those who have been campaigning for passage of the bills, which include the Illinois Chamber of Commerce and the Commercial Club of Chicago, the legislation is constitutional.
But John E. Stevens, legal counsel for the We Are One Illinois, called the bill unconstitutional because either choice results in a "reduction or impairment of benefits."
"It's a coercive choice made under duress," Stevens said.
For years, big business and the corporate mass media have been orchestrating a fear campaign for a pension reform before the system "implodes." The chorus of reformers has only demanded deep concessions on the part of public workers.
To support their case they have focused on a few examples of state workers accruing outlandish pensions, or some who get two and three pensions.
But these are the exception. According to Henry Bayer, executive director of the American Federation of State, County and Municipal Employees Council 31. "The average state employee pension is $24,000 a year. No one is getting rich off that amount. If you pass this bill you tell retirees your pension won't keep pace with the cost of living."
Photo: John Bachtell/PW