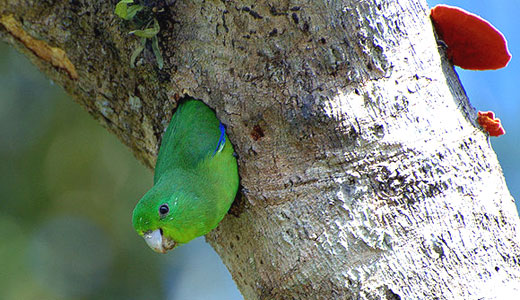 Actor Jesse Eisenberg, working with the Humane Society, has made an important statement about birds: Each year, about 25,000 of them are smuggled into the U.S. The exotic pet trade is a blossoming, corrupt business that inadvertently creates a large percentage of mistreated parrots, as well as those that are left behind, where overwhelmed rescue groups and animal shelters must deal with them.
"If an animal's natural home is in the wild," said Eisenberg, "then chances are that's where it belongs." Eisenberg, who played the voice of the blue macaw in the animated film Rio, is fronting the Humane Society's campaign to save exotic birds and raise awareness on animal cruelty.
The growing demand for parrots fuels the exotic pet trade and results in the displacement of these and similar birds throughout the U.S., said a press release by the Humane Society.
Eisenberg, best known for playing the role of Facebook creator Mark Zuckerberg in The Social Network, added, "Unfortunately, the demand for these intelligent, complex creatures – whether captive-bred or wild-caught – is decimating the wild parrot species."
With the backing of Eisenberg, who has recently been vocal for animal rights, the Humane Society is clearly looking to ruffle a few feathers on those responsible for animal neglect or cruelty. It would seem like an important time to do so, considering the fact that Eisenberg's announcement comes just a month and a half after the Humane Society of Greater Dayton rescued over 100 parrots and other birds from unlivable conditions in Moraine, Ohio.
"Wings Over the Rainbow" was supposedly a bird sanctuary there, but the Humane Society's Animal Rescue Team – as well as other animal rights organizations – discovered that the birds were actually living in a deplorable environment. The animals were suffering from severe stress, malnutrition, dehydration, and diseases. Notably, this is not the first time that a place masquerading as an animal sanctuary was, upon investigation, revealed to be anything but.
The birds are now being cared for at a shelter, but the point that Eisenberg seems to make is that something needs to be done to combat the exotic pet trade before problems like this develop.
In order to take steps toward solving the problem, Eisenberg advised that people think twice before purchasing parrots as pets, as this entails a serious commitment. He also encouraged activists to support local bird rescues or shelters, and choose not to support the $20 billion exotic animal trade.
Every day, people smuggle live animals into the U.S.; it has become a lucrative criminal enterprise that is becoming increasingly difficult to stop, and many pet owners contribute to it unknowingly. Eisenberg warned that people interested in parrots should not purchase the animals online, nor should they blindly buy them from pet stores without being aware of the background and details.
According to Adam Roberts, an exotic animals expert with Born Free USA (an animal advocacy group), when pet owners recklessly release their birds or other animals into the wild, they become a problem for other people.
"People get attacked by the animals; the animals themselves get hurt," Roberts remarked. "Oftentimes, they are released when people can no longer care for them, which is threatening to domestic wildlife and people. It's very dangerous across the board. We hope to dissuade people from getting these animals in the first place."
Adam Parascandola, director of the Humane Society's animal cruelty investigation, concluded, "We're grateful to Jesse Eisenberg for helping us raise awareness of the growing problem of unwanted captive birds in the country.
"Parrots are highly intelligent, social, and long-lived animals whose complex needs cannot be met by most owners, which is why so many are abandoned" in the first place.
Photo: Wikipedia