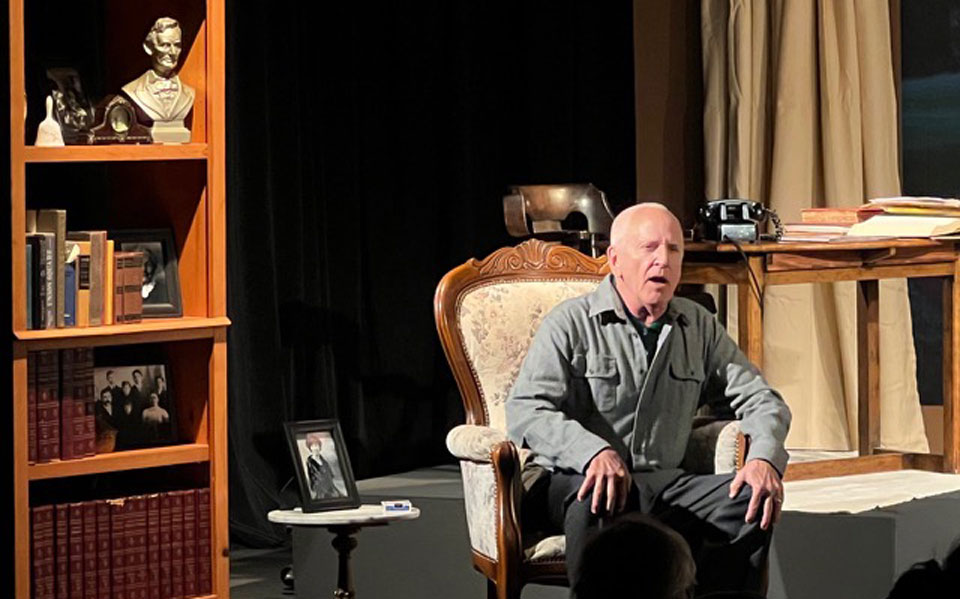 LOS ANGELES — Watching the world premiere production of Richard Hellesen's new one-man play Eisenhower: This Piece of Ground, a theatergoer with any familiarity with its subject necessarily comes away asking why this or that topic was left out of the 34th president's story. Why was there no mention of Kay Summersby, his reputed wartime mistress? Even more significantly, why is there no word about his own Vice President Richard M. Nixon? Why no reference to the new Communist state in China? Any mention of Fidel Castro and the 1959 Cuban Revolution—and the launch of the now over 60-year campaign of sanctions against this upstart socialist country in "our back yard." Nothing about the CIA overthrow of democratically elected Guatemalan President Jacobo Árbenz (because he was promoting land reform and challenging he interests of the United Fruit Company). No mention of the U.S.-sponsored 1953 Iranian coup d'état against Prime Minister Mohammad Mosaddegh to restore the rule of the Shah, Mohammad Reza Pahlavi. The cancellation of the national elections in Vietnam that DDE knew the Communists would win. The execution of the Rosenbergs!
History books are not "objective," and no one is completely. How can we expect an interpretive work of art, a biography or a play or a museum exhibition, to tell a satisfyingly complete story without shaping tons of unwieldy material into a coherent pattern and mold? I remember clearly, on one of my cross-country driving trips in the 1980s, visiting the Eisenhower Presidential Library and Museum in Abilene, Kan., and seeing a mural that included the banners of the Allied powers that defeated Hitler. The flag of the USSR was missing!
The program notes that "This play is a fiction, set in a specific point in time. It is adapted from a range of General Eisenhower's memoirs, speeches, and letters. We gratefully acknowledge the assistance of David Eisenhower and the Eisenhower family, as well as the Eisenhower Presidential Library and Museum, in the creation of the text as well as visual and audio elements." So perhaps in some ways, overt or self-censored, the text has been vetted for family approval and rights.
For a play about the life and career of a distinguished American, a military figure, president, statesman, writer, give ten playwrights the same corpus of information and you'll get ten very different plays.
So in the end, it's not just what was left in or left out of the Hellesen version, but what the playwright's intentions are, what he cares to transmit to present and future generations. Most Americans today have no living memory of this man (1890-1969: He lived just long enough to see Nixon installed in the White House). A play like this, meticulously curated for its widest possible appeal and stripped of controversy that might harm its commercial value as a theatrical property, will be for many people the main, if not the only, image of Eisenhower they will ever be exposed to (as was the case with the young aspiring actress sitting next to me).
Theatre West and the New Los Angeles Repertory Company are presenting the play, starring the brilliant Tony Award-winning John Rubinstein. It hardly needs underlining that larger ambitions and stages are projected for this work.
We catch the character in his retirement. The year is 1962, with JFK now in the White House, having defeated Nixon in 1960. The former president is comfortably ensconced in his sun porch office at his unpretentious home in Gettysburg, Pa., where he writes, golfs, looks after his precarious health, and manages a significant working farm and animal husbandry.
The conceit of the play is Eisenhower's reaction to a newly published rating of the presidents by 75 historians, on which DDE comes out a decidedly unimpressive 22nd out of 31—three worse than Herbert Hoover, and only one ahead of Andrew Johnson. The academics' judgment is succinct: A great American, not a great president. Eisenhower has a potential book project pending with the help of an editor and co-writer. For this purpose he uses a reel-to-reel tape recorder to capture his memories of people and events.
But now, grousing about the historians' rating, he recounts how wrong they are about how they see "greatness" and sets out, addressing them on tape, correcting their vision. For two generously proportioned acts, Eisenhower recounts stories from his childhood, and even from his parents' early lives, his marriage to Mamie, from his military career, from his command of the European theater in World War II. All to show how it's his character, his probity, moral courage, restraint and moderation, his humanity, his opposition to racism, his contempt for McCarthyism, his sixth sense about what is achievable in the moment, his caution concerning what to do with the people's money, his skepticism about self-proclaimed leaders, that must be weighed in the balance of greatness. Rather self-congratulatory, one soon perceives, the former president burnishing his image.
Dwight Eisenhower was a man of his time, both a shaper of destiny and also shaped by history and circumstance. For his eight years in office he was charged with maintaining America's post-war global hegemony as Europe was still recovering from war, and with the imperial pretensions of this country's most important European allies. Domestically, he is perhaps best known for his commitment to the interstate highway system, in part for military reasons—he was no doubt inspired by the Nazis' Autobahns—but in the larger sense of integrating the people and economy of the whole nation. We know now—and doubtlessly some naysayers at the time knew it too—that the new reliance on vehicular traffic for both commerce and pleasure would inevitably turn the nation away from an efficient public transportation philosophy, and benefit, most of all, the fossil fuel industry.
All his talk about the common people and democracy (with pointed relevance to modern times) seemed not to apply to displaced farmers in Latin America or Africa or Asia, i.e., the majority of the world's population, whose only option now is to slave for foreign-owned mines, assembly plants and agricultural behemoths under either direct colonialism (still, in his time, the British, French, Portuguese, Belgians) or neocolonialism under comprador regimes in those continents. From the American point of view, was World War II even about smashing fascism, or essentially about the usual competition for market share and cutting the overreaching Germany down to size? After the war, as we know, the U.S. nurtured supportive relationships with fascist Spain and Portugal, South Africa and many other dictatorships. That is the larger view of the world that is not visible from his immense picture window overlooking the Gettysburg greens. It's grimace-time when he pontificates how passionately he believes in "freedom for all, not just for some." Cue: the patriotic music!
Eisenhower gives us a great deal of factual information, images and background, some of it projected on that picture window which doubles as a screen. On the way to the theater, my companion and I were imagining what version of the subject we would see. "We didn't think so highly of him at the time," we both agreed, "but he was sure a helluva lot better than a lot of the ones who followed."
In the end what we get is a warm and cuddly, sentimentalized, sometimes mawkish, and sympathetic homespun figure who did his considerable best for the country, aware of his own stature and accomplishments but also constrained by Midwestern heartland humility. The loss of his young son Doud to scarlet fever, resulting from an unwise decision on Eisenhower's part to admit into their house a maid who was carrying the disease, haunted him for the rest of his life, sharpening his keen awareness of the mighty life-and-death consequences of even the most mundane decision. This would later become amplified in the arena of war where, similarly, poor judgment could be disastrous to thousands: "It's hard to look a man in the face when you may be sending him to his death."
Eisenhower's prevarication over the U-2 crisis is recalled with genuine regret for having spoiled the emerging consensus with the Soviets over diminishing the nuclear threat. But this is a rare moment in the play when he takes responsibility for his mistake—"I threw my integrity away in service of a lie"—although he qualifies his guilt saying he had wanted to cease flights of spy planes over Soviet territory but was persuaded by the CIA that this one would be the last.
Eisenhower is not a "wrong" image of him, but a constructed persona now adapted for mainstream audiences coming soon to a theater near you. Eisenhower's insights and wisdom are real. But this is the problem with the Great Man theory of history, which a play like this would seem to embrace. It doesn't adequately take stock of the social forces at work that gave the "great man" the space and permission to act as he did. Was he really so bold and forward-looking on civil rights and on his opposition to Sen. Joseph McCarthy, or just taking the smallest belated baby steps to help keep the peace?
Yes, people should, maybe not run, but dutifully show up to check out an important historical figure and, equally or even more important, a masterful monument of acting on Rubinstein's part, that he called, in a post-performance talkback, "the hardest thing I've ever done in my life." At that session, the director Peter Ellenstein recalled the more than twenty drafts of the script that the play went through, clarifying why certain topics were given such short shrift (that DDE's relationship with Kay Sommersby, for example, has, at least according to the Eisenhower estate, never been documented as more than a close companionship).
Among the many projects playwright Hellesen has undertaken over a long, productive career, more than one is "presidential." He is an associate artist for Ford's Theatre in Washington, D.C., and has devoted more than one play to the character of Abraham Lincoln, including Now He Belongs to the Ages, the event commemorating the 150th anniversary of Lincoln's assassination. He has also had residencies at the William Inge Center for the Arts in Independence, Kan., where Eisenhower's director Ellenstein has also served as artistic director. Kansas is much associated with Eisenhower family history: The Dwight D. Eisenhower Presidential Library and Museum is there.
Other leading credits for the play include Joe Huppert for projection and sound design, Pierre Vuilleumier for set design concept, Ernest McDaniel for set realization, Esquire Jauchem for lighting design, and Doug Spesert for costume design.
Over the years historians have reassessed their presidential ratings, and Eisenhower has risen considerably in their ranks. In 1982 #11; 2002 #10; 2012 #8; and by 2022 #5. Looking back, they no doubt view fondly and proudly a largely middle-class society in the United States of the 1950s, an achievement (with notable gaps) never before reached by any society in history, and made possible by the high rate of unionization and the high progressive income and corporate taxes in those years, neither factor now in place.
Eisenhower: This Piece of Ground plays through Nov. 20 with performances Fri. and Sat. at 8 p.m. and Sun. at 2 p.m. Theatre West is located at 3333 Cahuenga Blvd. West, Los Angeles 90068. All attendees are requested to wear a mask in line with current venue guidelines; be prepared to present your vaccine cards or proof of a negative test. Go here for tickets. A post-show discussion with the director and star will take place on Nov. 18.