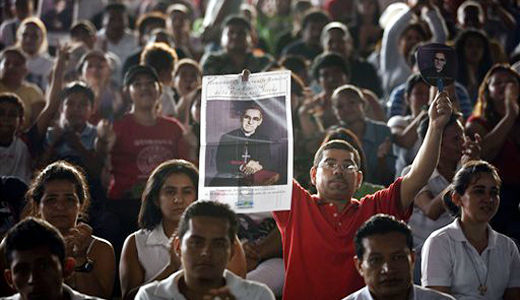 Thousands in El Salvador honored last week the life of Catholic Archbishop Oscar Romero, who was assassinated 30 years ago while giving Mass in a hospital chapel in San Salvador. Romero is revered as a champion of the poor, who spoke out against the brutal repression led by the ruling right-wing government and Salvadoran army during the late 1970s.
Marking the anniversary of Romero's death, El Salvador's President Mauricio Funes apologized on behalf of the state for the assassination and for the thousands of innocent victims lost in the war that ended in 1992.
For the first time, the Salvadoran government publicly commemorated Romero's life.
"This is something that should have been done a long time ago," Funes said at a ceremony unveiling a colorful mural of Romero in San Salvador's international airport last week. "It is my greatest wish that this act in the name of Monsignor Romero can serve to bring consolation and that we no longer live with resentments."
Funes said that although previous administrations have ignored Romero's life and teachings, his would "correct that historic error" and put an end to decades of "silence" that have enshrouded the killing.
Romero is remembered by many as a national hero for social justice and human rights that called for an end to the growing political violence in El Salvador. He continues to be admired throughout much of Latin America and the Catholic world.
But he was also despised by the wealthy, hard-line right, which were threatened by his advocacy on behalf of the country's poor and painted as a Marxist. The anti-Communist right regarded him as a Communist sympathizer.
His murder has long been blamed on Major Roberto D'Aubuisson, mastermind of El Salvador's notorious death squads that killed dissidents, union activists, priests and rebels with virtual impunity. D'Aubuisson was also a founder of the Nationalist Republican Alliance Party, called ARENA, which ruled El Salvador for 20 years before Funes and the Farabundo Marti National Liberation Front (FMLN) won the presidency a year ago. D'Aubuisson died in 1992.
Funes said right-wing death squads that killed Romero acted with the protection, collaboration or participation of the state.
"These illegal armed groups terrorized the civilian population during those dark years, leaving behind thousands of victims," he said.
Executions, kidnappings and torture of the country's rural poor and activists who opposed El Salvador's right-wing government had become commonplace in the late 1970s, all of which were condemned by Romero.
After his death the country plunged into a bloody civil war during the 1980s between FMLN guerillas and the U.S.-backed far right and military forces including ARENA. Some 75,000 people died in the war.
Peace accords were signed in 1992 and all FMLN units were demobilized and the organization became a legal party. However, ARENA went on to rule the country election after election from 1989 to 2009.
Nobody has been convicted for Romero's murder.
Thirty years later, justice for Romero and thousands of victims during the civil war remains elusive.
Amnesty International is calling on El Salvador to repeal the 1993 amnesty law that protects former U.S.-backed death squad assassins from trial for human rights abuses.
Funes has said Romero is his "spiritual guide" and he has emphasized the importance of justice and human rights in his administration. But he has also warned against revenge and suggested that repealing the amnesty law would dangerously open up old wounds.
Still after two decades of right-wing governments in El Salvador many say the historic inauguration of Funes last year is a sign that change, hope and justice – everything Romero stood for is finally becoming a reality.
Photo: At an event honoring the late Oscar Romero in San Salvador, March 13. Edgar Romero/AP