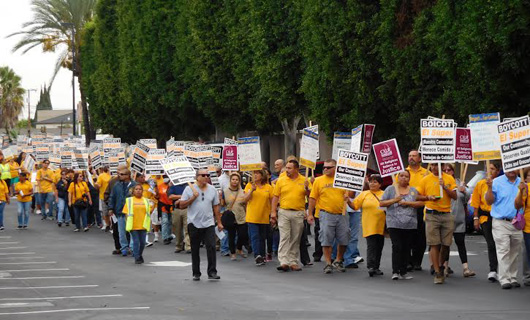 LOS ANGELES – El Super market workers continued their fight for a fair contract with hundreds demonstrating last week in front of the El Super market in Paramount, California. El Super workers, along with their union, the United Food and Commercial Workers, are conducting actions against the giant corporation as the union attempts to negotiate a contract.
The demonstrations in Paramount, backed by effort clergy, labor and community supporters, forced the temporary closure of the supermarket there.
Workers want a contract that includes; adequate paid sick leave, a guaranteed 40-hour work week for full time employees, aliving wage, and a fair seniority policy. The struggle for a fair contract, respect, and dignity continues with union action taking place throughout California, in other states and in Mexico.
El Super's "final, last and best" offer to the union did not address any of these concerns, according to workers
The chant "Justice or Judgment" echoed down the streets of this heavily populated Latino community. Hundreds of supporters watched as a committed group of 25 community, labor and clergy supporters marched onto the streets of Lakewood Blvd., a major throughway in the City of Paramount.
The supporters walked out of the parking lot onto the public street where union and community supporters began a symbolic civil disobedience action. Supporters walked into the street and sat in a circle., clapping and chanting, "Victory for the workers," as members of the Los Angeles Sheriff's Department looked on.
Demonstrators marching out of the parking lot and into the street were followed by several dozen private security guards. Members of the Sherriff's Department were also in the parking lot and out on the street about a dozen Sheriff's Department personnel wore riot gear. The department had some 15 cars parked and lining the street.
A Rev. Roberts, one of the demonstrators who sat in the circle of supporters in the middle of the street said, "El Super management is wrong in opposing the workers. Management has continued to lie to the community and continues their campaign of coercion. They hurt the community of workers and we the clergy will continue to support their struggle."
Although this was a peaceful demonstration the sheriff's department gave verbal orders indicating that the demonstration was an unlawful assembly. Within a few minutes a sheriff in riot gear said, "I have given you two orders to disburse. This will be my last and final order. If you don't leave anyone in the area of the action on the street will be arrested."
The organizers decided that it would be best for the group to disburse so that there would be no arrests. It was, after all, meant to be a symbolic action to send a strong message to El Super management. The group of supporters in the middle of street joined the other supporters lining the street.
Rigo Valdez, Vice President of UFCW Local 770 said, "We were successful today because we sent a message to the El Super management that we will do whatever we have to in order to win this worker struggle. We forced El Super to close today. This is a victory for us. We will be back again and again. We are planning other major actions."
Photo, Video: David Trujillo/PW