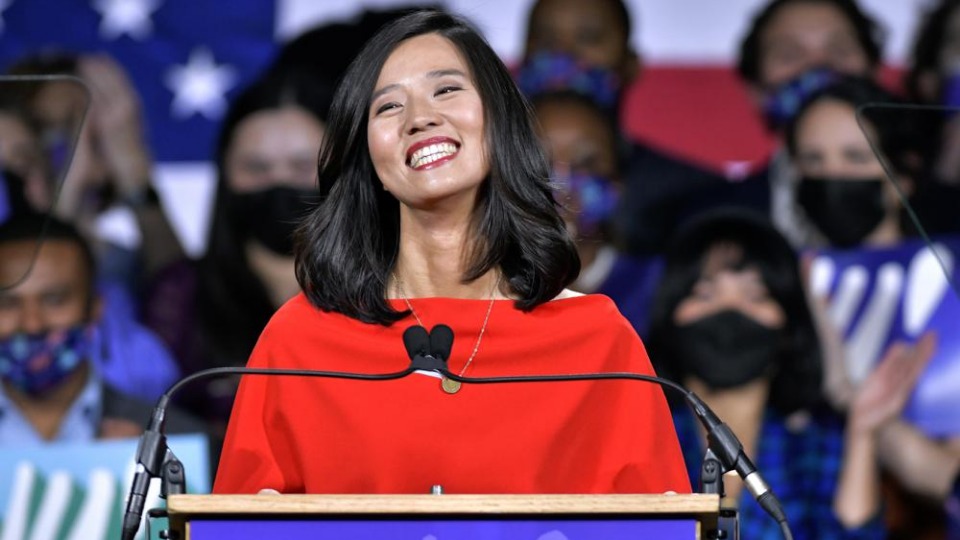 WASHINGTON—Except for the Boston and Atlanta mayoral races and numerous local elections scattered around the country, Election 2021 was not the night the Democratic Party and many of the people's movements had hoped for. Pro-worker candidates especially in Virginia but elsewhere took major hits.
In Boston, however, there was an outstanding victory by the progressive female Asian-American council member Michelle Wu who won the mayor's chair. In Atlanta, progressive female Black City Council President Felicia Moore led the field with 42% of the vote, advancing to a runoff.
But in the marquee tilt of the off-year balloting, right-wing Republican financier Glenn Youngkin, a Trumpite albeit one with a less obviously offensive approach to the issues, defeated Terry McAuliffe, a longtime Democratic Party leader making a new try for his old job as Virginia's governor. McAuliffe conceded at 10:28 am EST on Nov. 3.
Virginia results were not the only troublesome ones for workers, though. Voters in a strongly Republican congressional district in south-central Ohio, for example, elected coal company lobbyist Mike Carey to a vacant congressional seat.
Pundits are declaring that the Virginia gubernatorial race is a bellwether for next year's balloting when progressives and Democrats will try to defend their narrow majority in the U.S. House and keep from slipping into minority status in the evenly split Senate.
Republicans' victory in Virginia and the unexpectedly close race for New Jersey governor, in which the Democrat is leading, were in large part a result of voters feeling economic pain now with rising prices, housing costs, healthcare costs, shortages, and other problems resulting from restarting the post pandemic economy. Republicans jumped on these problems even though they offered no real solutions. With people like Democratic Sens, Joe Manchin and Krysten Sinema sabotaging the Biden agenda, which is full of things the majority of voters support, people were frustrated not seeing any relief to their immediate problems coming even though Dems are in power in three branches of government.
The progressive group, People for the American Way, said in a statement that voters did not see what is in the Biden Build Back Better agenda and that those issues and the lack of progress on voting rights helped discourage voters. It prepared for a march on the White House on Nov. 3.
"We still have a chance to turn things around, but it requires the Senate actually getting stuff done–especially to protect our fundamental rights–and getting it done NOW," the group said in its statement.
In Virginia, the McAuliffe campaign focused on how bad Trump was but did not push major accomplishments of the Democrats like the American Rescue Plan. Its specific positives never came up on the campaign trail, except when the GOP was lying about it.
Same story with Biden's Build Back Better agenda. Voters like its specifics when they know them. Most don't know what they are and instead, hear GOP lies about its high cost and "socialist" takeover of the country.
Youngkin, just like Trump, raised divisive social issues, including more outright lies, such as the charge that Virginia schools are teaching Critical Race Theory, an academic exploration—confined to universities—of pervasive racism in the U.S. McAuliffe didn't fully confront those attacks.
Investigate the non-existent fraud
And for much of the campaign, Youngkin's sole substantive platform plank was to investigate and stop non-existent voter fraud. That's a national GOP theme taken off of former GOP Oval Office occupant Donald Trump's "Stop the steal!' canards. His crowds, and Youngkin's, ate them up.
McAuliffe, like other past Virginia governors, was limited to one term, which ended four years ago. He unsuccessfully tried to tie Youngkin to Trump.
In the suburbs, Youngkin stressed tax-cutting, without saying that would also cut state funds to Virginia's schools. And Youngkin admitted to right-wing audiences that he would deliberately hide his opposition to reproductive rights until he got elected. And he emphasized so-called "parental control" of schools, an indirect attack on teachers.
Some took the position that too much can be read into one round of Midterm elections where the party in power in the White House often suffers defeat
"You gotta take one step backward for two steps forward," summarized Dan Duncan, Secretary-Treasurer of the AFL-CIO Maritime Trades Department and former President of the Northern Virginia Labor Federation. And given its political history, he pointed out, as pundits have not, that Virginia is not a "blue" state but a "purple" moderate one.
"What caused it?" Duncan asked of Youngkin's 51%-48% defeat of McAuliffe. "Who the heck knows?"
Progressive Sen. Jeff Merkley, D-Ore., had a different take, in a fundraising e-mail:
"The Virginia race shows the power of disinformation and race-baiting. The Republican candidate built his whole campaign around opposing the teaching of a curriculum that doesn't even exist in Virginia schools, but the message was clear. This Republican strategy is impactful and it's evil," the senator wrote.
"Since Trump opened his campaign in 2015 with racist tropes about immigrants, stirring racial division and limiting access to the ballot box have become even bigger pillars of Republican political strategy."
Youngkin's running mate, Winsome Sears, a right-winger who happens to be Black, won the Virginia Lieutenant Governor's post. It's important as a stepping stone to the governor's chair, and as the tiebreaker in the state Senate. That chamber was not up this year and it's 21-19 Democratic.
Democratic Attorney General Mark Herring, the most progressive and pro-worker of the three top-of-ticket Virginia Democrats, was locked in a too-close-to-call race against GOP State Delegate Jason Miyares, a former prosecutor from Virginia Beach. Miyares, the son of right-wing Cuban refugees, ran on a "tough on crime" platform. Herring ran ahead of McAuliffe statewide.
And the 100-member state House of Delegates is still up for grabs, though present trends indicate a flip from 55-45 Democratic to 51-49 Republican. A pro-business Democrat who ousted the state's first-ever Democratic Socialist delegate, Jason Carter, in the party primary, won the general election. State Delegate Danica Roem (D), the first transgender person elected to office in the Old Dominion, won again.
Legislature split
With the legislature split and with some pro-corporate Dems vote who defect to the GOP on selected issues, such as workers' rights, Duncan added: "We'll find ways to work with them" in the state capital McAuliffe's loss "is not the be-all-end-all."
The Virginia races weren't the only sobering sights for workers, a topic that will surely come up, along with planning for next year's campaign and voting, at the virtual-by-zoom AFL-CIO Executive Council meeting Nov. 4-5.
Phil Murphy, D-N.J., who won by 14 percentage points four years ago was locked in a close race with ex-State Rep. Jack Ciattarelli, another businessman running on a right-wing platform, Even if Murphy pulls out a win—and absentee ballots, counted last, were expected to break heavily for him, it gave the party pause.
The latest returns, with 89% of precincts reporting, gave Murphy a 14,891-vote lead over Ciattarelli, out of almost 2.49 million ballots counted so far.
Lee Dlugin, the New Jersey member of the CPUSA Political Committee, told the panel a week before the election the Murphy-Ciattarelli race would depend on turnout in the state's big and progressive cities, including Newark, Camden, Trenton, and Jersey City.
Ciattarelli "is a Trump Republican," she added. "He was featured at 'Stop the steal!' rallies. Murphy is a progressive Democrat," who pushed through pro-worker legislation, including raising the state's minimum wage to $15 an hour. Organized labor conducted an all-out push for him—and for 59 more union members running for local office around the state.
Democrat Eric Adams, a former police officer, and now Brooklyn Borough President, easily won the New York City mayor's race in the heavily Democratic city. He defeated Republican nominee Curtis Sliwa, a radio commentator and founder of the controversial Guardian Angels citizens vigilante group. Adams, who is Black, picked up endorsements from, among others, the Rev. Al Sharpton. Adams is a board member of Sharpton's National Action Network.
Adams, who defeated more-progressive Democrats in the party primary earlier this year, labeled himself a pragmatic progressive in an MSNBC post-election interview. But he also cast himself as a bridge between the party's wings, using police—and their resistance to anti-coronavirus mandates—as an example.
"We need to create a safe environment in our city" and that includes anti-viral masks and vaccinations, which term-limited Mayor Bill DeBlasio imposed on all city workers. The police and fire unions strenuously objected, including a march on City Hall the week before the voting.
"We will keep the mask mandates in place," Adams said. "I'm not going to Monday morning quarterback the mayor on vaccination mandates, but I'm encouraging him to sit down and talk with the fire and police unions. I've talked to them and they're willing to do so."
In Minneapolis, a referendum to abolish the police department, now notorious for murdering George Floyd and other unarmed Blacks, and replace it with a Department of Public Safety, lost. The proposed agency would have included police, mental health, and social services personnel to deal with troubled people. Voters defeated it 44%-56%. But Democratic Mayor Jacob Frey, who still advocates reforming the police, won re-election.
In Buffalo, N.Y., Democratic mayoral nominee India Walton, a young Black woman Socialist, won the party's primary in June, upsetting pro-business Black Mayor Byron Brown, 63. But Walton was losing the general election to a write-in campaign for Brown. She got 41% of the vote and write-ins, almost all for Brown, were the rest of the ballots. There was no Republican in the race. The election certification deadline is Nov. 27.
Campaigned for Walton
Rep. Alexandria Ocasio-Cortez, D-N.Y., a Democratic Socialist, campaigned for Walton, as did both New York senators. But the state party chairman, Jay Jacobs, compared Walton to David Duke, the late Ku Klux Klan leader who once ran for governor of Louisiana as Democratic nominee. "I have to endorse David Duke? I don't think so," Jacobs told a radio interviewer.
Special elections for vacant congressional seats in Ohio split, leaving progressives out.
In the Cleveland-based 11th District, Democratic nominee Shontel Brown defeated Laverne Gore (R) 79%-21%. A former top party official, Brown came from behind to beat a strong Bernie Sanders supporter in the Democratic primary. She succeeds fellow Black woman Rep. Marcia Fudge (D), who resigned to join Biden's Cabinet.
In the southern Ohio 15th District, which is solidly Republican, coal lobbyist Mike Carey (R) defeated Allison Russo (D), 58%-42%. Carey tied himself to Trump, who campaigned for him in the primary.
The story was different in Boston. There, in a contest of better versus best, council member Michelle Wu, a former Elizabeth Warren staffer, defeated council member Annissa Essaibi. The election was officially non-partisan but both are Democrats. Wu, the Asian-American, will be Boston's first-ever elected woman mayor and second-ever person of color. Essaibi is a Tunisian-American. The first woman and first person of color to rule Boston is interim Mayor Kim Janey, who is Black. Wu will take office Nov. 16.
National Public Radio reported that Wu, a Chicago native, ran on a platform of creating a citywide Green New Deal, making the "T" and other public transit free and enhancing housing affordability in the notoriously expensive city.
There actually were other important progressive victories in a variety of places throughout the country yesterday.
In Portland, Maine, voters rejected a measure that would have discriminated against un-housed people living in the city.
In Lima, Ohio Sharetta Furlima became the first Black woman mayor of that town.
Danica Roem, the Trans woman activist, won her third legislative term in Virginia.
Abdullah Hammond was the first Arab American and Muslim elected to the mayoralty in Dearborn Michigan last night.
Jason Chavez, a son of Mexican immigrants and a Democratic Socialist, was elected to the city council in the Twin Cities in the same ward in which George Floyd was murdered.
Voters in Tucson, Arizona approved a hike in the minimum wage to $15 an hour.
Cleveland voters approved a civilian police oversight board.
Shahana Hani became the first Muslim woman to be elected to the City Council in New York City which has more than 750,000 Muslims.