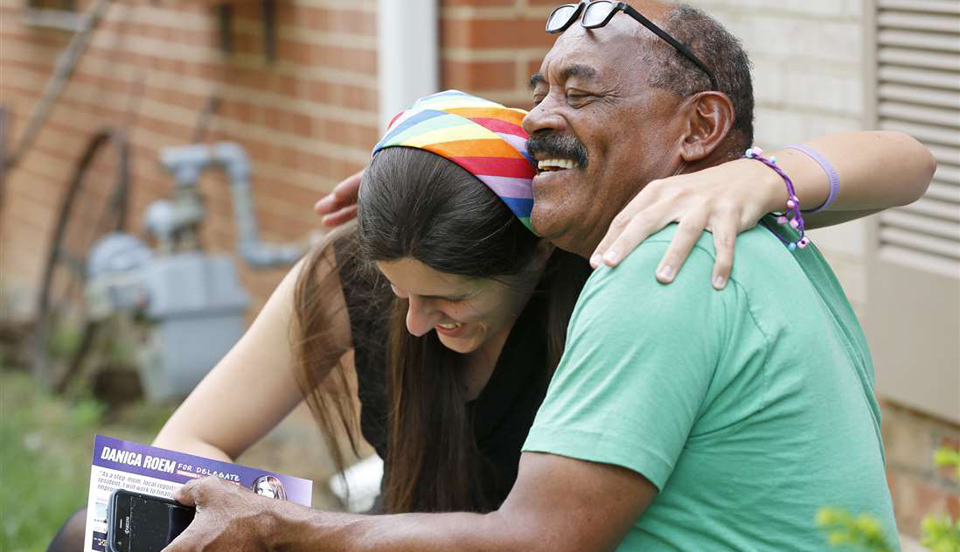 Bill di Blasio won big. Ralph Northam won convincingly. The Virginia House of Delegates went from 2-to-1 right-wing Republican to an even split. The New Jersey governor's office flipped to the Democrats. There's now a "blue wall" of progressive governors and state legislatures on the Pacific Coast. New York's "ConCon," or Constitutional Convention, where approval would have threatened worker rights, lost by a 4-to-1 ratio.
Those were just some of the notable results in a progressive wave of off-year election victories coast to coast on November 7. And that's not counting Maine, where voters overturned right-wing GOP Gov. Paul LePage's five vetoes of state participation in the Affordable Care Act's expansion of Medicaid. The measure was petitioned to a referendum which voters approved by almost 60,000 votes, 59 percent-41 percent. Some 70,000-80,000 people in that state will now be eligible for Medicaid coverage.
Many of the races combined local progressive issues with antipathy and hostility to the GOP-Trump policies and their emulators on the state and local level. And even the state constitution vote could be viewed as protection from Trump and Republican anti-worker plans.
Virginians elected Northam governor, 38-year-old African-American Justin Fairfax, a former federal prosecutor, lieutenant governor, and re-elected progressive Attorney General Mark Herring. Herring won by a 53 percent-47 percent margin. He had won his first term by fewer than 200 votes over a rabid right-winger. Against another one this time, he won by 169,000.
The Virginia House of Delegates went from a 66-34 GOP edge to a virtual tie. Democrats—almost all progressives energized by opposition to the GOP's anti-worker, anti-woman, and anti-minority policies and laws—flipped 15 seats with four others still too close to call.
The wave of activism that has produced mass marches and protests against Trump-GOP schemes led to a massive influx of new progressive Democratic candidates, mostly female. In a number of cases, a reverse-coattails phenomenon seemed to be in effect, as support for insurgent local candidates trickled upward, resulting in wider margins for statewide candidates.
The most notable Virginia wins were in Prince William County, a bellwether swing county outside D.C. The Confederate-flag-waving county board chair, Corey Stewart, Trump's former state chair, lost the GOP gubernatorial primary narrowly to insider Ed Gillespie. Gillespie then adopted Stewart's positions—embracing Confederate monuments and running a racist anti-Latino campaign. Gillespie lost to Northam 54 percent-45 percent statewide – and 61-38 in Prince William.
The county's state assembly delegation went from 5-1 GOP, including the top Republican hater of women and gays, to 6-0 Democratic. That includes transgender Democrat Danica Roem, who beat Republican Bob Marshall, author of the state's anti-trans bathroom bill. "Danica Roem makes history!" the Human Rights Campaign exulted. Joining her from Prince William County are Elizabeth Guzman and Hala Ayala, the assembly's first two Latinas ever.
Roem wasn't the sole transgender winner. Andrea Jenkins became the first transgender member of a big city's council, when she won the Eighth Ward seat in Minneapolis.
Another notable progressive victory in Virginia was that of 30-year-old Marine, Lee Carter, who beat Delegate Jackson Miller, the current Republican House Majority Whip. Carter ran as a declared socialist, with little support from the state Democratic Party. Miller's campaign was characterized by intense red-baiting, including flyers sent to voters which pictured Carter alongside Stalin and Mao. Unfazed, Carter and his supporters sang the union anthem, "Solidarity Forever," at campaign headquarters on Election Night as returns showed him scoring a nine-point victory.
In New York City, Mayor Bill de Blasio sought re-election on an unabashedly progressive platform, and clobbered a weak Republican by almost 4-to-1. He vows to continue strongly opposing Trump policies, especially the president's hatred of undocumented people and Muslim bans. With labor support, he's pushed to make New York a "sanctuary city" and solved long-running contract disputes, signing new pacts with the city's large municipal unions.
The statewide ConCon defeat, by a 4-to-1 ratio, cheered New York's unions, who campaigned hard against it. That's because had New Yorkers voted for a constitutional convention, business lobbyists and legislative insiders in Albany would have used elections for convention seats next year to control the conclave and emasculate workers' rights, progressive policies, and even the state's two prized parks in the Catskills and the Adirondacks.
"This is a tremendous victory for organized labor in New York and for all working people," New York State AFL-CIO President Mario Cilento said. He called defeating ConCon "the priority issue" for the state fed during the last two years. Initial polls at the time showed 70 percent support for ConCon.
"Our constitution has some of the strongest worker protections in the country, including the right to collectively bargain, unemployment insurance, workers compensation, the 8-hour work day, civil service protections, public employee pension protections, and prevailing wage rates. All of those rights will continue to be protected for the working men and women of this great state."
"Don't let special interests open up the Constitution and degrade worker rights like prevailing wage rates, collective bargaining and workers' compensation," added John Ballantyne, Secretary-Treasurer of the Northeast Regional Council of Carpenters, which includes New York.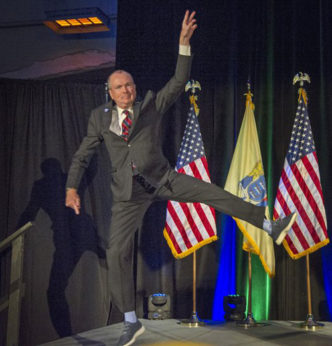 Next door in New Jersey, voters easily elected Democratic nominee Phil Murphy governor, trampling GOP Lieut. Gov. Kim Guadagno. She was saddled with two very unpopular politicians in the very blue state: Trump and term-limited GOP Gov. Chris Christie, who even wound up arguing with voters at the polls on Election Day. Murphy had strong and early labor support and touted a $15 state minimum wage—which Christie had vetoed—and more state money for schools.
"Tonight's victory represents new hope and new opportunity for the people of New Jersey. For far too long, the governor's office has been occupied by a blustering bully who disrespected educators, nurses, and working people," AFT President Randi Weingarten said, referring to Christie.
"Phil Murphy and" lieutenant governor nominee "Sheila Oliver are a breath of fresh air: They respect and value the work and voice of educators and believe in the promise of public education for all children. They stand with nurses and health professionals fighting for better care for their patients. And they understand…unions' role in creating growth and the economic security and opportunity working people need."
State AFT President Donna Chiera said Murphy's win "symbolizes the aspiration of New Jersey residents for new leadership that respects teachers' voices in deciding what is best for students and provides full funding for schools, with increased access to higher education."
In Charlotte, N.C., Black Lives Matter activist Braxton Winston won a seat on the city council after securing the second highest number of votes. He's a union stagehand and member of IATSE Local 322.
On the other side of the country, Jenny Durkan won the Seattle mayoralty. When named U.S. attorney by Democratic President Barack Obama, Durkan was the first openly lesbian U.S. attorney nationwide. And the state labor council's Political Director, Office and Professional Employees Member Teresa Mosqueda, defeated Jon Grant 61.5 percent to 38.5 percent for a Seattle City Council seat.
That could be potentially important: On Election Day, the Trump Justice Department said it would file a friend-of-the-court brief siding with Uber and Lyft in their suit challenging the city's new law to let the drivers unionize. The Teamsters are campaigning to achieve that.
The Washington State Labor Council paper, The Stand, reported that due to a special election win, the State Senate flipped Democratic. Labor-backed 45th District Democrat Manka Dhingra, who is of South Asian ancestry, won 55 percent-45 percent. The state labor federation, the Teachers, the Fire Fighters, the Laborers, the Painters, the Operating Engineers, and the IBEW were among her backers. With her win, progressives now hold the governorship and the whole legislature.
That produced a "blue wall," Rep. Pramila Jayapal, D-Wash., told the Progressive Change Campaign Committee in a conference call about down-ballot races. The Washington state senate was the only Republican-controlled legislative chamber "from Canada to Mexico." Now it isn't.