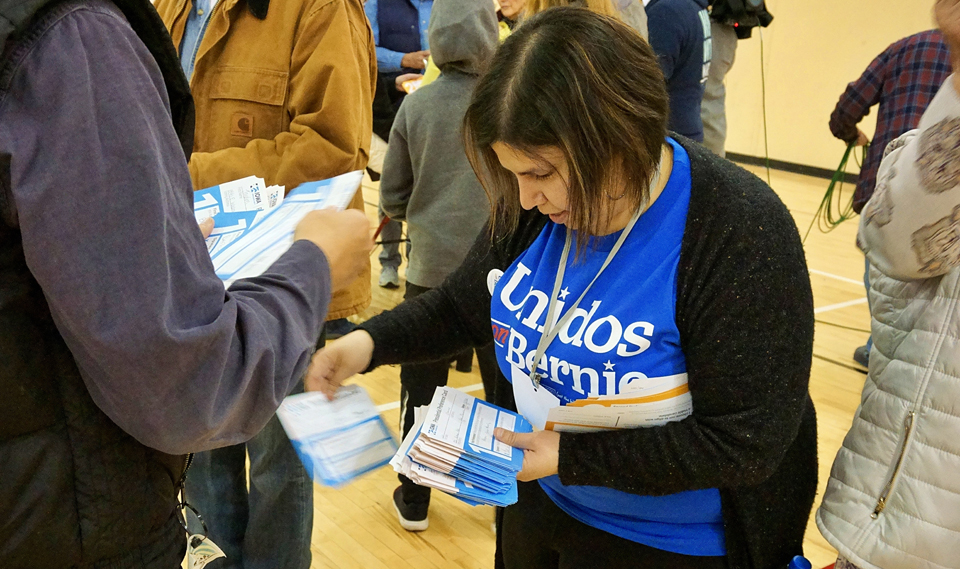 Across the nation, all eyes and ears piqued with curiosity for the Monday night, Feb. 3, Iowa Democratic caucus results. The results itself would be either a bellwether for change, showing voters supporting more progressive presidential candidates, or a continuation of the status quo—a "traditional" liberal, center-left, "safe" candidate.
This year's caucuses were slightly different than what we saw in the 2016 presidential race. The primary changes came in the form of more transparency in the reporting of results, how delegates for each candidate would be calculated (some interesting math which saw totals being rounded up or down) for each, and a mobile phone app to speed up the tallying process.
After the 2016 race for nomination between Hilary Clinton and Bernie Sanders, which reported only one set of results, the number of delegates each candidate had won, 2020 was to be the year when four sets of results would be reported including the total popular vote percentage won by each candidate.
The mobile app failed and district captains were faced with calling in the results delaying the entire process by almost a day. Campaigns, party organizers and volunteers, and voting Iowans expressed anger, confusion, and disappointment.
Don't worry though, the app wasn't hacked, it was just badly designed.
The apology from the Iowa Democratic Party was solemn and sober.
"I apologize deeply for this," said party chair Troy Price shortly before releasing the first batch of precinct results Tuesday, Feb. 4.
As of the morning of Wednesday, Feb. 5, 71 percent of the precinct caucus results have been released by the IDP—it's unclear when the full results will be released.
The results breakdown (here's what we know):
From the results, we see Pete Buttigieg with a slight lead over Bernie Sanders in the number of state delegates but Sanders holds the lead in the popular vote.
Iowa Delegates percentage: 
Pete Buttigieg: 26.8 percent
Bernie Sanders: 25.2 percent
Elizabeth Warren: 18.4 percent
Joe Biden: 15.4 percent
Amy Klobuchar: 13 percent
Iowa Popular vote totals: 
Bernie Sanders: 32,772
Pete Buttigieg: 31,458
Elizabeth Warren: 25,816
Joe Biden: 16,545
Amy Klobuchar: 15,598
Between the top two contenders–Buttigieg and Sanders–it should be noted that Sander's was the stronger of the candidates among minority voters, particularly in the Latino community.
Here's a look at a four-county non-white voter breakdown (Source: Associated Press):
Linn County: 
Sanders: 28.2 percent
Buttigieg: 23.8 percent
Story County: 
Sanders: 35.9 percent
Buttigieg: 25.4 percent
Black Hawk County: 
Sanders: 31.3 percent
Buttigieg: 24.4 percent
Jefferson County: 
Sanders: 51.5 percent
Buttigieg: 29.1 percent
As to how the two frontrunners feel about the Iowa Caucus debacle, Sanders told reporters he was "obviously disappointed.
"I think this is not a good night for democracy. If I'm a first-time voter, and I came out and voted, and the results are not coming in 16 hours, that's a little bit disconcerting," Sanders said Tuesday.
But he made it clear that while the process was disappointing, there should be no reason to cast doubts on the results.
"I think we should all be disappointed in the inability in the party in not giving timely results, but we are not casting aspersions in the votes that are being counted," Sanders said. "There's no excuse for not having results last night, but that doesn't mean to say that the totals that come in will be inaccurate. I think that's an unfair thing to try to do."
Sanders also criticized the Buttigieg camp for declaring victory absent the final official results: "I don't know how anybody declares victory before you have an official statement from the election results, we're not even declaring victory," Sanders said.
Buttigieg announced his unofficial victory before a crowd of supporters at Drake University, saying: "So, we don't know all the results…but we know, by the time it's all said and done, Iowa, you have shocked the nation."
It's an interesting campaign spin job, and one which will certainly raise questions as more results come in, and the popular vote totals are published.
What is clear: Joe Biden, a Democratic stalwart favored by many in the party establishment, lost, and lost big. His team will spin it however it can, but the turnout and support numbers don't lie.