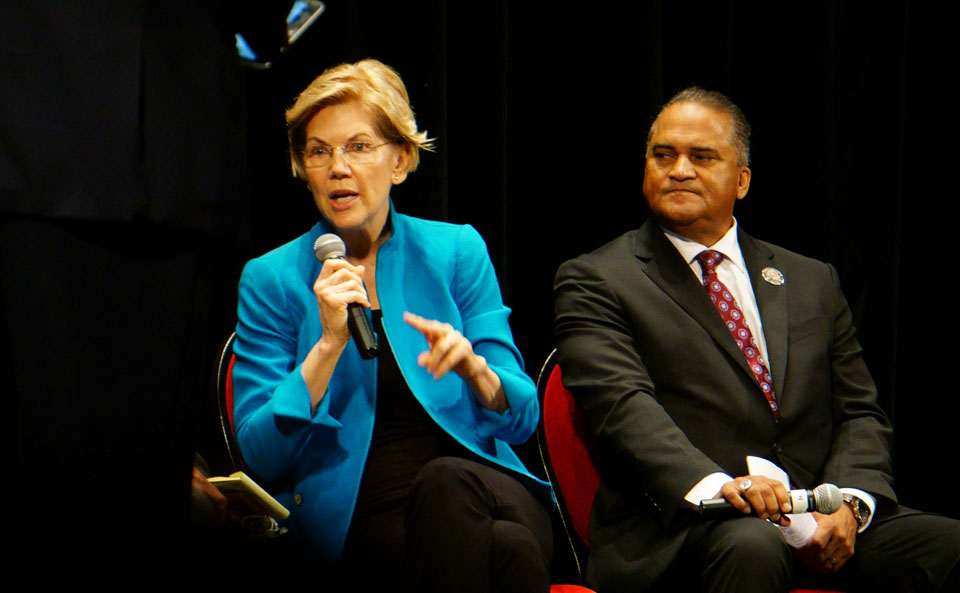 SIOUX CITY, Iowa—"Over the past couple of years, I've had the opportunity to get to know Elizabeth. We have spoken often of the needs of Indian Country, and she has taken action to address them, helped me get elected to Congress, and we've worked together to introduce legislation on affordable healthcare, pre-k education, and housing," said Rep. Deb Haaland of New Mexico's 1st district, the first of two Native American women elected to Congress last year.
"I know a winning candidate when I see one, and she will be an unwavering partner in our struggle because that is what a leader does… I say the president, who worships Andrew Jackson, who coddles white supremacists is no match for a woman with a plan, I'm asking you to join me in my mission for the working families champion, and I'm proud to support and introduce my sister in the struggle Sen. Elizabeth Warren."
Roaring applause welcomed the U.S. Senator from Massachusetts as she took the stage Monday for the first-ever Native American presidential candidates' forum.
Not one to mince words, Warren, who received overwhelming support from Native American tribal leaders during Monday's forum, doubled down on her efforts to move past the controversy of her past claim to tribal heritage by offering a public apology, and tackling an issue which has proved to be a political liability.
"I want to say this like anyone being honest with themselves. I know that I have made mistakes and I am sorry for the harm I have caused," said Warren. "I have listened, and I have learned a lot and am grateful for the many conversations we have had together. It is a great honor to be able to partner with Indian country, it's what I've tried to do as a senator, and it's what I promise to do as president of the United States.
"The message I hear from Indian Country is one of resilience and hope."
Monday's apology was an effort to move past the fallout of her claim to tribal heritage, and the widely panned release of her DNA analysis last year.
The controversy, which almost derailed her campaign in the early stages, was followed by racist attacks from Donald Trump and other Republicans who began refereeing to her as "Pocahontas."
Rep. Haaland highlighted that Warren's ancestry attracted oversized attention when compared to Trump's own charges of racism.
"Those who ask about Elizabeth's family instead of issues of vital importance to Indian Country," said Haaland, "feed the president's racism."
Warren went on to focus on a wide range of issues—healthcare, the environment, infrastructure, education—and her recently introduced plan which would target the lack of federal funding tribal nations receive. Her proposal also enables tribal nations to enforce laws against non-tribal members and permanently establish a cabinet-level position focused solely on Native American policies and legislation.
"The federal government's history with our tribal nations has been one of broken promises. We need to make change, we need to honor our trust and treaty obligations to the native tribes," Warren said, "and we're not going to do that with a little statute over here, a change in regulation over there. It's going to take big structural change… think of it this way, of full funding for housing, healthcare, education, and infrastructure—those are not optional, we need to change the rules and make it happen."
Warren's plan would also tackle criminal justice and the ability for tribal nations to have jurisdiction over their own lands by overturning Oliphant—the 1978 Supreme Court ruling limiting criminal jurisdiction over the actions of "non-natives" on tribal lands. Included too would be a federal database and alert system to track the number of indigenous women who have gone missing, over 5,000 to date.
When asked by a tribal leader what she would do as president regarding tribal government's control of tribal land, Warren said: "Frist, tribal government should control what happens on tribal lands, second, I will revoke all permits for pipelines, and third, is again, thinking about structural change…the pipeline permits should not have been given in the first place."
Overall, Warren's remarks and answers were well received, and she proved past controversy won't doom a potential general election showdown against Trump.
"A person has to admit their mistakes and move on," said Mary Iron Hawk, 62, from the Cheyenne River Sioux reservation during a break in the forum. "She [Warren] did excellently and has done a great job in addressing her past mistakes."
Sen. Amy Klobuchar of Minnesota
Democratic presidential candidate Sen. Amy Klobuchar spoke Monday afternoon at the Native American presidential Candidate's forum, addressing issues ranging from infrastructure on tribal lands, the environment and getting nationwide access to broadband for all tribal lands and reservations.
"If they can hook up the entire country of Iceland, I think we can hook up our Native American reservations and our tribal lands to make sure that they have high-speed internet for our kids," said Klobuchar.
During her opening remarks, Klobuchar recounted the importance she placed on Native American history and culture and committed herself to fully respecting Native American sovereignty.
"As a Minnesota senator we made sure we always consulted with the tribes on any decision, and I can promise you as your president, I will respect sovereignty and I strongly believe in real government to government negotiations and consultation," she said.
Klobuchar went on to discuss adding provisions to the currently expired Violence Against Women Act to better protect indigenous women.
"It's an outrage that thousands of Native women have gone missing—been murdered, wiped off the history books. Yet sadly, it's our history repeating itself," Klobuchar said.
Dealing with infrastructure, Klobuchar promised as president to make road repairs a priority along with all "green" solutions.
Taking on the issue of climate change, Klobuchar said, to applause, "As you know some of this flooding is getting worse because our country didn't have the same respect for our environment that your tribal community has."
Currently, Klobuchar is polling at 1.4 percent.
Sen. Klobuchar's full remarks following the forum can be viewed below:
Frank LeMere Native American Presidential Forum: Sen. Amy Klobuchar #NativeForum #elections2020 #NativeVote2020 @PeoplesWorld https://t.co/wuK8KIHx93

— Al Neal (@Al_Neal_STL) August 19, 2019