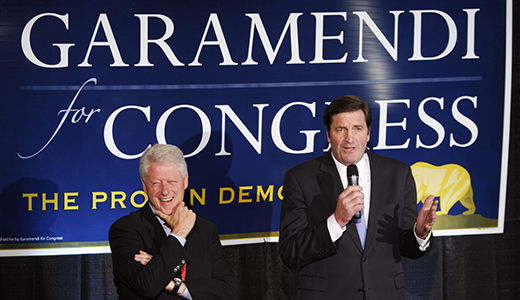 The early news on election night was not good for Democrats, as Republicans won gubernatorial races in Virginia and New Jersey.
The news for progressives got better, however, as the night wore on.
In an important special election in upstate New York, Democrat Bill Owens won a seat in Congress that had been held by the GOP since 1872. He defeated Conservative Party nominee Bill Hoffman, who was backed by almost every conceivable national leader of the Republican Party's ultra-right wing.
Sarah Palin and other right-wingers fell over one another as they rushed into the district and forced the "moderate" Republican nominee, Dede Scozzafava, to withdraw and throw her support to the Democrat, who won by a 49-45 margin.
President Obama and Vice President Biden travelled to the district, along the Canadian border, to show their support for Owens.
The election was widely seen as a test for a Republican Party struggling to redefine itself as the 2010 mid-term elections approach. The results seem to indicate that by redefining itself as a party that crusades for ultra-right causes, the party will fail that test.
Only a few minutes later on election night came the news that Democrat John Garamendi, who campaigned ceaselessly for single-payer health care reform, had won a huge victory in the race to fill an open congressional seat in northern California.
Before beating the Republican, Garamendi had prevailed in a September primary over a candidate who had the backing of much of the Democratic Party establishment. Ellen Tauscher, the Democrat who held the seat until she resigned in June to take a job with the State Department, was much more conservative than Garamendi and was one of only a few California representatives who belonged to the Blue Dog caucus.
For many years the conventional wisdom was that only a "conservative" Democrat could win in that district.
Garamendi, running and winning as a backer of radical health care reform, proves that the conventional wisdom was wrong, and his victory, along with the Owens victory in New York, actually gives the forces of health care reform an increase of two supporters in the House.
For a while it looked as if billionaire New York Mayor Mike Bloomberg might not prevail over the severely under-funded Democrat Bill Thompson. Thompson came unexpectedly close to a victory. The final margin for Bloomberg was 50-46.
Washington state voters approved civil unions, but there was heart-breaking news from Maine, where voters approved, by a hair, a proposition to cancel a state law allowing gay marriage.
Rea Carey, executive director of the National Gay and Lesbian Task Force, said, "Despite this setback, the tide clearly is turning nationwide in favor of marriage equality … All across the nation, same-sex couples and their families are sharing their stories and their lives with others in a conversation that is transforming our country."
In the Virginia governor's race, where Republican Bob McDonnell bested Democrat Creigh Deeds by a 59-41 margin, he did so by running a campaign that focused on precisely the issues that were ignored by right-wing leaders when they rushed into the district in upstate New York. McDonnell portrayed himself as a centrist and the issues he stressed were the economy and job creation, the main concerns on voters' minds across the country.
Deeds, on the other hand, often seemed as if he was working to lower, rather than increase, Democratic turnout. During the campaign he even suggested that he would opt Virginia out of the public option if it was included in a health-care reform measure.
In New Jersey, Republican Chris Christie beat incumbent Democratic Gov. Jon Corzine in a state Obama swept in 2008.
Corzine, like Deeds in Virginia, brought some strong negatives into his race – because of state corruption scandals, high property taxes and a host of other issues he was so unpopular at the start of the election cycle that many in the Democratic Party discussed trying to replace him as their candidate.
In any case, exit polls cast serious doubt on right-wing claims that the gubernatorial losses were a reflection on the president's popularity or his agenda.
Fifty-five percent of voters in Virginia and 60 percent of voters in New Jersey told exit pollsters that they did not cast votes with Obama in mind.
Many analysts say the congressional races offer a better test of the national mood on national issues.
There is always debate on whether or not a gubernatorial race is influenced by national issues and trends.
There is rarely such debate, however, when it comes to congressional races, particularly congressional races that take place when a bitter political fight is raging across the nation.
Seen in this context, the Democrats' victory in both special elections, and actually increasing the size of their majority in the House, is a major victory for the party.
What the Obama administration wanted most out of the elections was more support in Congress. The administration got that additional support on election night.
Democrats cannot be unhappy, either, with the knowledge that the fight raging inside the Republican Party will continue. Ten months into the Obama administration that internal GOP fight has yielded its first concrete electoral results. The Republicans lost a seat in Congress that they held since Ulysses S. Grant lived in the White House, and there was no celebratory "tea party" held anywhere last night.
Corrected: an earlier version of this article misstated some details of the northern California special election.
Photo: AP