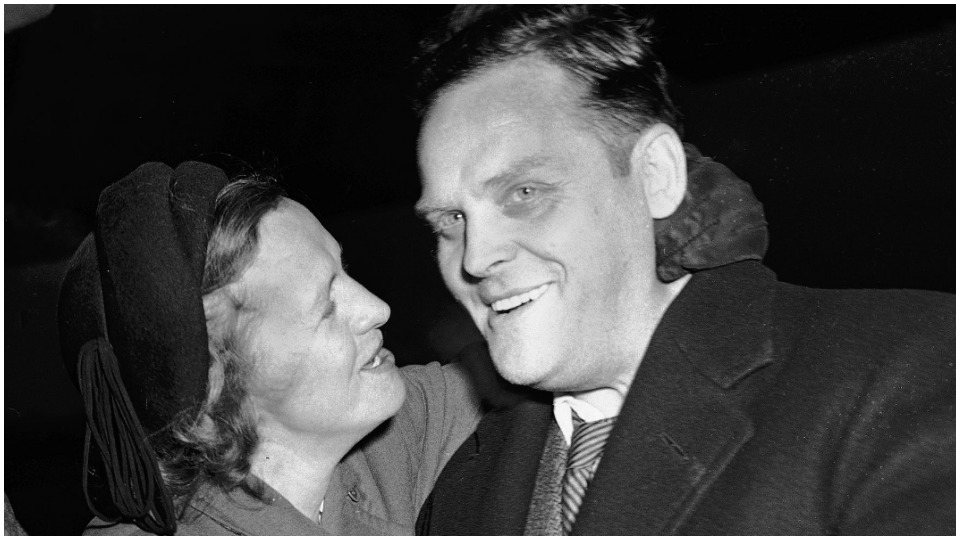 Elizabeth Hall, a leader in the Communist Party USA and widow of Gus Hall, head of the CPUSA for over four decades, died Oct. 8 at the home of her daughter, Barbara Conway, with whom she had lived in recent years.
Elizabeth Hall was an outstanding Communist leader and community activist all her adult life, in addition to her crucial role working together with her husband of 65 years.
She is remembered by family and friends as a person of great warmth, honesty, directness, and dedication to the working class and people's movements for peace, justice and socialism.
Born Elizabeth Mary Turner on March 1, 1909, Elizabeth Hall grew up on a farm north of Youngstown, Ohio. Her parents, of Hungarian background, were fervent supporters of the Daily Worker and the progressive Hungarian-language press.
An honor student in high school, Elizabeth won a college scholarship in mathematics, but was unable to accept it because she needed to help support her family. Instead, she became a bookkeeper – a skill on which she later relied as the breadwinner of her own young family.
As a young woman Elizabeth also played semi-pro basketball, an attribute her family enjoys recalling to this day.
Elizabeth Hall met her future husband when she attended a meeting Gus Hall organized, soon after he was assigned to Youngstown to head the Young Communist League. They were married in 1935, and celebrated their 65th wedding anniversary shortly before his death in October 2000.
As a YCL and Communist Party activist herself, Elizabeth organized unemployed workers, and helped build the Steel Workers Organizing Committee – precursor of today's United Steelworkers of America – going house to house, signing up members to the union and the Party. She later became one of the first women to enter the steel industry, working as a tool-and-die maker and serving as a shop-floor leader of her union during World War II, while Gus Hall served in the U.S. Navy.
Gus and Elizabeth Hall's daughter, Barbara, was born in 1938, and son, Arvo, in 1947.
During the McCarthy period in the late 1940s and early 1950s, the Communist Party, left organizations and left-led unions were subjected to witch-hunt persecution, and Gus Hall was among those wrongfully convicted under the infamous Smith Act – later declared unconstitutional by the Supreme Court. During the eight years he served in federal prison, Elizabeth Hall not only supported the family and kept them together, but did so in a way that provided the two young children a sense of warmth and security which they treasure to this day.
After Gus Hall was released from prison, he was elected leader of the party's Ohio District, and in 1959 he was elected general secretary of the CPUSA. During those years – first in Ohio and then in Westchester, New York, Elizabeth Hall was an outstanding local Communist Party leader. As the chair of the New York District's Southern Westchester club, she played a crucial role in the long struggle to desegregate Yonkers' schools. This struggle led to the landmark decision integrating Yonkers' schools and housing. She was also a dedicated and active participant in the peace and disarmament movement.
Elizabeth was an ardent supporter of the People's Weekly World/Nuestro Mundo and its predecessors, compiling an outstanding record as a fundraiser and builder of the paper's circulation.
She was a member of the CPUSA's National Committee for many years, and was an active member of the Steelworkers Organization of Active Retirees (SOAR).
Though in later years she had to reduce her activities, Elizabeth Hall continued her avid interest in current developments, enthusiastically and astutely analyzing domestic and international happenings with friends and family. Elizabeth Hall is survived by her brother, John Turner; her daughter, Barbara Conway; her son, Arvo Hall; five grandchildren and five great-grandchildren. At a future date, her ashes will be interred alongside those of her husband at Chicago's Waldheim Cemetery, where the Haymarket Martyrs are buried as well as many other Communist Party leaders. Donations may be made to the People's Weekly World/Nuestro Mundo.