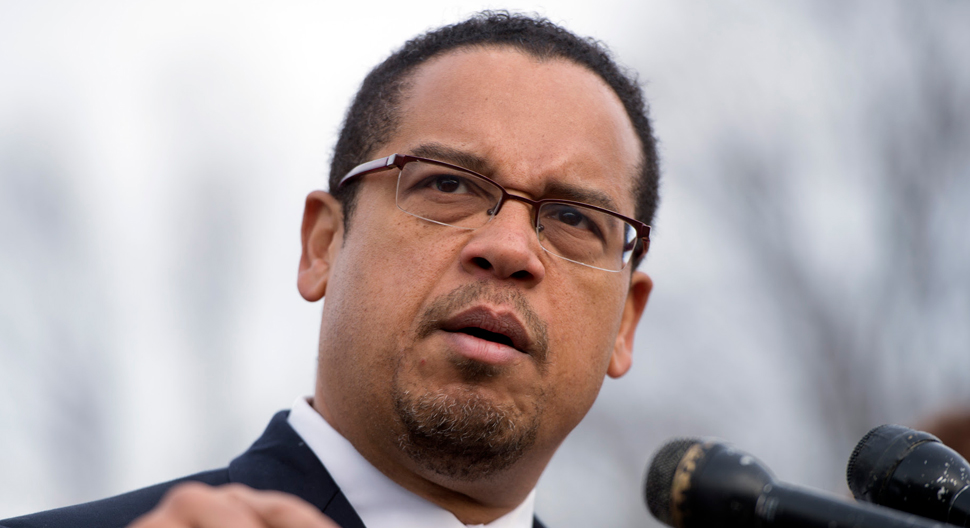 WASHINGTON—Teenagers in coal mines. Kids driving forklifts. 17-year-olds operating heavy and dangerous machinery with little training. All of that could be possible under a Trump Labor Department plan to consider relaxing the rules governing child labor.
And Rep. Keith Ellison, DFL-Minn., is asking questions – lots of questions. He doesn't like it.
Neither does the Child Labor Coalition, the century-old advocates for the rights and safety of youngsters in the farms and on the job, backed by the National Consumers League and the Teachers (AFT).
The rewrite of the child labor rules was in the Labor Department's Semiannual Regulatory Agenda, a list of rules all DOL agencies are working on, along with updates of where they are in the regulatory process. That caught Ellison's eye.
"Congress and the department have a responsibility to ensure worker safety, especially for children," Ellison wrote Trump Labor Secretary Alexander Acosta on May 23. He wants a reply by June 6.
"The Fair Labor Standards Act establishes an 18-year minimum age for those nonagricultural occupations" DOL "declares to be particularly hazardous for 16-17-year-old minors or detrimental to their health and well-being," Ellison reminded the secretary.
Two Ellison specifically cited are coal mining and firefighting. But in other hazardous jobs, such as roofing and meatpacking, the younger teens can work as long as they have a lot of apprenticeship training and adult supervision, the federal rules say.
Ellison suspects Trump's DOL wants to weaken the training and adult supervision rules for the younger teens. He also wonders if it's at the behest of industry groups or the White House, and is skeptical of DOL's proposed replacement of some federal rules governing teen work with "industry standards."
"Expanding exemptions for hazardous jobs, especially without adequate oversight, will undoubtedly reverse the progress we have made over the last two decades to ensure young people live safe and healthy lives," Ellison wrote. Workplace safety laws and their enforcement have cut teen deaths from work-related injuries from 72.5 per year in 1999-2000 to 27 yearly in 2015-16, the congressman noted.
He asked Acosta to send documents showing contacts with industry groups or with the White House on the child labor rules, and whether DOL plans to refer the issue to the National Institute of Occupational Safety and Health, a non-partisan scientific agency.
"We're delighted Rep. Ellison is concerned about the weakening of hazardous work rules for teenaged workers and asking the Department of Labor for an explanation," Reid Maki, chair of the Child Labor Coalition, e-mailed to Press Associates Union News Service.
"We're mystified the agency which is tasked with protecting teen workers, would consider expanding the hours that student learners and apprentices can work in jobs that are known to be dangerous. And once they open these rules, who knows what other damage might be done to teen worker safety standards."
"The administration has also indicated it will try to do away with the Environmental Protection Agency's ban on children applying toxic pesticides on farms — another weakening of protections that is neither needed nor sensible," Maki said.