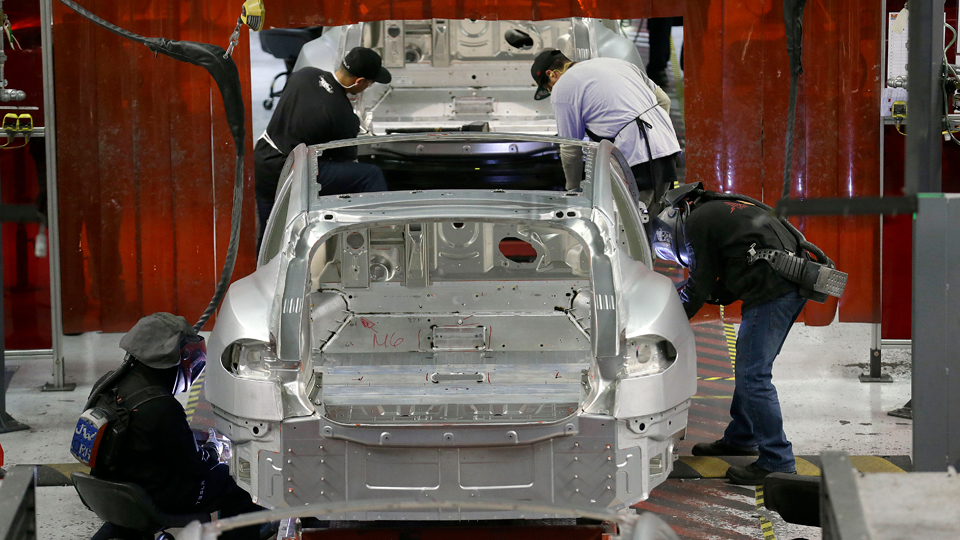 OAKLAND, Calif. (PAI)—A National Labor Relations Board officer will try Tesla Motors, the electric car firm of publicity-hungry entrepreneur Elon Musk, on a wide range of labor law-breaking charges on June 11.
The NLRB's General Counsel's office filed the formal complaint against the car company on April 3, following documentation by the United Auto Workers union, who are trying to organize the 5,000 workers at Tesla's Fremont, Calif., plant. NLRB's Oakland regional director, Valery Hardy-Maloney, signed the formal notice, which included all the charges.
Charges include illegal harassment of pro-union workers, illegal intimidation of workers, and Tesla's firings of workers—also illegal—based on bias against their pro-union stands.
The union has been trying organize the plant, a former joint venture between General Motors and a foreign auto firm, for months. Musk, who also gained notoriety for his private space exploration company—and its failures on the launch pad—and his top managers broke the law while resisting, the NLRB complaint says. It names them, Musk included.
"I'm pleased the NLRB found merit to these charges and is taking Tesla to trial on my termination," former Tesla production associate and union backer Richard Ortiz told UAW. He was fired late last year. "I know in my heart that what they did was wrong, and I look forward to our day in court. The truth is on my side. I have done absolutely nothing wrong. I had an excellent work record, and the only thing I did was try to improve the lives of my coworkers."
After thanking the NLRB for charging Tesla, fellow production associate Jose Moran declared: "My co-workers and I will continue to speak up and continue to work to make Tesla a better and safer company. Today's action makes clear that we have rights, that we can keep talking about what we're seeing and experiencing at Tesla."
Tesla particularly went after Moran after he exposed the company in a February 2017 blog, entitled "Time for Tesla to Listen." He also exposed a Tesla "confidentiality agreement."
"I'm proud to be part of a team that is bringing green cars to the masses," Moran's blog began. "Unfortunately, however, I often feel like I am working for a company of the future under working conditions of the past."
"Most of my 5,000-plus coworkers work well over 40 hours a week, including excessive mandatory overtime. The hard, manual labor we put in to make Tesla successful is done at great risk to our bodies."
"Preventable injuries happen often. In addition to long working hours, machinery is often not ergonomically compatible with our bodies. There is too much twisting and turning and extra physical movement to do jobs that could be simplified if workers' input were welcomed. Add a shortage of manpower and a constant push to work faster to meet production goals, and injuries are bound to happen."
"Worst of all, I hear coworkers quietly say they are hurting but they are too afraid to report it for fear of being labeled as a complainer or bad worker by management. Ironically, many of my coworkers who have been saying they are fed up with the long hours at the plant also rely on the overtime to survive financially. Although the cost of living in the Bay Area is among the highest in the nation, pay at Tesla is near the lowest in the automotive industry."
Tesla pays $17-$21 hourly, Moran said, below the $25.58 an average auto worker earns nationwide. The living wage in Alameda County, which includes Oakland and Fremont, is $28 hourly, he said—and that's for one adult and one child. "I have two," he noted. Those wages mean "many co-workers are commuting one or two hours before and after those long shifts because they can't afford to live closer to the plant."
"I think our management team would agree our plant doesn't function as well as it could, but until now they've underestimated the value of listening to employees. In a company of our size, an 'open-door policy' simply isn't a solution. We need better organization in the plant, and I, along with many of my coworkers, believe we can achieve that by coming together and forming a union."