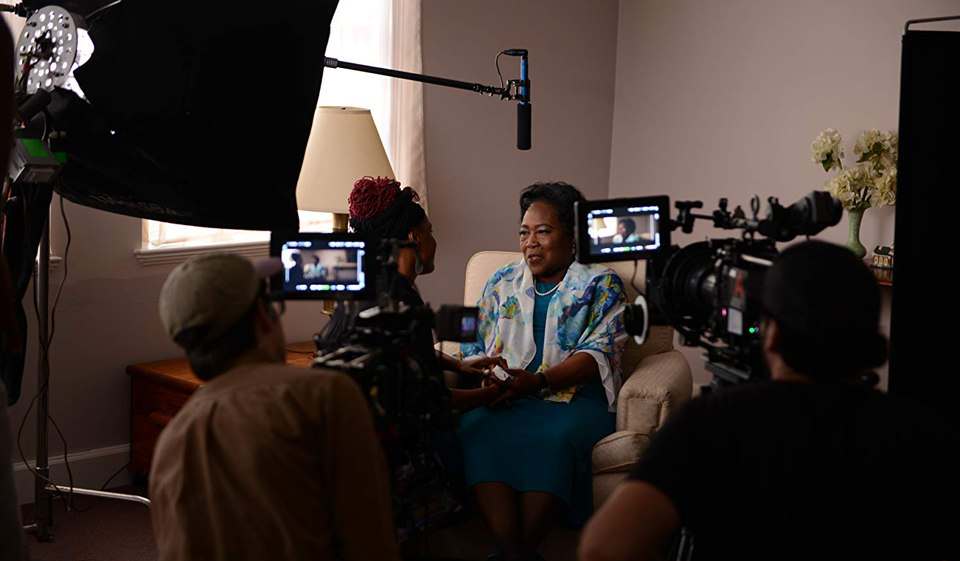 The tragic incident on June 17, 2015, blazed to the top of the news: A 21-year-old white supremacist named Dylann Roof calmly entered the door to Emanuel AME Church in Charleston, South Carolina, known as "Mother Emanuel," was invited to sit down with a group of church members in a weekly evening Bible study and prayer group, and before it concluded, took out his concealed weapon and opened fire. Before he was done, he had murdered eight African American Christians, and a ninth victim would die later that night from the gun wounds—nine in all.
He left one woman cowering in fear of imminent death, saying, "I'm going to leave you here to tell the story."
Their horrified families, and the nation, were left to grapple with this senseless act of domestic terror, one, alas, with many, many precedents. The perpetrator, who had often posed with his guns and Confederate flags and paraphernalia, drove away to North Carolina, where he was spotted and captured.
Forty-eight hours later, in the midst of unspeakable grief and suffering, the families of the Emanuel Nine—children, siblings, spouses—stood in court facing the confessed killer. Invited to address words to the young man who had senselessly, cruelly robbed them of their loved ones, who had peaceably welcomed him into their prayer circle, several of them stood before him and said, "I forgive you."
What was their response to a shocking act of racist execution designed in the assassin's mind to unleash race war across Barack Obama's America? They answered with "amazing grace" in a demonstration of God's perfect love that showed a capacity for unconditional compassion.
Precious few Christians would have been capable of reaching that state of acceptance of God's will—if that's what they believed it was—so profoundly and so quickly after the events, even as the bodies lay in the morgue before any of the funerals and burials had taken place. The shocking display of loving kindness opened up a path for hope and healing across a city and the nation.
The new documentary film Emanuel recounts the story in a breathless recapitulation of the event, the search for the killer, the response by police and political authorities in the city and state. Viewers are only able to catch our breath by virtue of the filmmakers interspersing the narrative with cutaway interviews with family members that tell us what they were doing that day, how they learned the news, how the police kept them from seeing the bodies of their relatives. Detailed recall of those hours and days understandably brings tears of sorrow and loss.
The film appears four years after those horrible events that rocked a nation. Many Americans will recall aspects of the widely reported history that unfolds on the screen, which includes interviews with the police chief, the mayor, the governor, reporters, writers, historians, ministers and others. Footage from news reports and video makes it clear, in this era of "fake news," that these events actually happened, guarding the artifacts of history should revisionists come along later and seek to deny the story.
Viewers will be reminded of the fascinating history of Charleston as a capital of the old slave society. Its charm and old ways, not to mention the prominent display of the Stars and Bars and place names recalling Confederate figures, prompt one commentator in the film to describe the city as "a Confederate Disneyland."
Mother Emanuel itself has played a prominent role for a couple of centuries, and was clearly chosen as a target for that reason. It was the home church of Denmark Vesey, the storied early 19th-century leader of a slave revolt. White supremacists burned his church down to teach Black people a lesson they would not soon forget, one of hundreds of church burnings across the South, which still go on today, meant to prove the same point: White people are under no obligation to respect Black lives or even any of the institutions they create in keeping with the very Christianity the colonizers of the land established to keep them in line.
Rebuilt in the "Holy City"—as the locals call Charleston—Mother Emanuel became over time a center not only for Christian worship in the African Methodist Episcopal tradition, but a beacon for reform and change in the civil rights era. While some white churches preached privilege and segregation, Mother Emanuel and other Black churches held steadfast to the enduring liberating gospel of Jesus and his radical followers that teaches how all of God's children are equal in his sight.
What shocked the nation with the families' forgiveness of the killer—so soon, and so confidently—was how surely, how profoundly and unshakably, they believed in the power of redemption and salvation. For them there was truly no one—no one—beyond the reach of God's love.
President Obama's eulogy, nine days later, lifted up the Black church as perhaps the most authentic expression of Christian—that is, Christ-like—theology in the nation at that moment. It was one of the most important speeches Obama ever gave, and one of the most powerful moments in American presidential history. He honored the presidency itself by using the occasion to bring healing to a wounded nation, and in the inspired intonations of an African-American preacher, taught the world something about the true meaning of faith. No one present, or tuned in to that speech, will ever forget his quietly launching into "Amazing Grace," a song historically linked to the very slave trade that built Charleston. His audience went wild, joining in, knowing so deeply in their hearts that they, and the city and these dis-United States, would indeed, some day, overcome hatefulness.
Even on the cross, at that excruciating moment of suffering that expresses for all humankind the Christian promise of redemption, what did Jesus say? "Forgive them, Father, for they know not what they do." How was it possible, America had to wonder, that in this awful moment in their lives, Black families in Charleston, South Carolina, could so unquestioningly offer their forgiveness to a ruthless, calculated murderer?
Not all the families, of course, were on that same page of the gospel. Nor likely most of America either. Yet that example stands out in its exceptionality as a moment of radical clarity the world will always remember, examine, debate and revere in its austere purity. Not to say that justice was not also served: Roof is presently on Death Row in Terre Haute federal prison. But from a theological point of view, even his sins, if he is genuinely repentant, can be forgiven.
Forgiveness, I imagine, is a feature in just about every world religion and tradition. In many, it can be granted if the sinner sincerely asks for it, if they have been sufficiently, consciously remorseful and prepared to make atonement and amends. This is the spirit, for example in the Yom Kipur fast day that Jews around the world recently observed. It's the absolute certainty of forgiveness and possible eventual redemption for someone as vile as Dylann Roof that is so almost implausibly remarkable.
Several of the family members swore that at the moment they stood up to confront the killer they had no notion of what they were about to say. Chris, the young football player son of one woman killed in the massacre, told a reporter, "I don't even know why I said it, it just came out." Others said things like, "Repent and confess: You can change your ways," or "We welcomed you with open arms. May God have mercy on you." Some attributed their statements to God speaking through them, but to me, it seems, a lifetime of growing up in that church and in that tradition is what came out of their mouths and hearts: To love everyone with exquisite passion without exception, and grant them their ultimate access to salvation.
For those who forgive, beautiful love releases them from rancor whether or not the perpetrator shows remorse. In that sense the family of the victims are free, while the sinner continues to carry their heavy burden.
"You tried to kill the Word," one family member says, "but the Word is still on the page." Another says, "When I look in the face of my enemy, I see my brother."
Weeks after the June 17 events, the Confederate flags came down in South Carolina, and the country recognized as never before on such a large scale how noxious the idea behind the Confederacy remains: It's not about honoring valor, nor about states' rights, nor about the gracious gentility of the Old South. It's about racial subjugation and the ownership of other human beings in slavery.
A greater consensus has emerged, not quite universal yet, and badly besmirched now by the placement of a "there's good on both sides" Racist-in-Chief at the White House, that if Confederate monuments are to survive at all, they must be put in historical perspective or moved to museums, away from the center of public plazas.
Executive producers are Stephen Curry and Viola Davis, co-producer is Mariska Hargitay, and director is Brian Ivie. They give us a collective portrait of the victims and their families, who are provided the space to tell their stories and honor their martyred dead. The family members are to be thanked and applauded for their courage to appear in the film, which is close to being a modern national treasure. It is visually and emotionally poignant and necessary, though I would have preferred a little less screen time for elected officials to "look good" on camera.
The film concludes with credits listing the nine victims and appropriate comments about their lives from the survivors. To honor their sacred memories, here are their names: The Rev. Sharonda Coleman-Singleton, Cynthia Hurd, Susie Jackson, Ethel Lance, the Rev. DePayne Middleton-Doctor, Tywanza Sanders, the Rev. Daniel Simmons Sr., Myra Thompson, and the Rev. Clementa Pinckney.
Emanuel opens in theaters this weekend. The trailer can be viewed here.