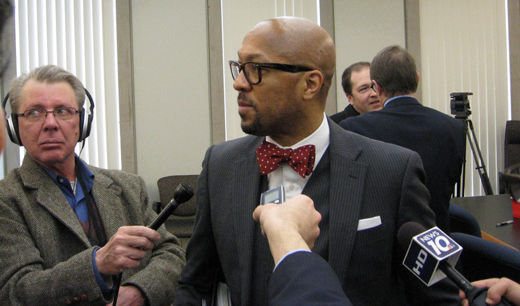 LANSING, Mich. – Detroit had thirty minutes to state its appeal of Gov. Rick Snyder's decision to appoint an emergency manager to rule over the city. The hearing was conducted Tuesday before Michigan's Chief Deputy Treasurer, Mary MacDowell.
David Whitaker, Detroit City Council's research and analysis director, said an Emergency Manager is "beyond anti-democratic." He said a plan to turn the city around already exists without the "disposal" of elected officials (one of the many draconian powers an emergency manager has).
He was referring to the mutually agreed upon April 4, 2012 Financial Stability Agreement (FSA) between Detroit and the state to stabilize the city's finances.
Whitaker argued the FSA was a "binding contract" scheduled to last three years beyond the point Detroit reached financial stability. It acknowledged that fixing the city's finances was a "long process," not something that would be completed in less than a year.
The FSA deal avoided an emergency manager by forcing many harmful budget cuts, staffing reductions, and concessions on residents and city workers. A fact sheet presented by the city showed Detroit had close to 21,000 city workers in 2003. As of January 31st this year it was 9,696 and falling.
"Why is [an emergency manager] necessary? I contend it isn't," said Whittaker.
Reactions to the hearing by those present were quick.
Sergeant Mark Young, President of the Lieutenants and Sergeants Association said this is going to affect every person in the city of Detroit, especially the "working conditions, living conditions, and futures" of those he represents.
Wayne County Commissioner Martha G Scott lives in Detroit's nearby neighbor, Highland Park. "We've had three financial managers. They've all left the city worse than they found it." The critical thing missing she said is "they don't address the need for jobs."
Detroit Council President Charles Pugh took issue with the state's blaming Detroit for not collecting debt from the 36th District Court, located in the city. It has $279 million in outstanding debt, $199 million of it owed to Detroit.
"Last I checked those were state judges," noting the state, not the city, has administrative control over the court and the responsibility to collect money due.
On the street outside the hearing, a group of Detroiters were protesting – and telling facts – not heard inside.
"This is all about delivering for Bank of America, Chase, Merrill Lynch, and all the banks that hold debt for the city of Detroit. If it's 15 billion dollars we owe, they need to renegotiate how much money they stole from the city of Detroit," said Rev. Charles Williams of the National Action Network.
Rev. Ed Rowe, Minister of Detroit's Central United Methodist Church added, "We don't need to pay back the same banks that have raped our neighborhoods."
Photo: Detroit City Council president Charles Pugh John Rummel/PW