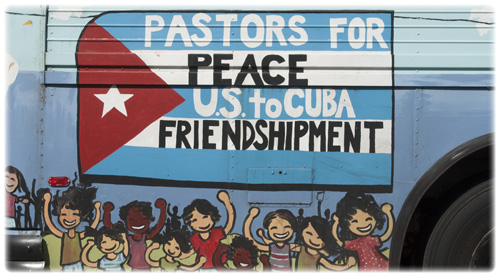 Important work by IFCO/Pastors for Peace, the group noted for its longstanding support for the self-determination of the Cuban people, is under attack by the U.S. Internal Revenue Service (IRS). They had been previously advised that their 501 (c) (3) status was being reviewed, and have now learned that the government intends to revoke it. This will seriously impair their ability to carry out humanitarian work because donations to the organization will no longer be tax exempt, and are likely to be sharply cut back.
Time is of the essence to reverse the IRS plan to revoke IFCO's tax exempt status. Letters, faxes and telephone calls to IRS Commissioner John Koskinen, Secretary of Treasury Jacob Lew and our relevant Congressional delegation are urgently requested to reverse the IRS decision to "bully" IFCO for its life-saving, humanitarian work.
Precedent should favor social justice. The IRS as a tax collection agency provides revenue to pay government bills. They have no business manipulating foreign policy at the expense of a legally constituted organization like Pastors for Peace. Yet, antagonistic blockade legislation interferes with recent policy change by Presidents Obama and Raul Castro to renew diplomatic relations.
Implementation of outdated legislation (Torricelli, 1992 and Helms-Burton, 1996) against Cuba containing provisions that contract out the "dirty work" to the Office of Foreign Assets Control (OFAC) flies in the face of the plea by Pope Francis for nations of the world to work together. This is a blatant attempt to enforce compliance and intimidate individuals and companies wishing to trade with Cuba.
IFCO/Pastors for Peace stepped into the breach in 1992 to address the challenge to the survival of the Cuban revolution after the disappearance of the Soviet Union. IFCO is one of the nation's oldest faith-based civil rights organizations and first ecumenical foundation designed by and for people of color.
They have provided aid in the form of computers, buses, medical and pharmaceutical supplies, wheel chairs, bicycles, educational material, toys and most important, solidarity and moral support for years to the Cuban people to withstand a brutal economic blockade. Among its many projects has been working to bring students from underserved communities in the United States to study medicine at the Latin American Medical School in Havana, Cuba. Graduates of that program are now providing quality health care services to poor and minority communities in the United States. http://ifconews.org/
The most shameful aspect of this unprovoked attack on IFCO concerns the ability of anti-Cuba functionaries to continue to profit from outdated, exploitative laws that should be repealed. The timing of this incident was not accidental.
The hypocrisy of extending the Trading with the Enemy Act (TWEA) enables the US government to "look the other way" while innocent people and legitimate NGO's are persecuted. It is completely unacceptable that IFCO/Pastors for Peace has been singled out for their humanitarian assistance to needy neighbors. The upcoming United Nations vote to repudiate the US economic, commercial and financial blockade of Cuba will be another indictment of US policy that it is time to end the blockade of Cuba. This is why we need Pastors for Peace.
Circulation of this emergency information as widely as possible is necessary to prevent another inexcusable, politically motivated witch hunt.
In particular, it is essential that everybody who wants to protect and continue the work of IFCO/Pastors for Peace sign a petition that they are circulating and also contact the relevant government officials to ask that the organization's tax exempt status not be revoked. The petition and other relevant information can be found by clicking here: http://ifconews.org/2015/10/04/sign-this-petition-and-email-the-irs-to-stop-threatening-ifco/
FAX or telephone the IRS Commissioner, John Koskinen, at Large Business and International Division, Attn SE:LB, 1111 Constitution Avenue NW, Washington DC 20224, telephone (202) 515 4400, Fax (202) 622-5756.
FAX or telephone Secretary of the Treasury Jacob J. Lew, Department of the Treasury, 1500 Pennsylvania Avenue NW, Washington D.C. 20220, telephone (202) 622 2000, Fax (202) 622 6415.
Photo: San Jose Peace