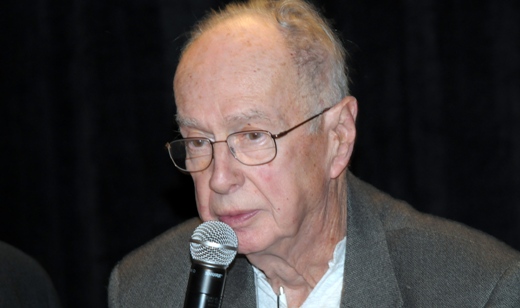 Emil Shaw, a lifelong social justice activist, died Sept. 12, 2010, in Albuquerque, N.M. He was 81.
Shaw was born in Vienna, Austria, on March 3, 1929, amidst the rise of the fascism in Europe. Shaw's parents were Jewish and active in the socialist movements in Austria. They were persecuted by the Nazis, who took over the country in 1938. The Shaws were forced to flee to the United States in 1939.
For Emil, this experience forged a lifelong hatred of Nazi ideology, racism and inequality in any form. He strove for a better life for people, becoming a member of the Communist Party USA, and becoming active in peace, civil rights, labor and other social justice movements.
Shaw spent his early years in Michigan and 38 years in Brooklyn, N.Y., where he married Rose Levy, and they raised a family.
Shortly after their marriage, Shaw spent several months in the army during the Korean War, receiving an honorable discharge due to faulty eyesight.
Shaw had many jobs, but worked for a long period of time in a knitting mill and later became a junior high school shop teacher, obtaining a bachelor's degree from City College of New York.
During his 38 years in Brooklyn, Shaw helped to lead tenant strikes and progressive political campaigns. He was active in the labor movement and organized buses to Washington D.C. for civil rights and Vietnam War protests.
When Shaw retired, he and Rose boldly moved out West and settled in New Mexico. Emil — and Rose – became active in labor, retiree and progressive causes in the state.
His grassroots activities included leading tenant strikes, union work, organizing buses to Washington for civil rights and Vietnam protests, electoral campaigning, and fighting for senior issues. He was a member of SouthWest Organizing Project, American Federation fo Teachers New Mexico Retirees, Gray Panthers of Greater Albuquerque, the N.M. AFL-CIO Retirees Council and Alliance for Retired Americans. Emil Shaw was the former president of New Mexico Alliance for Retired Americans.
Emil was known and loved for his corny sense of humor, commitment, dedication and genuine compassion. He loved the arts and was an avid fisherman. He and Rose celebrated 60 years of marriage this month.
Labor, retiree, civil rights and peace leaders from across New Mexico paid tribute to Shaw and his work at a memorial service & celebration of his life at Congregation Nahalat Shalom in Albuquerque. Moving tributes included a YouTube video by the SouthWest Organizing Project (see below).
On behalf of the Communist Party, Sam Webb spoke at Shaw's memorial and offered Rose, family and friends deepest condolences. Emil was "a beloved person, a genuine article, a real deal, an ever-ready battery and a fount of ideas and opinions, which he had no hesitation expressing," he said.
Speaking on current challenges, Webb said Shaw took his formative anti-fascist years and continued it by fighting "against right-wing extremism and racism, anti-immigrant feelings and repression, homophobia, and other forms of inequality and division."
Shaw was a "doer as much as a talker," Webb said. "Deeds mattered most to him. Words and ideas had their place — and an important place at that — but they had to be translated into practical realities."
Shaw loved the People's World/Mundo Popular and their predecessors. He wrote frequently for the newspapers and websites, combining both science-based, working-class political insights and experience. He raised thousands of dollars for the publications, and gave keen editorial advice.
Emil is survived by his wife, Rose Shaw, daughter Rebecca Shaw-Gove, son-in-law Geoffrey Gove, son Nathan Shaw, daughter-in-law Sandra Shaw and grandson Michael Shaw. For a family photo tribute, click here.
His ashes are buried at the Santa Fe National Cemetery. Donations can be made in his name to peoplesworld.org or a charity of choice.
Posted on Alliance for Retired Americans blog:

Carol Oppenheimer, a friend of Emil's, said that the following song "People Like You" by Si Kahn (a union and community organizer) seems an appropriate tribute to Emil – his role in the lives and work of so many.
People Like You
Old fighter you sure took it on the chin
Where'd you ever get the strength to stand?
Never giving up or giving in
You know I just want to shake your hand
And say that
People like you help people like me go on, go on
People like you help people like me go on
Old battler with a scar for every town
Thought you were no better than the rest
You wore your colors every way but down
All you ever gave us was your best
And you know that
People like you help people like me go on, go on
People like you help people like me go on
Old dreamer with a world in every thought
Where'd you get the vision to keep on?
You sure gave back as good as what you got
I hope that when my time is almost gone
They'll say that
People like me help people like you go on, go on
Because people like you help people like me go on
Photo: Emil Shaw (ARA)