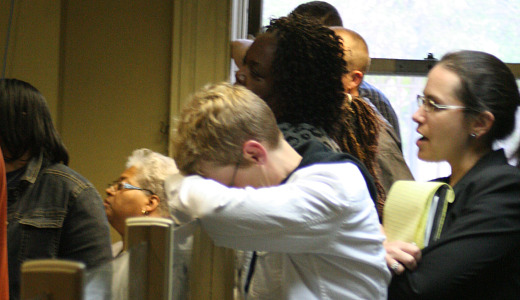 CLEVELAND – Another land mine left by Wall Street's assault on American communities exploded here Tuesday night when the school board voted to lay off nearly 10 percent of its employees including 545 teachers, 117 support staff and 111 principals and other building administrators.
The action came at an emotional three-and-a-half-hour meeting attended by some 750 members of the Cleveland Teachers Union and their supporters, who filled the board's auditorium and two overflow areas.
Anger was directed at District CEO Dr. Eugene Sanders for failing to work with the union to avoid layoffs he said were driven by an expected $52.8 million deficit in the coming school year.
The budget shortfall is part of a national funding crisis, he said, which is expected to mean layoffs in nearly every school district. Revenues for education, generally coming from property taxes, have plummeted with the home foreclosure crisis caused by Wall Street speculators.
The board had voted in February to close 16 schools, and when it was announced the cuts would mean class size in grades four through 12 would rise to 45, members of the audience shouted "What about the kids?" and " What about 'continuous improvement'?"
Sanders acknowledged it would be difficult for teachers to handle classes that large and urged that the union agree to cuts in pay and health insurance.
He promised to consider a union proposal to give incentives to teachers for early retirement and allow the district to hire new teachers at lower entry-level salaries. The union has said the plan would save over $19 million a year.
CTU President David Quolke received a standing ovation as he asked that more time be taken to consider alternatives to the layoffs. The cuts, he said, would severely undermine "the academic progress we are striving to attain."
"There will be an increase in classroom disruptions and overall decrease in school safety," he said.
Harriet Applegate, executive secretary of the North Shore AFL-CIO, was loudly cheered as she called the layoffs "unconscionable" and demanded to know why every alternative had not been explored before resorting to such massive cuts.
The meeting became a spirited union rally as the board left to meet privately for over an hour. CTU trustee Meryl Johnson led repeated singing of "We Shall Not Be Moved" and "Solidarity Forever." The singing continued as Sanders and the eight board members, all appointed by Cleveland Mayor Frank Jackson, filed back into the room. A board attorney was called on to say that state law and the union contract required immediate action on layoffs.
As lists of the laid off employees were handed out to the audience, the board voted unanimously, with two abstentions, for the plan.
Union officials said they would continue efforts to negotiate and seek to reverse the decision. The American Federation of Teachers, with which the CTU is affiliated, has called for passage of the Keep Our Educators Working Act (S 3206) introduced by Sen. Tom Harkin, D-Iowa, to provide $23 billion to school districts. The same amount for schools is proposed in the Local Jobs for America Act, HR 4812, introduced in the House by Rep. George Miller, D-Calif., which currently has 149 co-sponsors. Some 250,000 teachers' jobs were saved by the Obama administration's first stimulus.
Photo: Cleveland teachers and supporters react to the school board's layoff decision. (Debbie Kline)