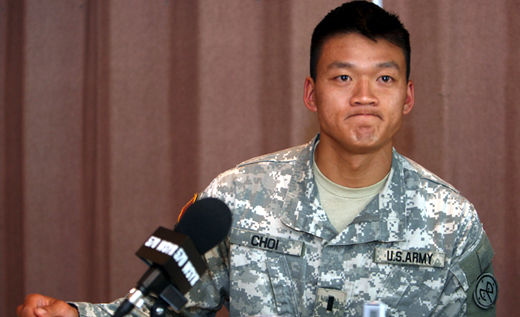 Gay rights activists welcome President Barack Obama's recent remarks calling for an end to the U.S. military's "don't ask, don't tell" policy. Obama made the appeal at the end of his first State of the Union speech Wednesday.
"This year, I will work with Congress and our military to finally repeal that law that denies gay Americans the right to serve the country they love because of who they are," said Obama. "It's the right thing to do."
Joe Solmonese, president of the Human Rights Campaign, the country's largest gay rights group said Obama's remarks are a step in the right direction.
Speaking to Reuters he said, "Our country simply cannot afford this discriminatory law that hurts military readiness by denying patriotic men and women the opportunity to serve."
Most gay rights activists are pleased to know a timeline has finally been issued on the matter. However more concrete actions and fewer promises, need to be taken, they say.
Obama should have addressed suspending the disheartening number of servicemen and women who have been dismissed for their sexual orientation, said Rea Carey, executive director of the National Gay and Lesbian Task Force.
"The time for broad statements is over," she told the Washington Post. "The time to get down to business is overdue. We wish we had heard him (Obama) speak of concrete steps," she said.
Critics say "don't ask, don't tell" is actively being used to drive gay men and lesbians out of the military. Reports estimate more than 13,500 have been dismissed from the military since 1994 and an estimated 644 people have been discharged under the law since Obama took office. According to the Washington Post between 1997 and 2008, the Defense Department fired more than 10,500 service members for violating the policy.
In a recent editorial the New York Times states, "The policy of drumming gay men and lesbians out of the military is based on prejudice, not performance." The law, says the Times, singles out a group of Americans for second-class treatment, forcing them to hide who they are and to live in fear of being found out and discharged. "The policy hurts the military by depriving it of the service of a large number of loyal and talented Americans."
Analysts note Obama is trying to make good on his campaign promise to end the Pentagon policy that began in the early 1990s, especially with his gay and lesbian supporters.
The policy was signed into law in 1993 by then-President Bill Clinton, a Democrat, as a compromise after the military objected to his calls to open doors to the gay and lesbian community.
The measure known as "don't ask, don't tell" stopped the government from asking recruits or anyone in the military if they were homosexual, provided they did not disclose their sexual orientation.
It's time to "end don't ask, don't tell," critics charge.
Repealing the law however faces resistance from Republicans in Congress, most notably from Sen. John McCain, R-Ariz., who said repealing the measure would be a mistake. McCain argues the policy has been "successful" for the last 15 years.
Republicans are pledging to block any legislative push for repeal. Democrats cite polls indicating 69 percent of voters support allowing gays to openly serve in the U.S. armed forces and are urging the White House to change the law.
In a recent statement House Speaker Nancy Pelosi, D-Calif., said, "We look forward to working with [the president] on this issue of fundamental fairness and supporting the patriotic Americans who serve – and wish to serve – our country in uniform."
Defense Secretary Robert Gates is expected to unveil the Pentagon's plan to prepare for repealing the policy at a hearing Tuesday. According to a Pentagon spokesman, Gates along with Joint Chiefs of Staff Chairman Adm. Mike Mullen will not lay out specific legislative proposals to repeal the law, but rather detail some preliminary steps that need to be taken inside the military in advance of formulating a legislative plan.
Gen. John Shalikashvili, former chairman of the Joint Chiefs of Staff, agrees it's time to repeal the controversial law.
"As a nation built on the principal of equality, we should recognize and welcome change that will build a stronger more cohesive military," he said on CNN.com.
Currently there is a bill in the House of Representatives, the Military Readiness Enhancement Act, which calls for undoing the current law. Rep. Patrick Murphy, an Iraq war veteran and Democrat of Pennsylvania, is leading the effort to get it passed. The measure has more than 180 co-sponsors. No similar Senate bill exists.
Meanwhile gay rights activists say some progress has been made by the Obama administration recently, most notably the enactment of the Matthew Shepard Act, which makes hate crimes against gay people federal crimes.
However, they add much more needs to be done, including recognizing same-sex marriage at the national level and passing a federal law protecting gay workers from discrimination on the job.
Repealing "don't ask, don't tell" would be an important step forward, they say.
Photo: Iraq combat veteran Lt. Dan Choi, shown at a June 30, 2009 news conference, was discharged from the New York National Guard for violating the military's "don't ask, don't tell" policy. Gloria Wright/AP