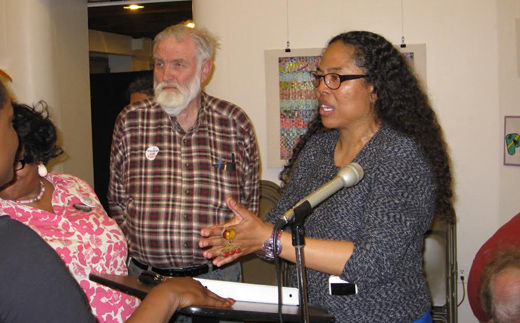 DETROIT – From one end of our nation to the other, a failing criminal justice system proves that we are not living in a "post-racial" era says an outspoken law professor at Wayne State University here.
Projecting side-by-side portraits of President Obama and Michael Brown, Wayne State University Assistant Law Professor Blanche Cook, during a talk Thursday night on the "Racialization of the Justice System," said our society is not "post racial." Instead there are those willing to move forward and those who resist. "It's a dialectical struggle."
Advancing that struggle in criminal justice necessitates understanding how racism distorts the prism through which far too many white people view the world, she said, calling it "implicit bias."
Speaking before a large audience at Swords Into Plowshares Peace Center, Cook described what she said was a study that explained it well. When asked to quickly look at a group of pictures and select the man holding a gun, a person who is white will invariably pick the Black person holding a flashlight, wallet or nothing at all, instead of the white man actually holding the weapon, she said.
Implicit bias creates a "world where people get shot." Though weaponless, the police, or others, say the Black man had the gun. "It happens again and again and again," said Cook.
This deeply embedded bias becomes the filter for the entire judicial system including prosecutors, judges, and juries. The end result, "you are never innocent," said Cook.
All hope is not lost. Programs and training to make people aware of their biases can help, according to Cook.
But there is much to overcome, she said. Referring to the research compiled by author Michelle Alexander, Cook said there are more Blacks under the jurisdiction of the criminal justice system than were slaves.
Citations for non-violent offenses are a huge problem. It can have lethal consequences as in Ferguson, Missouri, when police officer Darren Wilson killed Michael Brown who was supposedly "jaywalking." In 2013 Ferguson issued 33,000 citations, most driving- related. Over 85 percent were issued to African Americans, though they make up just 67 percent of the population. The white population, over 29 percent, received only 12 percent.
The city collected $2.6 million from such fines, its second largest source of income. We are "filling coffers" of struggling cities by over-policing black people said Cook. She challenged those present to demand not a school to prison pipeline but rather a Head Start to College goal.
Cook called for a public discussion about race. Public discourse by Facebook posting or by other means is "political action," she said. Also needed, according to Cook, is bias training and screening for bias not just for the police, but for all in the criminal justice system including judges and prosecutors.
Her call for public discussion brought to mind the stirring speech of a white working-class leader, AFL-CIO President Richard Trumka, to a United Steelworkers convention in 2008. Trumka argued that to move forward, labor must overcome racism in its own ranks and elect then-Sen. Barack Obama to the presidency. The You Tube video of that speech has almost 600,000 views.
A resolution to Attorney General Loretta Lynch was presented by Macie Tuiasosopo, president of the Metro Detroit ACLU on behalf of the event's sponsoring committee. It called for setting up a federal task force to investigate police violence and called for establishing recommendations to local governments for retraining law enforcement and instituting civilian review boards.
Photo: John Rummel/PW